Accurate End Cuts for Entry Door Parts
Advice on machinery and tooling to make highly accurate cross cuts on wide lumber for architectural door construction. April 17, 2013
Question
I am looking for a way to produce precise dimensioned lengths for entry door rails which we will work from the ends to make tenons. Euro concept. Accuracy is important, and even more so, square. We've gone as far as our Makitas will allow and they are never square no matter how much fiddling we do. I'm looking for advice on which route to go. Width of cut needs to be at least 12 inches. Square is the most important issue here.
Forum Responses
(Solid Wood Machining Forum)
From contributor J:
A very smart man told me a long time ago that the only way to do fine woodworking was to make a jig or template first. Even if you only need one piece. I don't understand your setup or what you are asking, but if you do not have a table saw, then get or build a dedicated saw table with a template for making one specific cut. Cut the end of the rail square, then move the rail to a stop and cut the rail to that dimension. Use another setup to cut the tenons. A circular hand saw on a metal guide rail can be extremely accurate if it is set up correctly and left alone.

---
From the original questioner:
Who makes a cut off saw that is accurate for stock up to 12 inches wide? Accurate meaning square. Which is better for sizing stock lengths, upcut or overhead saw? This is for door production, not a one-off.
---
From contributor U:
Jump saw + Tiger stop (or razor gage or Omga stop). Square, accurate, repeatable, 1000s of times per day.
---
From contributor D:
You need a single end tenoner. Small ones are able to tenon and cope up to 15" wide stock. Most can take a 10" diameter cope cutter, allowing copes past a 4" tenon.
---
From contributor V:
Contributor D is right. Most tenoners will cut tenons to length as well as form the tenon and cope. Do a search on single end tenoners and look at the pics and videos. You get your rough lengths from a radial arm saw, or a panel saw, or a jump saw.
---
From contributor M:
We are doing exactly as you are asking. We bought a 24" Cantek up cut saw and outfitted it with a Tiger stop. We rarely have to do any adjustments and it cuts great, can handle the extra thick and wide parts no problem. The Tiger stop really makes the system, the accuracy is spot on.
---
From the original questioner:
Do you find any deflection? I looked at these and am not sure who is best. General sells cheap, but...
---
From contributor M:
No deflection. I looked at the Cantek website and didn't see any up cut saws at all. Obviously they are import, so I am sure someone has the same rig. We are actually still running the blade that came with it, resharpened of course, never bought a backup. It's been at least five years. Prior to that we ran an 18" upcut which cut almost everything but couldn't do the 12" wide. We do pamper the saw, it's bolted down real solid, and we only cut clean millwork parts, no dunage, stickers, etc.
---
From the original questioner:
I was actually thinking of CTD's overhead type. Any input?
---
From contributor F:
How are you coping your rails? I use a sled so it doesn't matter if the rails are square or not. As long as my sled is square to the shaper cutters, the finished cut is square.
---
From contributor O:
We have a Pistorious up cut that cuts square and consistent. We ended up taking it out of service because it did not do all our widths and thicknesses without moving the back fence. If you get one of these be sure to study the blade chart to make sure it cuts everything you need. Did not have room for both a radial arm and the upcut so it's in storage till we find a hole for it. We have a tenoner and get our accuracy there. You do need consistency and square especially if using a shaper to tenon. The CDT machines look good.
---
From contributor M:
The rails are coped by running them along a fence. In a stacked cutter set, where you would end trim the rail with the center cutter on your sled, we remove that and run a fence all the way through. Our tenon part of the profile extends past the sticking detail so you clean up the intersecting details. Just another way of doing things. I would never go back to any other method. I should mention this is for dowel construction.
---
From contributor J:
That makes sense, I hadn't even thought of the extended tenon. I don't do a lot of passage doors, and most of the ones I make are a contemporary design profiled with custom corrugated knives. So I just run them like cabinet doors and use loose tenon joinery.
I have an Omga which is pretty much dead on, but surprisingly the 14" blade doesn't have all that much capacity... maybe 5" or so wide. So most of my cuts I make using a sliding attachment on the TS. They're usually not perfect, but close enough for my needs.

---
From contributor M:
Critical part once again is a good square cut but after that real easy to control length and square of parts versus sleds and sliding tables. We also do a lot of custom sticking ground out of steel knives and we still set them up the same way.
---
From contributor A:
The vast majority of millwork guys do not rely on the cross cut for accuracy. I'm not trying to start an argument or debate. I'm simply curious why you are choosing your fabrication method.
---
From the original questioner:
No worries at all - this is a forum. I'm making tenons on a shaper and there is no trim saw involved. I'm setting the tenon depth at the fence.
---
From contributor U:
I was busy when I first replied to this, so let me elaborate a little. We work off of the precision end cuts from the upcut saw for cabinet door production. If the saw is set up properly with infeed and outfeed tables and fences aligned with the saw, then it cuts square, no problem. Small parts can tend to move slightly when clamped down by the saw guard, but some pneumatics to hold stock would solve that. We also use the saw to cut solid drawer faces up to about 12".
I went with a Grizzly 18" saw for several reasons: they are local to me for pickup and parts, there is a two hand anti-tie-down activation control for safety, and the saws now have a pneumatic circuit off of the foot pedal to control a clamp cylinder to hold the lumber. The blade that came with the saw actually cuts nicely without deflection. The key here is to slow the feed speed of the cut to a level where it cuts easily, but still quickly enough for efficient production.
The second part of your question - accuracy - is simple (though not cheap) to get with a digital fence to act as a stop or pusher depending on your process. We routinely cut to within a few thousandths over the span of weeks or months between minor recalibrations. The stop seems pretty robust, though we do not slam into it with heavy timbers all day.

---
From contributor M:
Contributor A, I also disagree - our saw cuts dead nuts square. I have tried and used about every method of house door construction and this method works well. I have sliding shapers, I've tried sleds and fancy cross cut guides, and this is hands down more accurate and consistent. Keep in mind we build a lot of doors, but not going up against production shops using high tech Euro double end tenoners making thousands of the same door, but will compare joint quality any day. Couple pics of fence set up with stock cutters and custom steel.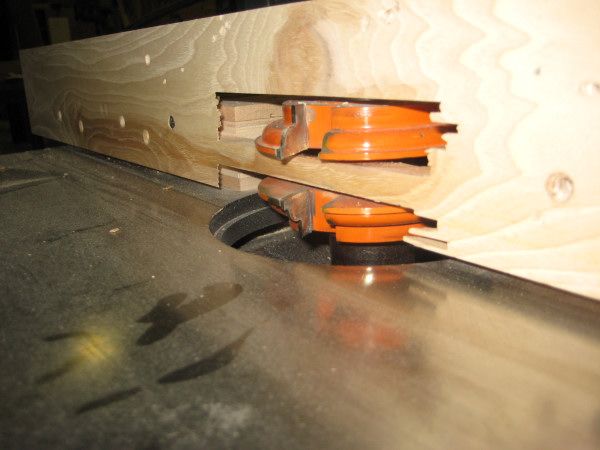 Click here for higher quality, full size image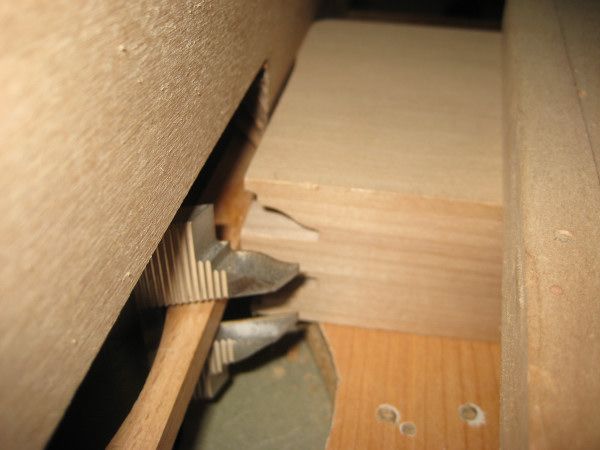 Click here for higher quality, full size image
---
From contributor B:
Why don't you cut them to length with an Altendorf or other sliding table saw? If accuracy is what you want, this is a way to get it. I'd use a short fence on the rip side as a stop if the starting part was long and the stop on the sliding table when it is short.