Achieving Bright Colors with Polyurethane Lacquers
Bright reds, blues, and greens are a whole different animal. Here are some tips on how to choose and use the appropriate products. March 26, 2007
Question
Polyurethane lacquer… Where do I get it? What is it? Been recently asked by a client to do a kitchen in a brightly colored hue (see green cabs in back). More common of high end Italian kitchens/cabs. I tried tinting my WB white lacquer (Enduro), but was not that successful - I got a pinkish hue when I added red (maybe not enough?).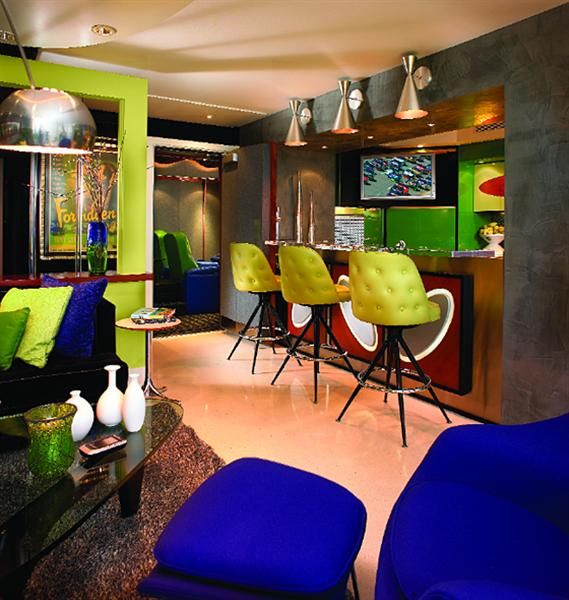 Click here for higher quality, full size image
Forum Responses
(Finishing Forum)
From contributor S:
When you tint a white, you are going to get a pastel color. Why don't you tint your clear finish to make an opaque color? Generally when tinting a clear, it takes about 8 ounces of base concentrate or a little less universal concentrate to make a good opaque color.

---
From contributor G:
You get it from your high end industrial coatings manufacturer's rep by showing them what you want. To make bright red, you need to tint your clear primer red and then tint your clear topcoat red. Red doesn't have much "hide," so it takes a lot of build to get the clear clean bright color.
---
From contributor G:
Oh yeah - you could try Varathane in Colors...
---
From contributor B:
Red is a tough color to work with. Even with a dark primer coat, I have had to use 4-5 coats of a tinted polyurethane to get the hide required to get the job completed without any ground color bleed-through. Tint your WB with Universal Pyrrol Red at 8-10 fluid ounces of tint medium in a clear 1gallon base to get the depth that you need, but be prepared to apply 3-5 coats to get the hiding. If Baby wants a deep red, then Baby must pay for the multi-coat application that Baby demands... (or Baby will just have to settle for a ham sandwich).
---
From the original questioner:
I figured that I would have to work extra to get it right. Been there, done that 7 step, white glazed finish on maple, lost $2500 at least on the deal. I am interested in getting colored lacquer to work in my favor. Blues, red, yellows, chocolate brown, any other colors other than basic black/white. I can spend the extra time on the coats because I'm spending so little on the MDF...
On to the parts: I'm local to So Cal, and I haven't anyone yet in my local professional circle who knows where to get what I need, much less how to do it. The people at Enduro were knowledgeable but they have gone into the sunset. WB is my preference but I will consider oil based.

---
From contributor R:
Go to an automotive paint store - they will make any color you need.
---
From contributor A:
Contact Enduro/General Finish - they should be able to get your colors in their enamel/poly line. It won't be cheap - $70 per gallon plus shipping. I've used them many times for custom colors over the years with good results. Though I've only used GF once since the take over, for one of my custom colors that they had on file. But I guarantee that Enduro could have gotten your color, so hopefully GF also has the same capability.
---
From the original questioner:
Found a second picture. This is actually a poly acrylic found at Ikea, the cheaper version. But I am looking for lacquer that is bright, shiny and vibrant like this.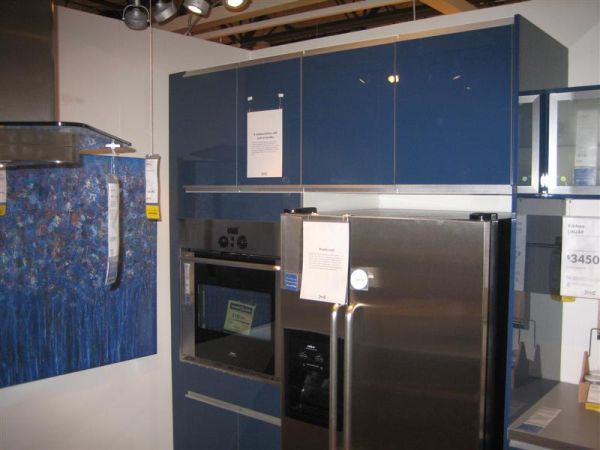 Click here for higher quality, full size image
---
From contributor R:
Createx Auto air colors is WB and comes in all kind of wild colors, pearls, metallic, chameleons, etc. as well as standard colors. You can clear coat these colors with most topcoat material. You can order it in quart and gallon containers also. Most good automotive paint stores will carry it. Coast Airbrush is also a good place to order.
When you spray it for the first time, it's a little different than spraying lacquer. You need to just fog on a very light coat and let it dry before spraying a full coat. Do some samples. It's pretty awesome stuff.

---
From the original questioner:
This seems like it's primarily auto paint. Would you feel comfortable spraying this on kitchen doors, cabinet sides, or a table for desk?
---
From contributor Z:
I wish I had a kitchen to do like that. I am so sick of spraying white and pastels I could puke. I would definitely use a urethane on this - they buff out awesome.
---
From contributor P:
House of Kolors paint is a really good source for this sort of color. Very vibrant paints. You may need to add a pearl or use a candy paint to get this sort of color. This isn't an easy thing to do. Find a local hot rod shop - there's plenty in So Cal, and they can steer you in the right direction.
I would think that a properly primed wood or wood substitute surface would be fine. Auto paint has to shrink and swell and absorb all sorts of abuse, so I would think it would work on cabinets.

---
From contributor P:
Although not sure about regulation issues in Cal, you might try ILVA (an Italian poly product) that I've had great success with.
---
From the original questioner:
We do have our issues with regulations. What is this Italian poly and where do I find it?
---
From contributor P:
I am located in NYC and most of the guys I know are using this product when a polished high-gloss finish is required. I've also had excellent results with it. Cures extremely hard and buffs well.