Adhesive Issues with Solid Wood Edgebanding
Cabinetmakers discuss whether and how to prime surfaces before applying solid Maple edgebanding to particleboard edges. July 15, 2011
Question
I am planning on building doors using a particle core with double sided maple veneer and edgbanding with 1/4 inch solid maple. On the test pieces I've done, one of my problems was the solid edging comes off quite easily. Any advice?
Forum Responses
(Cabinetmaking Forum)
From contributor R:
More glue? Why did it come off?

---
From the original questioner:
There didn't seem to be any glue on the hardwood piece, just on the particleboard.
---
From contributor R:
Wood glue is supposed to be applied to both pieces being glued together. Then clamp together, not too tight to press all the glue out.
---
From contributor L:
What glue are you using? PVA glues need to be applied to one of the mated surfaces and then firmly clamped, but not over-clamped. Epoxies, on the other hand, suggest that you coat both surfaces.
When gluing PB you would apply the glue to the PB and then clamp the solid wood on it. You should be able to see if the PB is absorbing the glue. If it is, you may need to apply more than you use for solid wood.

---
From contributor R:
Contributor L, I don't think you are correct. The way I learned to use PVA was to apply to both pieces to be joined. You get the best joint when both surfaces have a chance to absorb the glue into the pores before the pieces are joined.
---
From contributor A:
Are you putting the edge on with a bander or by hand?
---
From the original questioner:
I was planning to do it with a bander, but from what I'm reading, that won't work.
---
From contributor A:
You may want to try priming the wood strips if you're going to use a bander. There was another post regarding the priming of lam strips recently.
---
From contributor M:
I do this all the time using my bander, up to 1 3/4" thick doors and 1/4" thick banding.
---
From the original questioner:
Do you use any special type of glue? Prime the wood?
---
From contributor L:
Contributor R, I have been working with Titebond PVA glues for some 20 years now, putting it on one side only when gluing edge to edge, and have only had 5 failures in my life. All of them were in cooler temps and on cherry. The most recent was from improperly dried wood. When I do end grain to end grain gluing, such as miter gluing, I will coat both surfaces because of the glue absorption of the end grain. If I am doing an end grain to edge grain joint, I will always put the glue on the end grain. Considering I have done tens of thousands of glue joints and only had 5 failures, I think I know what I am doing.
Putting glue on both sides of the joint makes for a lot of squeeze out too. I have refined my technique to know pretty much how much glue I need to apply to get a good, solid, long lasting joint while minimizing the squeeze out. I really think that you are probably wasting glue and time by putting it on both surfaces no matter what the situation is. I went to Titebond's website and I couldn't find anything that says one side or two.

---
From contributor R:
I went to many websites and only found two that explained how to use PVA glue. One said both pieces and one said only one piece. Anyway, I only apply to both pieces under certain circumstances. Usually when the joint is critical - otherwise it is production on, one piece only.
---
From contributor L:
Sounds like we are mostly in agreement. I was surprised to find very little information about the glue application itself, seeing as there are only two instructions to gluing, apply the glue and clamp the joint. You figure that they might have a bit more advice. They do show recommended clamping pressures, but I have yet to see a clamp with a PSI gauge on it.
---
From contributor A:
The questioner was talking about putting it on with a bander, so what's with all the PVA babble? Banding solid wood requires the correct adhesive. Some EVAs are not recommended for wood. Temperature of all parts and adhesive becomes more important. The wood strips must be straight or they will constantly work on the glue line. We always prime solids. Light duty banders usually have skimpy pressure sections and don't do well on wood. Read your bander instructions. Reverse the glue roller so it wipes the porosity of the PBD full. Set for a bit more glue than on PVC. If equipped with a hot air blower between the glue roller and the first pressure roller, use it. If you have variable speed on your bander's chain, slow it a bit and be sure to use the hot air blower or the adhesive will cool more before the pressure rollers. Lots of small details will make or break solid wood application. The best banders for solid wood use PUR.
---
From contributor D:
I prime my shop made banding (typically 1-5/8" x 2mm) with Titebond. I spread and scrape it off ASAP so that what's left is mostly what soaked into the wood. It's amazing how much a little PVA can improve the hotmelt to troublesome banding bond.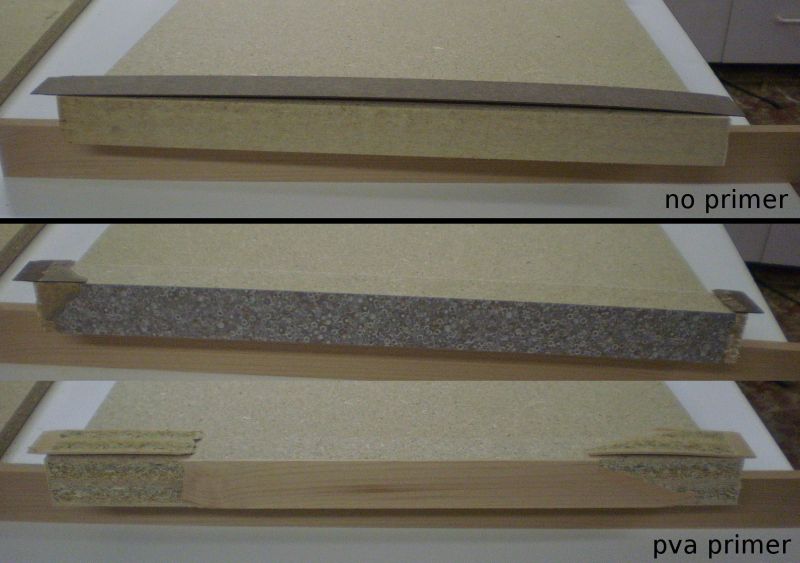 Click here for higher quality, full size image
---
From contributor A:
Just for curiosity, how many of you use a primer on solid wood and HPL? Contributor D's PVA is perfectly good but takes more labor than a product like Jowat or Dorus.
---
From the original questioner:
I was going to use Helmitens primer, as that is the edgebanding glue I'm currently using. Right now my strips are looking like the centre picture.
---
From contributor M:
I don't do a lot of HPL or solid wood, but when I do, I prime both with thinned contact cement. I also haven't had a problem with it gumming up my bander.
I don't see why you couldn't spray thinned PVA through a cheap gun to speed up production.

---
From contributor A:
My comment about taking more labor was referring to the time to mix PVA and the variables introduced. With employees it's best to remove as many variables as possible! The Dorus primer we use isn't expensive and it's just a matter of pouring it into the gun. If you are the one that mixes every time, it is not an issue. Does the leftover PVA glue tend to separate when it sits around? Does the next guy make sure it's well mixed?
---
From contributor M:
Maybe I'm missing something here, but isn't PVA glue regular white or yellow wood glue? If so, what mixing are you referring to? Diluting 50%, or whatever, with water and shaking? I would mix up whatever consistency I need to make the proper bond and for ease of spraying and then toss the leftover after I'm finished.
I see this as far less complex than mixing and spraying catalyzed finishes. Can your guys handle that?
Remember, I have only used thinned contact adhesive as a primer and have had great results, but I am always willing to learn something new. I just noticed that the Dorus primer is PVA based and has a six month shelf life. Interesting.
I also think that the quantity of the primer used would dictate which method and product you would choose. If you were a big production shop the premixed primer would be the way to go, but if you were only doing a few panels every now and then, I think one of the other methods would be better.

---
From contributor A:
Agreed - we probably use considerably more than you do. We often spray up entire sheets of laminate to be cut into banding. I wish we didn't do any HPL banding. Not as good as PVC, hard on tooling, more fooling around. Can't convince some decorators.