Adjustable Height Pull-Out Shelving
Adjustable pull-out solutions using off-the-shelf hardware and shop-built alternatives. October 27, 2008
Question
I'm designing a media unit that requires the shelves to be both height adjustable and pullout. Does anyone have method for making the slides adjustable? The carcass is frameless and the shelving is 20" w X 22"d with a gross weight of 20lbs per shelf.
Forum Responses
(Cabinetmaking Forum)
From contributor T:
I have never used any of the following but try these:
For the KV255 standards - use KV1303 but only has a 35lb rating. Or Accuride 35693 (Rockler part number). Also Quick Tray system from Tenn-Tex plastics. None would be considered high end, but may be fine for the application.

---
From contributor C:
As an alternative, it seems to me that you could fairly easily mount the cabinet side slides to plates which run front to back on the cabinet sides, with metal dowels (epoxy shelf rest pins into the back of the plate) which engage into the shelf pin holes (say two holes front and two holes back), which would perhaps fulfill these requirements? I hope I am being clear.
---
From contributor L:
I made a system that works well. I used it to make an adjustable pullout system using Blum undermount slide. I make a rail that had a "T" slot in it. I placed two of them vertically in my cabinet, one in the front and one in the back. I used a "T" nut which I modified in shape to fit nicely in the "T" slot. You put a screw through the appropriate hole in the slide and screw on the "T" nut. Slide it into the "T" slot and tighten down. I put pencil lines on the "T" slot board and lacquered them so there was a height reference.
---
From contributor R:
Don't know if this is an option in your case but for my shop cabinets I made my own system. I made notched verticals to plug in cross members with slide attached to them. The back verticals have a hole drilled in them to receive the head of a screw protruding from the back end of the cross member. This keeps the slides in place when the drawer is fully extended.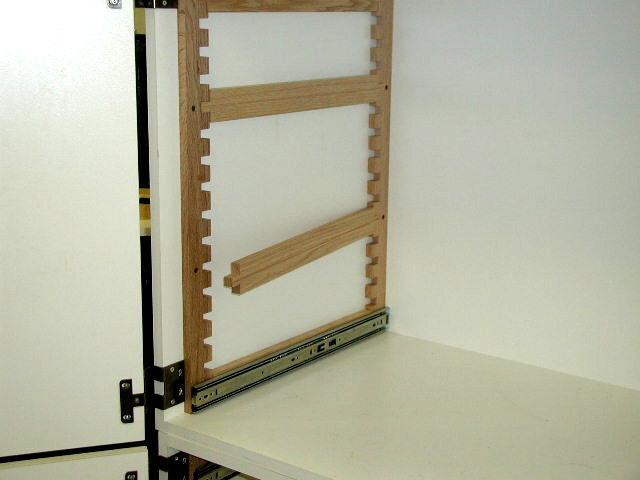 Click here for full size image
---
From contributor A:
Another option is to line bore for 5mm holes and use euro screws.
---
From the original questioner:
Thanks for all the responses. Contributor R - I really like the setup you used for your cabinets. I might use that one on another cabinet.