Air-Dried Wood for Furniture
As this example demonstrates, when a people tell you your air-dried lumber won't make a sweet (and sweet-smelling) piece of furniture, sometimes it's because they want to take your wood away for free. January 11, 2007
Question
I've got into this wood thing ever since hurricane Isabel. I built my sawmill and cut up about 40 logs of different species. The walnut log was about 36" diameter and 12 ft long. It sat in a field for more than 5 years. The bugs got the sapwood and added a little character to the heart. It sawed very easily. I only air dry the wood –I have never bought a moisture meter. This is the first project out of walnut, and a very nice wood to work with. The wood dried outside for 8 months, then inside a shed about a year.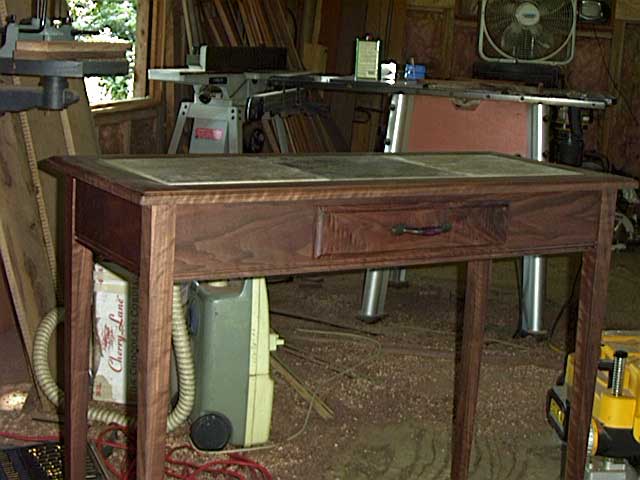 Click here for full size image
Forum Responses
(Sawing and Drying Forum)
From contributor W:
Very nice piece - how did you finish it?

---
From the original questioner:
I rubbed in one coat of tung oil so far, and there will probably be many more to come.
---
From the original questioner:
When I walk in my the house now it smells like walnut. Does kiln drying take the scent out of the wood?
---
From contributor C:
This was air dried wood I think, and the question was, does air drying allow you to keep some wood scents that kiln drying removes.
---
From contributor W:
My experience has been that the wonderful, distinctive smell of walnut is there no matter if it was air dried or kiln dried.
---
From Gene Wengert, forum technical advisor:
The hotter the drying process, the more of the scent that is removed in kiln drying. The scent results because some of the chemicals have a low vapor pressure and so are essentially evaporating from the wood. In the kiln, they evaporate faster, so the scent is not as strong. In fact, with ER cedar dried at 160 F, the scent is gone nearly 100%.