Alternatives to Cumaru for Cabinet Work
A client want cabinets made with Cumaru, a Brazilian hardwood. But the cabinetmaker is looking for a more practical species to substitute. Here are a few ideas. December 31, 2012
Question
A client wants kitchen cabinets, frameless, slab doors, in cumaru (Brazilian teak). Cumaru is typically used for flooring. It is not available in paperbacked veneer (to have panels laid up) so I'm trying to come up with an alternative. The cumaru has some striping that the client likes.
I've found something called cerejeria and it is available in paperbacked veneer, but am wondering if there is another alternative. The stain will be dark. Anyone work with cumaru before for cabinetry or have a suggestion for an alternative wood?
Forum Responses
(Veneer Forum)
From contributor D:
I would steer them away from Cumaru. It is a particularly lifeless wood - suitable for decking and not much else. We built 2 curved stairs with Cumaru at a customer's request, and I should have turned them down. The treads like to move and split, and look like deck wood. Then they ordered some more work that required veneers, and while we found the veneer, it was hard to press and hard to glue, and still ugly when complete.
I would show some samples of narra or similar. Just because they saw some stripes in a piece of cumaru, doesn't mean you will be able to get the same effect. You will be better off going with an established fine cabinet wood, and having the veneers laid up for you.

---
From contributor M:
I agree with contributor D, I would shy away from the cumaru. It is extremely heavy and has some other characteristics that will create headaches. One customer I am working with has been using cumaru for decking and some other things as well. Within the same batches of material there are two distinctly different appearances. Some are attractive and some are extremely bland, about a 50/50 mix. The 2 would not mix well in a set of cabinets, which would mean a lot of sorting and waste. Also, even after having been installed for weeks, there seems to be a tendency for slivers to splinter off from the boards. I cannot imagine having this going on in a set of cabinets.
---
From the original questioner:
Thanks. I will not be using cumaru for the cabinetry. I have used some exotics as small panels in custom doors but this was solid wood and I can't imagine using it for an entire kitchen, and not for what I priced it at. I'm looking now at cerejeria and afromosia and will definitely have the panels laid up (although I have done some pressing in my vacuum setup before).
---
From contributor P:
How about sapele? Definitely stripy. Takes a dark finish (or any finish) very well. Availability and pricing is good.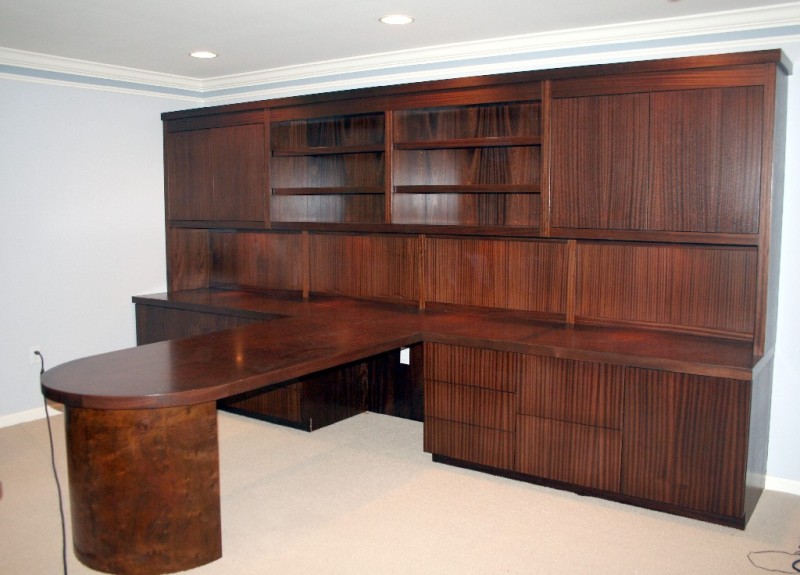 Click here for higher quality, full size image
---
From the original questioner:
Nice work. You're right. Plus, it will be a very dark stain so I may just use khaya (African mahogany) and call it a day! Sapele, with its striping, would work well. Easy to work with 4/4 sapele too. Have to make some color samples now.
---
From contributor O:
I produce sliced veneer in Lima, Peru. I have successfully cut 0.6mm quartered cumaru veneer that renders a beautiful ribbon stripe.
---
From contributor T:
We have used quartered ribbon striped avodire to match cumaru flooring. Stains to match if necessary. We make sheets and panels.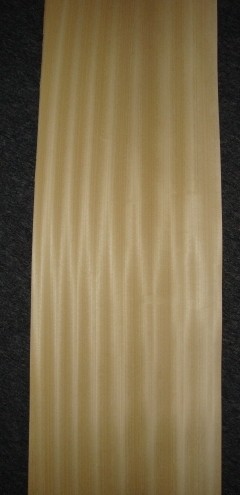 Click here for higher quality, full size image