Applying Glue to Coped Ends of Door Rails
Cabinetmakers discuss glue applicator technologies. July 10, 2009
Question
This is a follow up question about glue applicators. How are you guys delivering glue to the cope end of a door rail? We currently use a short bristle brush but I was wondering if anybody is using pressurized glue for laminating lumber. Would it be viable to make a manifold (out of UHMW plastic) in the reciprocal shape of the cope? If glue could be dispensed with the correct pattern this would sure simplify gluing up doors.
Forum Responses
(Cabinetmaking Forum)
From contributor H:
This is what I use. It hooks to my pressure tank and gun.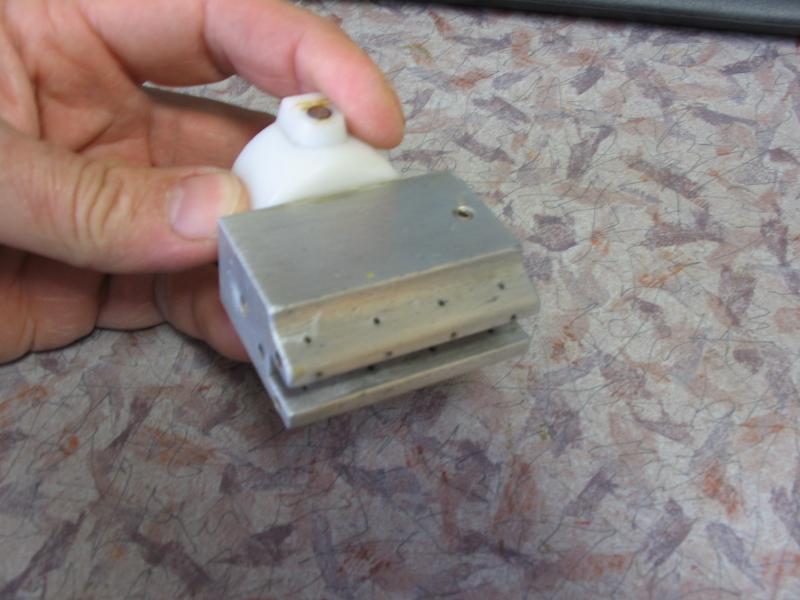 Click here for higher quality, full size image
---
From contributor J:
Please enlighten me about the gluing mechanism in the photo. Where can I get one and what is the associated hardware needed for it?
---
From contributor B:
Colonial Saw handles the Schneeberger glue system.
---
From the original questioner:
How does the pressure pot from Schneeberger differ from a regular paint pot?
---
From contributor B:
Size and shape. I think a paint pot would work. Mine pumps to 5 bar, convert that and see if your paint pot would hold the pressure. I put the gallon bottle of glue in the pot and don't dump it out. Get a hose and a replacement gun and you'd be in business. There are other companies who make something like this however the Schneeberger gun is very well made. Mine is close to twenty years old and works as well as a new one. I have maybe ten different tips for it.
---
From the original questioner:
When you are gluing a coped end, does the gun admit a specific amount of glue per trigger pull or does it admit glue until you take your finger off the trigger? It seems like the cope manifold would want to have a specific amount of glue per blast but edge gluing would want to have variable amounts of glue.
---
From contributor B:
There are both "one shot" systems and a simple trigger. Mine is the simple one, however it is quite easy to control the amount of glue. After having mine for so long I wouldn't pay the money difference for a "one shot" this is already way easy.
---
From contributor O:
I like the pressurized pot for all gluing in our shop. It will pay for itself just in labor saved from filling glue bottles over a few years. We have a Pizzi system. For edge gluing we just use a straight nozzle. You get a feel quickly for the right amount of glue. Itís a lot more predictable than using a bottle. The small roller attachment works a little better for this if youíre doing a lot of volume. We end up using the straight nozzle a lot because we normally work small batches and the nozzle is always ready to go and requires no clean up. Pizzi has brush attachments that might work well for cabinet doors. We use a dowel nozzle for house doors. The 75mm wide roller is good for face gluing door parts and skins. It does take a few minutes to clean. If you maintain the system you can leave it for weeks unused with no problems.
---
From contributor T:
For panel stave edge gluing, we use a Doucet table top applicator similar to the Quick. It is a bit of a pain to clean though. For door joints, we still use glue bottles with the tips flattened - one quick line inside the stile groove, and both sides of the tongue. I just train for small amount of squeeze out on front and back. We keep a sample at the clamp showing where to stop/start the bead to avoid excessive end squeeze out and no squeeze out inside the panel space.