Archway Casing Size Esthetics
A discussion with photo examples of trim proportioning for arched windows and doors. March 26, 2010
Question
I'm having trouble deciding what size casing to use on my 6' wide archways with ten foot ceilings. My existing window and door casings are 3 1/4. The contractor believes the casing size should all match. I am concerned that they seem too minimal. What do you think?
Forum Responses
(Architectural Woodworking Forum)
From contributor J:
I would mill at least a six inch wide casing. What style architrave are you installing?

---
From contributor K:
Here's a job we just did with 11' ceilings and 3 1/2 x 1 3/8 casing for your client to see.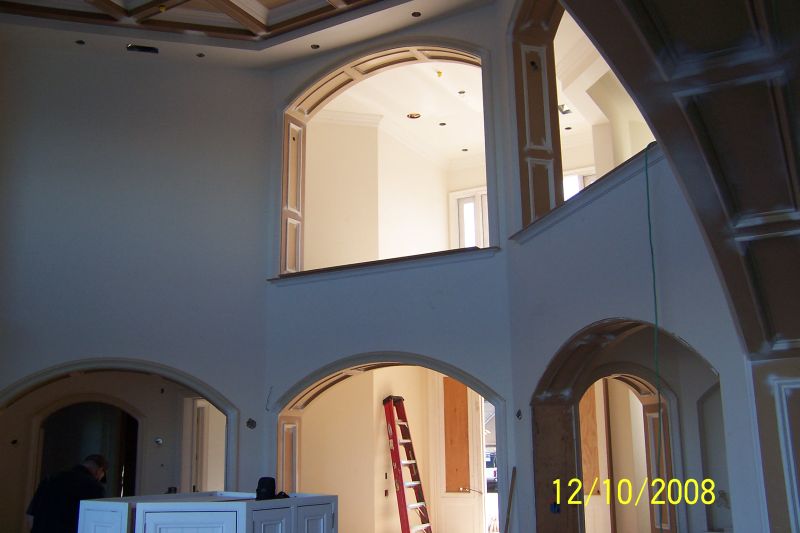 Click here for higher quality, full size image
---
From contributor U:
Very nice job. Superb design, utilising the space and natural light source to make it seem a much grander scale. Despite the dimensions, the illusion is of much greater scale until you see the human figure behind the cabinets. Very impressive and well executed - you can sleep sound with a well earned cheque in the bank!
---
From contributor A:
Most 3 1/4" casings are 3/4" -7/8" thick. Those would be too small for your project in my opinion. Contributor K's project looks great, however his casing is narrow and thick. Typically when a room is that big we have used 5"+ in width and 1 1/4" thick. They are usually done in two pieces, one being a thicker backband. Perhaps you could add a backband to your existing casing. It would make the archways appear grander, while still matching the rest of the room.
---
From the original questioner:
Thanks, contributor A. Contributor K's room is exactly what I didn't want. I just relayed to my contractor your suggestion and he absolutely agreed. He is going back to the mill to see if they can add a band to the 3 1/4 casing. He thinks the band would be about 3/4" which would make the casing 4" wide. Still not sure if that is sufficient? My rooms are not that large and I am concerned the casings will take over the room.
---
From contributor P:
Where is the design professional in the process? The woodworker makes what has been designed/drawn, the carpenter installs it, but the design professional is the one that specifies such details to fit into the larger plan. Or is the woodworker being paid to design such things (and is trained to do so)? If there is no design professional, then it is a rudderless ship, in my opinion.
---
From the original questioner:
This may be a rudderless ship. I just assumed the contractor, who is a trim only contractor, could make the decision for us, being that is his trade. But now it appears he is not as experienced as I would have liked. He is a trimmer for new construction only and works for the mill company. So although he knows how to apply the mouldings and cut perfectly, I agree a designer's input would have been the way to go. I am very pleased with his work, just not 100% confident on his suggestions. Worse case scenario is we end up with a moulding that is a touch too small or too large, but I am confident it will look much better than the plain sheetrocked archways that currently exist.
---
From contributor U:
This kind of question can only be answered by someone who shares the questioner's taste and sense of what works. The big problem with any forum is that one is trying to provide a solution at a distance without first-hand experience of the physical situation on site, whilst trying to get inside the mind of the original poster.
Even on site you know damn well that the drawings you're presenting for approval will probably have to be changed, but at least you've got a starting point that enables you to work towards a consensus. If the client is a ditherer then I'll present something that is so outlandish it'll provoke a reaction. When you have that first sign of motion it's possible then to steer them towards what they want and what you know to be workable and within their budget.

---
From Gary Katz, forum technical advisor:
The size of the casing is pretty much determined by the height of the room, and most of those proportions are based on sizes from the classical orders. For a ten-foot ceiling, the casing should be about 5-6 inches wide. Adding the backband will sure help a lot.
We used a smaller casing on this job - chosen by the designer. So even designers aren't always right. Just because someone has a title doesn't mean a lot these days. I know a lot of trim carpenters that are extremely knowledgeable about their crafts and proper proportions.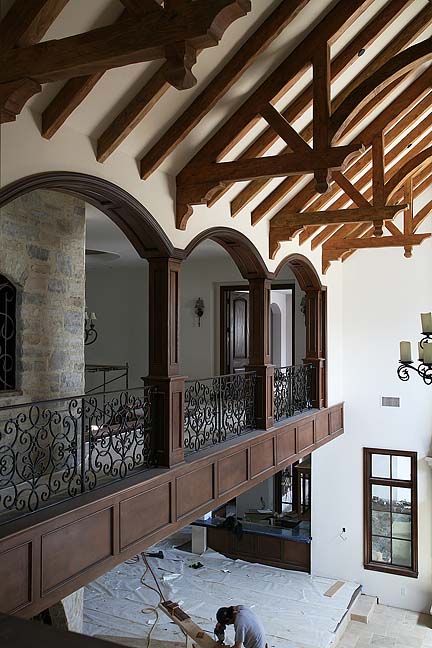 Click here for higher quality, full size image
---
From the original questioner:
Thanks. I agree with your comments regarding designers and also many trim contractors. We pretty much decided to go with the 4 1/2 (against the advice of our trimmer who suggested the 3 1/4). Due to the windows and doors already cased at 3 1/4, I feel a jump to 5-6 on the archways would be too much. If we could start all over I would have chosen a wider window casing and taller base. I'm hoping the 4 1/2 will be stately enough to set our home apart from the builder's grade stock and at least a bit closer to what should have been placed. I absolutely agree that your formula would be more befitting. Since the windows and doors are already finished we cannot find a 4 1/2 to match the existing mouldings. Would an entirely different profile be acceptable? Putting a band on the existing 3 1/4 I can see, but I believe the thickness would still be too thin on the tapered end.
---
From Gary Katz, forum techical advisor:
The band would be a very good workaround.
---
From contributor R:
Why not buy a couple of pieces of different widths, tack them in place, then stand back and see which you like better? A few dollars invested up front is worth the peace of mind.
---
From contributor O:
You really need to model things that are out of the ordinary. Grab a router and try a few bands, then tack them up. Maybe a cove to transition to a flat. Try a smaller/bigger bead, or a square outer edge with a quirk and a bead - a few different ideas to see what they look like.
Once you've done something nice to your installed doors and windows, scale it up to 5-6" to make the arches. The molding can be similar, with a few of the same elements, or a very direct copy just made bigger.
I design liturgical furniture, which goes in very large spaces. You just never know. Time and again I'm amazed by the difference a quarter inch in diameter makes to an 8" diameter leg, or how an 1/8" bigger offset really makes a molding pop.
Sure, kudos go with great work, but remember that this is why it costs more and fewer people do it. You just *have* to take the time to figure out the details. Besides, this part of the job is fun (says a designer) and adds a lot to the rest of what you do.