Assembling Face-Frame Cabinets
Basic tips for assembling face-frame cabinets off-site. April 26, 2006
Question
This is our first large face frame job with inset doors and although we think we sorted out most issues, there is one question. What to do with the vertical joints between adjacent cabinets? Are we to make long runs of face frames, finish them in the shop and attach them to the carcasses after installation? If so, how to attach them? We do have a construction boring machine for doweling but using biscuits seems more forgiving.
Forum Responses
(Cabinetmaking Forum)
From contributor L:
Don't make individual cabinets. Make a cabinet unit. If you have a wall and it needs 85" of cabinets, make one cabinet this size. Make your box and FF 85" and assemble the whole thing in shop and finish, etc. When you go to install, you will need more than yourself. But it will go quick, because you only have that one cabinet to install, with no aligning of FF's. Here is a drawing of an island I designed, built and installed. It was two boxes, 24" x 11' and 14 3/4 x 11'. The drawing says 17 3/4" but it was revised for space. I couldn't do this with multiple cabinets because of the design of the toe kick.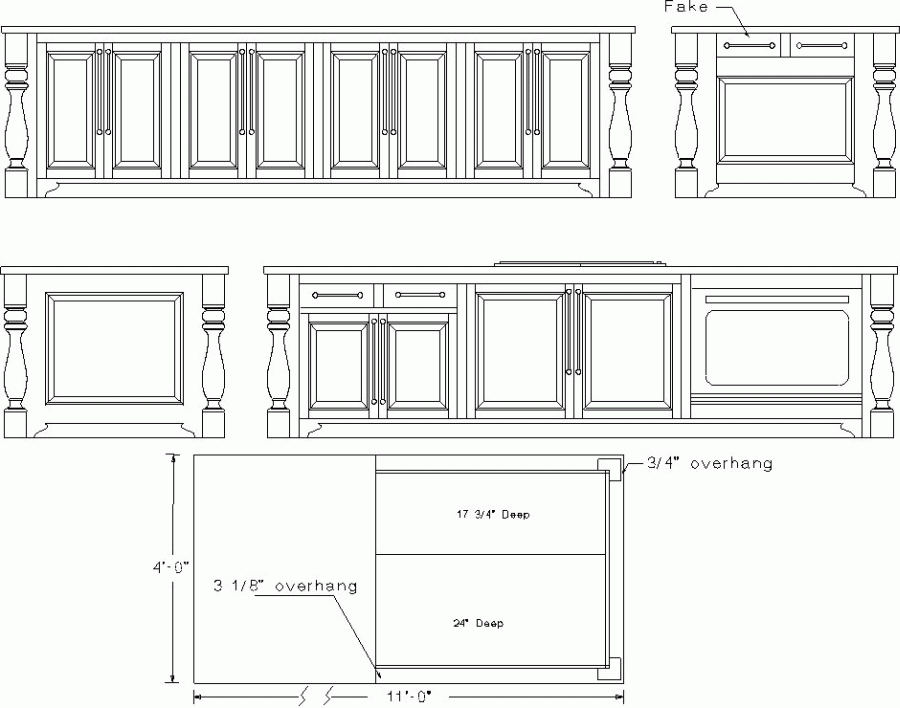 Click here for full size image
---
From contributor J:
Definitely build as one piece, but make sure you can get them where they need to go. Many times an 85" cabinet won't go were it needs to without bending. I haven't built a bendable one yet. I try to keep mine under 72", then if all else fails, you can stand it up and take through the doors on end.
---
From contributor J:
All we build are face frame cabinets. I know some say to build the box and then put the face frame on. I think my way is much faster. We lay the face frame on the table good side down. First put one side on, then the floor, then the other side, then toe kick. We then spray and then put the shelf in and then the back, then install the drawers and doors. Piece of cake. I do make the cabinets as long as I can for material sake and the looks. But when joining cabinets we pre-drill in the first piece, then attach with 3", no snap screws. And pocket hole construction is the only way to go on face frames.