Assessing an Old Bedstead
Before he tries to refinish it, a furnituremaker asks for advice on a bedroom piece's worth. October 13, 2008
Question
I am charged with refinishing an old bed. I am told it was made in Chicago (maybe) between 75 and 100 years ago. I would like to know more about it and its value to help determine what level of restoration is suitable.
It has tons of handcarved pieces, and is very ornate. It has many raised panels laminated with burl veneer, I believe walnut. The headboard is a two-piece unit 8' 6" high. Some screws were used, the old flathead slotted type. It also has two matching dressers with marble tops and a hidden drawer in the valance between the legs.
I found no markings, tags, or anything identifiable anywhere. I wonder if it was just a one-off made by a hobbyist? Here is a picture of the top half of the headboard and the foot board.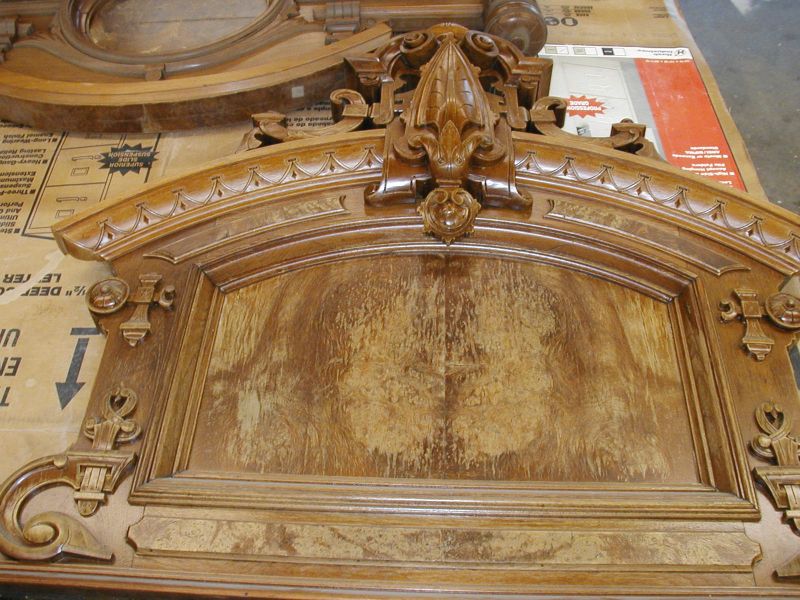 Click here for higher quality, full size image
Forum Responses
(Furniture Making Forum)
From contributor B:
Looks a little like Eastlake to me. Perhaps a mass produced set in that style?

---
From contributor P:
The absolute first rule of thumb is to establish what it is, who made it, and if it has any value. If it has value because of who made it, where it was made, or when it was made, then you will likely ruin that value by any refinishing.
That said, from the picture it looks like it was factory made. The trim pieces and adornments look machine made. The finish doesn't look to be that old either. Just from this one picture I don't know that it can be properly dated unless a person is familiar with the bed or at least the maker, but I'd bet it was made in the fifties. I'd look for telltale signs of age, such as wear marks on the rails, on the top of the footboard, the condition of the feet and any other areas that would be touched or abused. The rails can also help date it. Is it made for a box spring? A hundred year old bed would probably be made for a stuffed mattress.
---
From contributor T:
Easily late Victorian, transitioning from Rococo Revival to Eastlake. Circa 1880 to 1910. Bed and breakfasts love these. They currently have value added by repair and refinishing. Would have been factory made. Have fun.
---
From the original questioner:
You guys are amazing! Thanks a bunch. I did research on Eastlake and I would say you're dead on. Do you have any idea of the value? Also, it has been in storage for 40 years or more and in a storage unit for the last 10-15 years. As a result some of the glue joints are separated. They are still solid but you can see the lines. Any way to fix this or is it now part of the piece? I want to use pre-cat lacquer for the new finish because it is going to be used from now on. Will I destroy the value by doing this?
---
From contributor B:
Here's the story as I see it. True antiques are significantly more valuable with their original finish, no matter how ugly it looks. The finish is part of the history of the piece. You only have to recall the Antiques Roadshow episode where a CT highboy was worth $30k in its refinished condition but would have been worth $300k if the woman who owned it hadn't had it refinished because she thought the finish looked ugly. Even after getting this shocking news she responded "yes, but doesn't it look better now!"
That's for a true antique. I personally have never heard of a factory-made piece being placed in that category. So, on this bedroom set, I'd say do the refinishing, as it will probably increase the value. As to final value, perhaps a couple thousand, if that. Used furniture (not true antiques) does not have a lot of value.

---
From the original questioner:
Thanks for the input. I will likely proceed. The owner is very wealthy and wouldn't sell it anyway. They intend to give it to their son after I am done. I would just hate to destroy the value of a piece by refinishing. I know little of antiques and values although I refinish them often (after research of course). Most of the time it's sentimental value and preservation that is important to my clients. My primary work is designing and building furniture for folks so I like to ask people with knowledge in this field first.
---
From contributor C:
As far as a value on the bedroom set, I would estimate to be around 5k to 7k. I refinish antiques as well as buy and sell. I would say it is Victorian style, circa 1870's-1880's. I wish she would sell it.
---
From contributor J:
I would get an appraisal just for squats and giggles. That way you know for sure the who, what, when and where of it. Can't cost but a few bucks and you're covered. Just add it to the cost of refinishing. If it turns out to really have a bunch of value, than those few bucks just saved your butt by not touching it.