Backyard Shop Ideas
Here's lots of advice for a first-time shop builder from cabinetmakers who have been there and done that (with a side discussion about relating to the neighbors). January 28, 2009
Question
I have been building custom cabinets for 20 years. Four years ago I left my employer to work as a subcontract cabinet installer and was really doing well up until the first of 08. Since then I have been doing some built-ins and a few small custom jobs in my two car garage and have been steady working. The space is cramped considering I share it with lawn equipment, water heater, water softener, etc. I have decided it is time to build a dedicated shop in my backyard. The size will be 30' x 40' and I have been thinking a lot about anything I could miss during the process. I don't want to finish it and say, "I wish I had thought of that." Any suggestions?
Forum Responses
(Cabinetmaking Forum)
From contributor W:
You should have 2 large doors on each end. Raw materials in on one end and finished goods out the other end when you are done. My shop has one big door in the center on the side and it sucks.

---
From contributor D:
I would definitely have a door on both ends of the building. It will help in the summer. A little breeze is nice sometimes, except for when you are trying to spray something.
Make sure your walls are tall enough that you can expand and still have enough roof slope to go out with an enclosed overhang. You will find out real quick that a 30 x 40 is not large enough. I started with a 30 x 50 with a 12' lean-to on one side. We added another 1000 sq.ft. on the rear within the first year.
I would check with my local city codes. You may find out, as I did, that the city frowns on backyard businesses that produce dust, noise, use excessive electricity, and make vibrations. I found out all this when the city tried to annex us. I was told that I could continue because I was grandfathered in. I just could not produce dust, noise, etc. That is a fun one to avoid in this business. I did play a little dirty politics and got around this one.
Also make sure to go with at least a 12' wide door minimum. We added a forklift a couple of years ago and found out that my 10' wide doors suck when you are trying to get random length lumber into the shop.
I would also try to put the air compressor outside. They are noisy and produce a lot of heat in the summer.
I think Grizzly has a shop layout tool on their website. That could be helpful laying out all your equipment.
One other thing about having the shop in the backyard. It is hard to explain how you couldn't make it to work when it snows.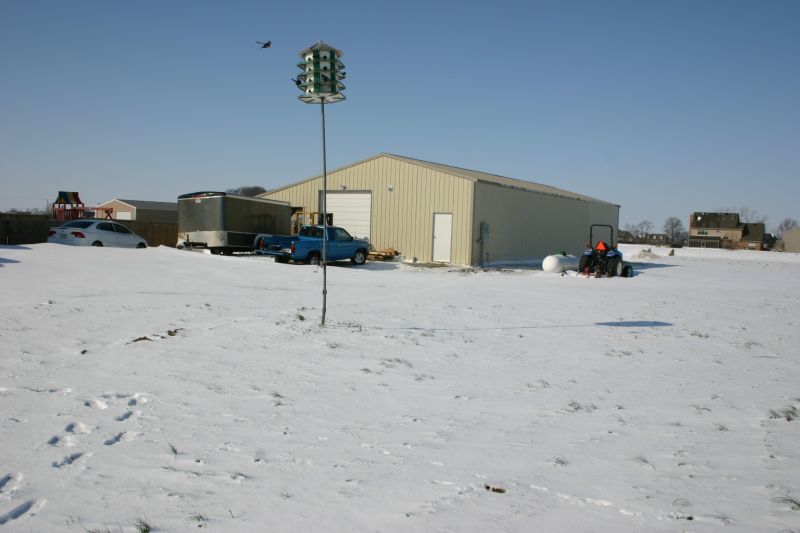 Click here for higher quality, full size image
---
From contributor S:
You sound like you're in the same situation I was a year ago, except you have much more experience. My shop is 30 x 40 and after building it, yes, I can say I wish I had done things differently. The 2 doors is a good idea - one at each end - if you have the space behind your shop. I don't. I wish I had gone with radiant floor heat with a different zone for my finish room, which is closed off.
I'd like to say that 30 x 40 is not very big once you get tools in there. I have little assembly area and not much for storage of finished products. Finish room takes up 11 x 17. So I would suggest maybe a lean-to on the side or something for a finish room and storage separated by a wall. Then have a door to access the storage room. A bigger office would be nice. I can't believe how much stuff I have to have up there.
Have plenty of outlets and air valves around. It would be nice if you could hide it all in the walls.
The biggest thing I wish I had done is have at least 13' sidewalls. I order lumber and it's usually 12' long, so I have to lay it down, which takes up more space.

---
From contributor M:
If your property allows, I would think about a walkout basement and a loft overhead. You will double or triple your square foot while digging the same sized foundation and using the same amount of shingles. Not to mention a wood floor under your feet all day. Oh, and buy a lot of insulation. Well worth the money.
---
From contributor U:
Radiant heat, and also run conduit in the floor/slab for wiring.
---
From contributor T:
Build it twice as big. No windows, no roof vents, no gutters. Lots of skylights. Electric in floor for your fixed saws, etc. I ran #10 in the floor to each of side walls for 120v outlets (no voltage drop). It has worked out well.
If it is a steel building, put an extra purlin around the shop at 4' off the floor for the outlets and conduit to mount to. It also makes a great home for dust!

---
From contributor K:
I built my new shop two years ago. Before I even broke ground I had made sketch after sketch on layout, outlets, dust collection drop downs, etc. I had made scaled cutouts of all my tools and storage and messed around with their locations until it all fit. If you haven't yet, be thinking about carts as well. I made a "sheet of plywood" cutout and made sure I could push it around the virtual shop to simulate goods on carts.
30 by 40 is kind of small. I know economics often drive our decisions, but do know that you will never say, "damn, I built this shop too big." If borrowing a few more bucks to get exactly what you want is possible, I would definitely do it. I would also research dust collection, as this will ultimately determine location of tools. If I could do it all over again... I would have a bigger spray booth.

---
From contributor R:
In the planning stages of my shop, the first thing I planned was a bathroom so I didn't have to go into my house dragging sawdust.
---
From contributor G:
For a comparison, to help get your mind around the space you are talking about... If all you want is 1200 sq feet, then buy an old 16x80 mobile home and rip out some walls. Comes with heat, air, a toilet, insulation, interior walls, windows, light electric, and low ceilings for about 5 grand. It is what I have, along with a couple of lumber sheds. Of course I build musical instruments mostly, and occasional built-in furniture.
That is probably not exactly right for a cabinet shop, but that is the area you are specifying. Seems small. Extra bays added now would be fairly cheap. I have a friend who has what amounts to an insulated curtain in his 25x100 something space (old commercial building) that he draws in winter and summer and just lets the back half get cold or hot. If you want more space without adding to heating/cooling plant.
Doesn't a panel saw or a decent size CNC have a working footprint at least half the size of the building you are planning? A thought for the future.

---
From contributor A:
In my area, the national code has not quite caught up or been enforced. With that said, it is much cheaper to build a pole barn. Do a search for "post protectors." They are about $40 each, and are a poly boot that encases the bottom of the pole. This way you avoid footers and frost walls, but have the guaranteed longevity.
I would definitely go with radiant in the floor. It is very comfortable, and recovery is fast when you open a big door. Depending on how cold your winters are, I would only go with 1 - 14' overhead door on one side. A lot of heat is lost through doors and windows if you get a lot of wind.
30' x 40' will feel like 10' x 12' once you get machines and benches in there. Build it once, and be done. Don't add a lean-to here, and a shed roof there.
A scale layout is a great idea. Do it on something big like a sheet of plywood.
A toilet is a must. I have a 6 gallon hot water heater in my utility room with a laundry sink.
Phone is a must. Office is optional if the shop is behind your house. Run all electric surface mount in conduit. That way critters will never chew your wires.
I've been kicking around the idea of building a 40' x 60' behind my house. Right now the shop is 24' x 72' and located at my father's house (started as 24' x 30' - way too small). So far I priced out (pole barn style) basic pavilion structure - $7,000; radiant tubing and 30 yards of concrete - $6,000. This is before I close it in, insulate, drywall on walls, white steel on ceiling, lights, electric, doors, windows, ductwork, etc. I wish that money tree would grow faster! Good luck. Plan everything out before you start. If you can, do all the work yourself - you will save thousands.

---
From contributor J:
I've been in my shop for a year and a half. Before that I was in the garage. I feel your pain! The shop is a 40 x 36 and is too small. With that said, I can still put out approximately 35 kitchens a year. I keep shop equipment to a minimum - a tablesaw and line boring machine are the biggest stationary tools. The booth is 8' x12'. I have a lot of sawhorses and small benches on wheels, a large assembly table (essential). All the sheets are in an industrial rack, approximately 150 sheets at any given time. I hang a lot of templates on the walls and have storage above the booth. Heating is a forced air unit hung at the ceiling with industrial ceiling fans to move it around. The price of construction seemed steep at the time, but considering the revenue generated from the new shop, 2500 square feet would have been nice.
---
From the original questioner:
Thanks, everyone. Let me explain my situation a little better. My yard is an acre with a neighbor on each side. My backyard borders a grown up common area that is never to be built on. The common area measures about 70ft from my back property line to the back neighbor's back property line. This puts our distance around 130yds from each others' houses. My building size is being dictated by setbacks and my well. In my county you have to be 25ft from the rear line, 20ft from the side line, and 25ft from water well. I would have to have a new well drilled in a different location to increase the size, at a cost of about 2500.00.
I was and am still nervous about building because we do have a HOA. Our covenance does not have many regulations. I guess this is because we are in a rural area and that most of the homeowners moved out here to get away from strict guidelines. The HOA has pretty much approved it and said that I can build it any size that is allowed by the county. I told them that it is a garage/workshop, not that it will be a dedicated workshop. I plan on insulating it well to reduce noise. I also plan on working during appropriate hours as to not disturb anyone. I don't want to lie to anyone or disturb anyone but I do feel that I should be able to do what I want on my property within reason.
I am too reluctant to lease a shop with no more than I am producing right now. It would cost me about 1500.00 a month to lease a decent sized shop, whereas the payment on the money I borrowed to build the shop in my yard is costing me about 350.00 a month. This seems to be the best solution for me for the immediate future. I think a couple of you posted with similar situations of building in neighborhoods. How has it worked out for you? I always listen to any advice that is given and try to filter through everything to make the best decisions. I appreciate everyone's input.

---
From contributor A:
Contributor J, you produce 2 finished kitchens every 3 weeks out of a 1400sq/ft shop? That is impressive. Are these simple kitchens? Do you outsource a lot? How many employees do you have? CNC? 36 hour days? I'm just curious, and would love to hear how you do it. I'm impressed. It takes me about 8-10 weeks to do a nice raised panel kitchen. I work alone, and do everything in house.
---
From contributor S:
Something I didn't consider is advertisement. I'm in a small rural neighborhood on 1.25 acres between two other acre properties. I don't believe I'm allowed to have customers come out or even put a sign in my yard since my property is not commercial. This is making it very difficult for me to advertise. If I had it my way right this minute, I'd be in town with a good sized shop just so I can be seen. I'm strapped for money, though, so I'm stuck right now. But if you already have your name out or a good advertising method you wouldn't mind sharing, all the better for you.
I still suggest a lean-to for a finish room and finished product storage. It's out of the way, doesn't take away shop space, has its own exterior door for loading, and you will probably have a bit of extra ground for a small footprint like that, say a 14x20, still insulated, etc. I regret not doing this. I don't want to do it now because I really need to be in town.
If you have a dust collector/air compressor outside, that's great, but the neighbors will probably get tired after a while of the loud vacuum sound. Maybe insulate and soundproof a small room just for that.

---
From contributor D:
I agree with you on the lean-to. I have one on my building as well and I am considering adding on the other side. I am in the same situation as you about the sign ordinance. One way I got around it - lettered up the enclosed trailer and I park it near the end of the driveway. The city can't say anything about lettering your trucks and trailers.
---
From contributor R:
It is your civic duty and moral responsibility to be truthful with your neighbors about your plans. If they object, you will have to find another place to build it. This is very different from having a part timer's workshop/garage behind the house. There are times when you will want to work with the doors open and it will be noisy and/or dusty. At other times you will be doing finishing, which expels vapors into the air. You have to be a good neighbor first and do the right thing.
You might get away with building the shop behind your house. If, after you start working in it, you get turned in to code enforcement, you will be out of business.
---
From contributor H:
For a variety of reasons, of which only a few have been mentioned here, I think you should rent a commercial space in town. With the way the economy is now you could probably lock in a low lease with no problems, and be able to conduct business. Save your cash for operating expenses. Renting, you'll have no property tax burden. I rented a place in town after I sold my house (oh yeah, the shop goes with it). I rented a 4000 sqft space in town for 250.00 a month, and stayed there for 5 years, and made enough to buy property and build a 5000 sq ft place in town. Now I get to pay every tax and fee known to man, and I laid out most of my cash to do it.
As a neighbor I would have a real problem dealing with all the dust, traffic, fumes, noise that I myself make. Your neighbors didn't move where they are to be in an industrial park. Besides that you say the building you propose is the max the lot will take. What happens when you need to expand?

---
From contributor G:
That is an excellent point. We began this by all suggesting that you will need or want more space initially and if not now you will in the short future. What is the long, or even short term, value in spending the kind of money you are talking about, at this time, for what you will get?
In summary,
You can't grow.
You can't advertise.
You have highly limited visibility.
You have no chance of any sort of showroom.
You have to run a sort of stealth operation in a residential community.
And on the back side, when you do outgrow the shop...
You can tear it down.
You can look at it out your back window.
Or you can try to sell a piece of real estate which doesn't fit in. Who is going to want to buy this house with the giant garage in a residential neighborhood... with all the shortcomings mentioned above? Can you get your investment back on resale? If you cannot, then rent as suggested.

---
From contributor I:
I think the backyard shop is a good idea if you can get away with it. Overhead can really kill you, especially in these times. If you need to move on/up, you may use the shop for something else. I have a backyard shop (on 5 acres) and if I ever move out of it, I have a long list of things I will use it for. As far as resale, not every buyer will like a big shop building in the backyard, but there will be some that will buy the property because of the shop.
Also about neighbors: Many of them may be doing something that is questionable, so they won't hassle you. You'd also be amazed what a difference making your next door neighbor some little project for free will make. Not making noise at night is important.

---
From contributor G:
"Many of them may be doing something that is questionable, so they won't hassle you."
What basis could you possible have for saying this? And even granting, just for the sake of the discussion, that it could be so, what moral, ethical or property value issue do you feel it would justify?
Oh, yes... I forgot. "You'd also be amazed what a difference making your next door neighbor some little project for free will make." Yeah, after that they will be so happy about your neighborhood improvement. Should that be a $5 or a $10 "sorry I wrecked the neighborhood property value" gift?

---
From contributor D:
I am sitting on 5 acres as well and have asked my neighbors if they can hear me, and they say the noise is not a problem. They occasionally hear a planer or something running, but not as loud as the guy down the street with the sprint car.
As for the shop, I personally would buy a house that had a nice shop that was heated and cooled and was large enough for the motorhome, boat, tractor or whatever else I wanted to put in there.

---
From contributor I:
I have not wrecked anyone's property value and I am not suggesting that anyone should. My neighbors all moved here for similar reasons, several are auto enthusiasts, some of them make a lot more noise than I do. Some have horses, as I also do, and one in particular has friends over roping until 10:00 pm several times per month. My neighbors on both sides build race cars. We all get along fine. And no, this is not some redneck trailer trash neighborhood, no mobile homes - the houses are all over 2500 sf with values from $500k and up. If having a shop in his backyard won't work for someone, he shouldn't do it. It sounds like the original poster's neighborhood is somewhat similar, as is the neighborhood of at least one other poster. We had one neighbor who was unhappy with all that was going on - some of the race car guys helped them with some welding, I did some repairs on their house for them, they now are friends with everybody. If this isn't cool, I guess you should be glad you don't live here.
Definitely talk to your neighbors, don't be a nuisance. I think a one man shop doing small projects and off site work in a rural area can probably work out if you do it right. I don't see anything un-neighborly in that.

---
From the original questioner:
I appreciate everyone's input. I told my neighbors about wanting a backyard shop over a year ago. Everyone was supportive of the idea. I intend on doing everything I can to prevent noise, dust and traffic. I am only building bookshelves, entertainment centers and some custom furniture items. I have not built any custom kitchens out of my garage - not to say that I wouldn't. I am currently having a friend of mine do all my finish work at his shop which is only about two miles from my house. This works great for me right now.
I want to stay on a small scale with no employees. I do not want to have a large business with lots of employees and all of the stress that comes with it. I enjoy what I am doing right now and it keeps my family fed. Why change the formula if it is working? If for some crazy reason I changed my mind about going big, I would either lease or build a commercial building in a highly visible area. At that time my backyard shop could very easily be used for a garage. I have thought through this for three years now. The building would have many uses and I am sure if I ever sold my house that most people would love to have a garage that size. I failed to mention that I live six miles from the Intracoastal Waterway. There are a lot of boat owners around here that would drool over a garage that size for their boat or personal watercraft. I truly feel that building this shop is the best option for me right now and hope to be in it by January.
I forgot to mention that the shop will have heat and air conditioning. I intend on leaving the doors shut most of the time to nearly eliminate all noise.

---
From contributor N:
I have worked as a shop foreman or been the owner of the business for almost all of the types of shops described above over the past 15 years, starting in my early teens in my dad's backyard shop. I still miss the 7000sft downtown warehouse that I rented for a while, but the energy costs were killing me there! My wife and I bought the shop that I am in now with 5 acres of land in a rural part of town. It is 2000sft plus another 1000sft in a lean-to finishing/office/finished assembly area. It is still too small, but there is room to expand. Here are my two cents...
1 - You can have too much space and fill it with unnecessary things that clog production and increase costs.
2 - You can't get away running a full-time shop for a long period of time in a residential area. You will eventually run into supply problems. (What is the access to your backyard shop? If your suppliers deliver, how big are their trucks and how often do they come? Can they even operate legally in your neighborhood? Can I easily move raw materials and finished products out of my shop without tearing up my yard and irritating my wife?) Or zoning problems (advertising, customers visiting, noise ordinances), or insurance issues (does your homeowner's insurance adequately cover your outbuilding and equipment or will your commercial insurance cover these things at a residential location?).
3 - Power requirements. Can you get 3-phase power should you need it? Will you have enough capacity on your residential service to power your shop and your house? Are you willing to pay for a second meter if necessary?
4 - In taking into account for layout, realize that you need between 24 to 32 feet for your table saw with or without opening a door plus at least 10 feet side to side in the footprint (at least 240 sft for that piece of machinery alone). That is a great deal of space to occupy in the dimensions that you have given. Just don't sell yourself short on space in the beginning. Portability is a great option, but it kills production. Even as a one man shop, if I can squeeze another hour or two of productivity by walking less or not having to set something up, I have become more profitable.
5 - Having a shop in the backyard can be a great tool for teaching your kids great woodworking practices and have some fun after school. That is how I started in my early teens. However, it also makes it difficult to resist the temptation to stay out a little later, keep working after dinner, and it makes it a bit easier to be bothered by the little nagging details of a project in the middle of the night.

---
The comments below were added after this Forum discussion was archived as a Knowledge Base article (add your comment).
Comment from contributor A:
While reading the posts here I was reminded of my own situation. I spent 15 years a space of about 1,100 square feet. I had to share it with three other peoples stuff. My father was one. I made furniture and anything else I could. I would much rather have had at least two and a half times as much space. Anytime I mentioned that amount to my friends and acquaintances they acted surprised at the amount. Eventually, the local building inspector came along and handed me a cease and desist order. After the appeals all the way to the state board that governs these issues I finally heard someone say, "I don't like the way you have abused this manís due process." I did finally find a building of 5,600 square feet 35 miles away. I still wish I could find something closer by without having to spend the next ten years of profit to do so. I my hometown there is a definite official dislike to the kind of activity woodworking requires.