Bandsaw Mill Components
Advice on bearings, blade guides, tires, and more, for someone considering building a bandmill. March 26, 2009
Question
1- I am looking for the manufacturer and part numbers of suitable bearings to use as bandsaw blade guides. In keeping with my DIY project, I want to build my own guides but want to buy the best reasonable priced bearings.
2- Are rubbing blocks with a lubricant such as graphite better than just using bearings as a guide? I plan to build a horizontal blade mill.
3- What is the general consensus on the size of wheels and tires to use? I've read that larger is better. What are you using on mills built with auto rims and tires? Is a 15" wheel with a tall tire suitable?
4- What is the longevity of an auto tire on a bandsaw mill, or would a commercial truck tire be better?
Forum Responses
(Sawing and Drying Forum)
From contributor A:
1. Cooks sells the best blade guide system of anyone I know. They are 6-way adjustable. Not many out there that can do this. Both my band mills have them and I put them on my Morgan resaw.
2. Rub blocks are not as good as rollers.
3. 19" solid balanced and trued wheels for 1-1/4" band blade, 25" for 1-1/2", 30" for 2" blade. These are minimums.
4. I would not use tires at all. Too much vibration put into band. Solid wheels are the best. Cooks sells all these parts.
I am an engineer and could build any mill I wanted. But would I? No. You can buy a head complete with all the engineering done for you. Why reinvent the wheel? Cooks sells heads also. I have had sawmill friends buy the head and I have fit it to their frame. It works great right out of the box, so to speak. Just my two cents - if you want to build your own and have the ability, by all means do so.
---
From contributor R:
Contributor A has it right. If you must reinvent the wheel, I would consider Cook's guide wheel system. I also spent 40 years in manufacturing and engineering, and you would save yourself time and money by purchasing prefabricated components. A lot of people have gone down the same path as you and built some really great mills.
---
From contributor B:
I built my guides using bearings to start with, but the bearings I was using wouldn't last long. I liked the way my guides worked but hated changing bearings every time I turned around. Ended up getting some from Cooks. I am using trailer tires on 12" wheels. There were two different size tires, seems like 4.80x12 and 5.30x12. I went with the bigger and have a tire that's about 21.5" outside diameter. I don't think a commercial tire would be any better or would be needed. If (when) I do it again, I will definitely use the steel wheels from Cooks. When I built mine I was trying to do it as cheap as possible.
---
From contributor H:
Use bearings that are good for 60 miles per hour because that's how fast the blade runs. They cost about $2 each. Here's a picture of blade guides that work great and are simple to build. 15'' trailer tires will work, and tires keep your blade cool so you won't need to use water on the blade.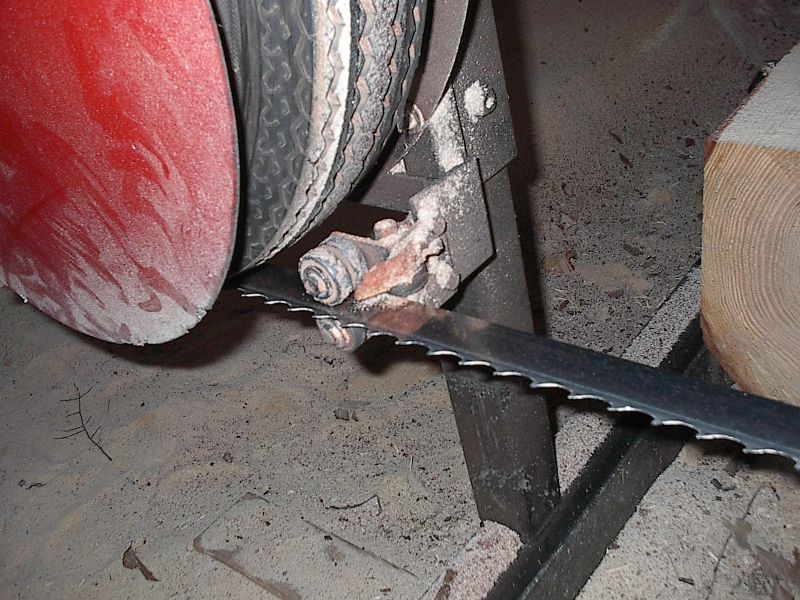 Click here for higher quality, full size image
Here's the other side that moves in and out.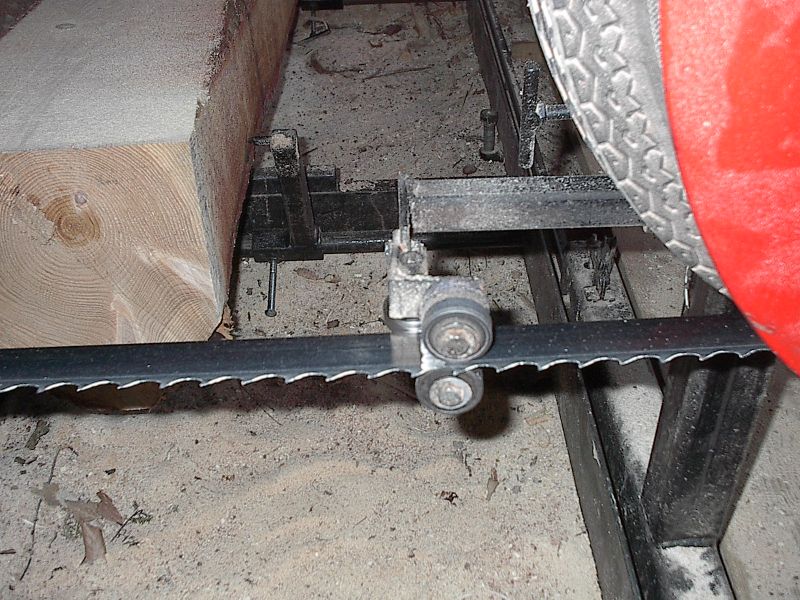 Click here for higher quality, full size image
Another good point about using tires over steel wheels is they don't break blades as much as steel wheels.
I could average about 500 board feet a day easy working by myself with a manual mill.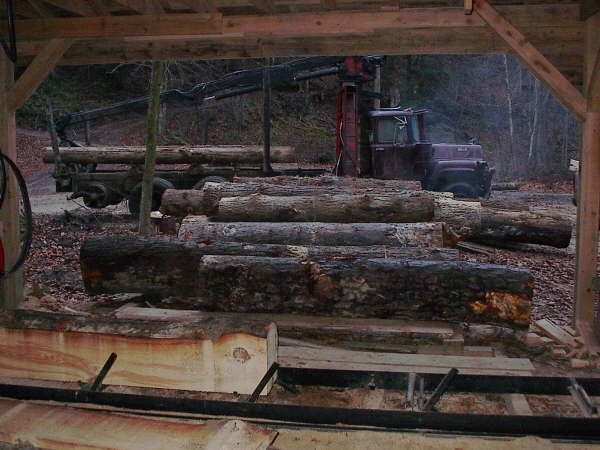 Click here for higher quality, full size image
---
From contributor L:
1) The price of bearings for the Turner mills has gone up - they now cost $8 at Napa. The Turner is easy on guides for one simple reason - there is no up or down pressure. You tighten the blade until it is pulled down flush with the tire, then the bearings are adjusted to just touch the blade.
3) High speed boat trailer tires will last for years. If you Google Turner sawmill and then give them a call, there might be a Turner mill in your area that you could take a look at. Very doubtful if you can build one cheaper than what you can buy a Turner for. Many scoff at the idea of rubber tires not breaking blades. I don't saw a lot but am now on my 2nd box of blades and have yet to break a blade.
I have had one guide bearing seize up. Vibration? I guess with used tires and wheels you could expect vibration. The boat tires used on the Turner do not vibrate and they are not balanced. I was a little concerned about tire wear, however the tires on my Turner show no wear after about 35 thousand bf.
The photos posted by contributor R are of a Turner Mill. If you are building a hobby mill you will find no better person to talk with than Bill Turner. If you want something to make a living with, bite the bullet and buy a Wood-Mizer :-)

---
From the original questioner:
Alright, once again some really great info. I'm retired and living on a very fixed income so I have to watch the pennies. This is a project that I've been thinking about for a couple of years and have already picked up a lot of stuff. The sizes of the wheels are exactly what I have available. I'm still leaning toward building my own for the experience and if it doesn't work out then I'll definitely look at the commercial head assembly. I'm going to make this happen, especially since I have so many good inspirations.
---
From contributor R:
If you plan on building your own mill take a look at a Turner mill. Here's how the Turner head is built.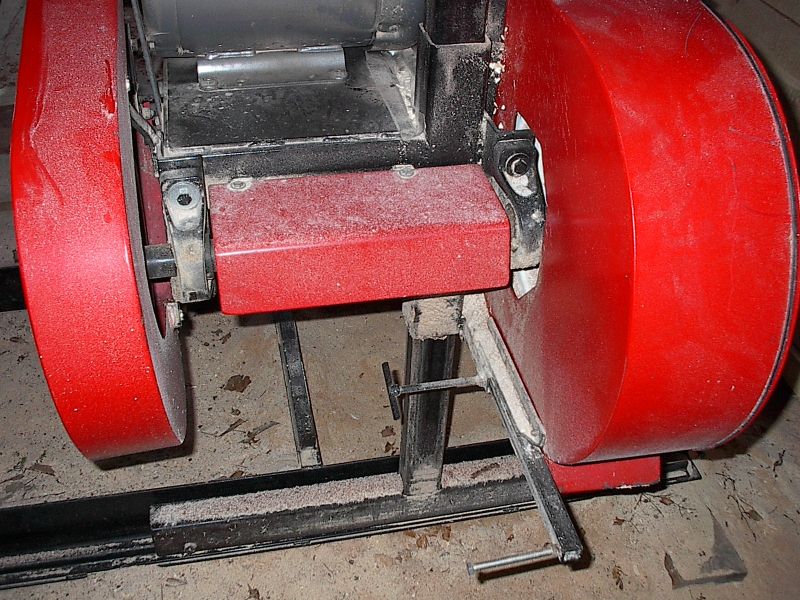 Click here for higher quality, full size image
---
From contributor T:
Might also check with Linn mills. They sell plans, kits, components, and complete mills. I've talked to a few owners, and they've been pretty satisfied with their machines. I recently put Cook guides on my mill, and it looks like it'll be a long time before I'll have to worry about replacing them!
---
From contributor S:
Does anybody know how many hours the Cook or other guides are advertised to last? My mill manufacturer says theirs are good for 300 hours.
---
From contributor U:
To build a sawmill from scratch is the greatest achievement. I toyed with the idea for years to build or buy, so I built one. I can cut up to 32" round and 18' long and I use 21" donut tires for $5.00 a piece. It took me a year to plan but 25 hours to build. The guides are my own design and I don't ever have to change them. The main key is to put water on them both in and out.