Bandsaw Milling Short Logs
A vertical commercial bandsaw with a roller table works well. Here are several examples. October 8, 2005
Question
A used vertical commercial bandsaw with a sliding carriage was recommended to me for cutting short logs. Does anyone have any recommendations on mill manufacturers or brands of saws to investigate for this type of sawing?
Forum Responses
(Sawing and Drying Forum)
From contributor A:
I was given several hundred oak "logs" last fall that had come from the expansion of a building site. The clearing crew just wanted the material gone and they had cut everything into 4 foot lengths. Most logs were 8 to 12 inches in diameter. I had no problem with these after I added an extra set of vertical dogs to my horizontal bandmill to stabilize the log. This might be a cheaper and easier solution for this type of material.

---
From contributor B:
I think what you may be looking for, is something like this.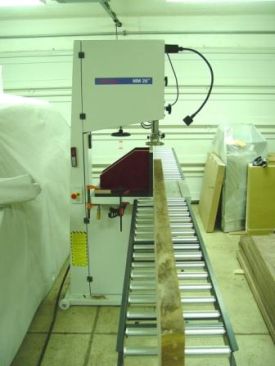 ---
From contributor C:
This has been my solution for small short logs on a 37" Bridgewood bandsaw. I used a similar set-up prior to this, using a 20" Powermatic bandsaw.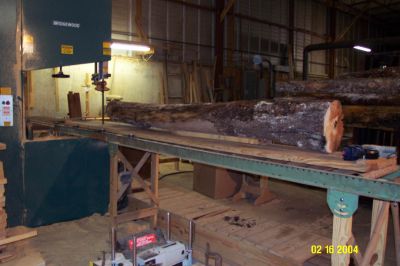 ---
From contributor D:
Do you have holding dogs on that board under the log? How are you keeping it still?
---
From contributor C:
It's the weight of the log that keeps things in place. There are 2 beveled 2 by 4's that act as a cradle to keep the log centered. I can split a log down the center and also have 2 offsets 3" and 5" from the blade. In the above photo the log is centered 3" from the blade and the end result was a 6" by 6". This is not for grade sawing lumber.