Battened Plank Door Detail
Here's a way to kerf the boards in a solid wood door to help absorb wood movement. February 5, 2007
Question
I have laminated 5/16" v/g d/f onto 1-1/2" LVL core material and will be edge gluing together to make plank doors. I will also be inserting 7/8" diameter steel dowels (4 per door equally spaced horizontally). I will be attaching 7/8" thick by 5" wide battens on the backsides. Can anyone offer pros and cons for this method? Maybe I shouldn't edge glue them and let them float?
Forum Responses
(Architectural Woodworking Forum)
From contributor C:
How much does the LVL core grow and shrink in its extremes? Divide that by the number of expansion possible spots and it'll be clear how much movement you will need to allow for. Sounds like a well made flat door. Maybe a sheltered foyer or porch you would do okay to glue rigidly.

---
From contributor J:
I would definitely edge glue them. There is no place for wood movement to go but out, anyhow. I would also check the expected movement change of the LVL with the expected movement change of the vg fir. Hopefully, the two will be very close.
Here is a sketch of a common way to deal with board and batten doors to nearly eliminate growing and shrinking altogether over the entire width when "Z" bracing is not an option for whatever reason. You would glue the outer halves of the outer planks to the battens, and run the large panhead screws through holes larger than the screw diameter.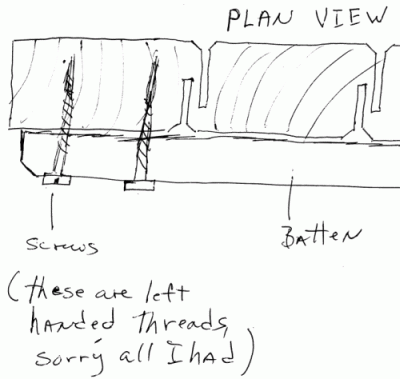 ---
From contributor J:
I should have drawn a better sketch because the kerfs are not quite deep enough. If I were to make these doors again, especially for exteriors, I would take a chipper from a cheap stacked dado set, and grind a radius on the two teeth to eliminate stress risers. In the past I have used veining bits on a router, and it takes too long because you've got to make multiple passes or they either break or wander.