Bending MDF
Woodworkers discuss steam, kerfing, strip laminating, and other methods for bending MDF mouldings and panels. July 30, 2009
Question
Does anyone have any experience steam bending MDF, or is it even possible?
Forum Responses
(Architectural Woodworking Forum)
From Gene Wengert, forum technical advisor:
Steam (heat and moisture) will deteriorate MDF. The glue is not especially durable and the fibers will undergo a lot of swelling.

---
From contributor T:
In steam bending solid wood, you are actually elasticizing the cell structure of the wood with the steam, then re-shaping them in a curved press or clamps. The re-shaped cell structure holds its' new shape after it cools. MDF would not hold up to the steam or the new shape for the reasons Gene has already explained.
---
From the original questioner:
Thanks for the quick response. I figured the MDF would just swell and become un-usable, but I thought I would ask, we have some pre-primed panel mould we need to bend to a 12 foot radii but I guess we'll order some maple and bend that instead.
---
From contributor K:
I would expect that you can manually bend that panel moulding without too much trouble, nail it in place and it would stay in a 12' radius.
---
From contributor M:
I have heated MDF with a heat gun which seems to make it more pliable.
---
From the original questioner:
I cannot laminate it because it is 3/4 panel mould.
---
From contributor M:
There was just a post about curved base cap that the guy ended up strip laminating it. That would work for you also.
---
From Gary Katz, forum technical advisor:
I agree. A 12 feet radius shouldn't be too tough to bend a piece of MDF panel molding to. If you can't, why buy maple? If it's MDF it must be paint grade. Use flex trim.
---
From contributor P:
We are a standalone woodbending operation. Steam bending wet or dry steam is the important factor for bending MDF. Every MDF differs, and we tested worldwide samples to see how consistent (per square inch) the Urea F content was. This does greatly assist the bending process.
Given the right steam temp and moisture, the MDF exposure/impregnation time we successful bend 18mm MDF to a 300mm (12 inch) radius. The extrusion process 3mm can be formed to a 4 lite doorskin in 56 seconds.
Without a doubt the secret is the atomization of the steam at the heat required. We are in fact reversing the U/F gluing structure allowing the MDF to form and the U/F re set. Plasticization of MDF once the receipt for the particular board is established can be repeated thousands of times. Each manufacturers board is different marginally however significant to make for excellent forming.

---
From contributor M:
I'm not sure if I'm totally following you on the bend, but could you use kerf core or make your own kerf core? I've also have done many stack lamination using 1/8 MDF or 1/8 bending poplar. You may want to use plastic resin glue much less spring back and greater open time.
---
From the original questioner:
Yes you're right and I was able to manually bend and glue the MDF mould at a 12' radius.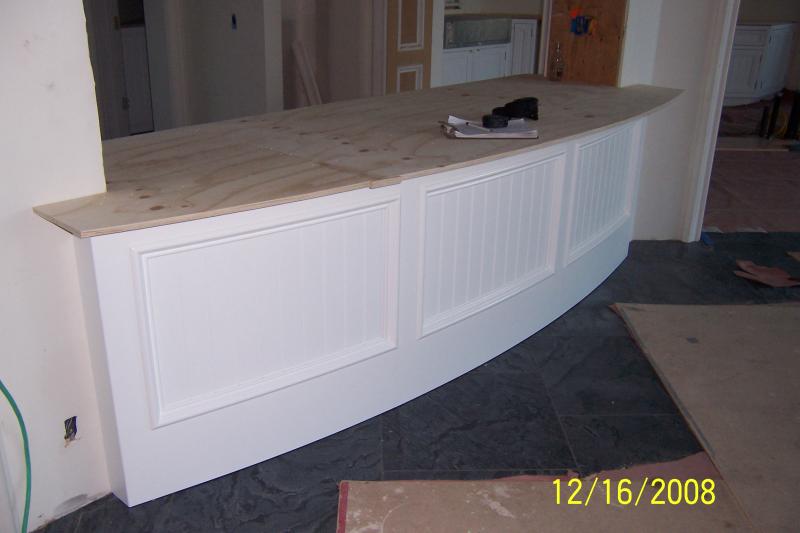 Click here for higher quality, full size image