Best Equipment for Perfect Door Frame Miters
Shop owners describe their setup for making miter cuts for cabinet door frames. October 20, 2013
Question
Can anyone recommend a good shop-made miter cutting system that is precise every time? We make miter cabinet doors and been having trouble getting perfect miter joints every time. I have tried a table saw miter sled and also tried a fixed miter jig on a miter saw but still not the 99% perfection we need.
Forum Responses
(Cabinetmaking Forum)
From contributor K:
Donít let them sit overnight - cut and glue. Use a CTD type chop saw, not a plastic one. Use strap clamps and pull them tight and square. A full tenon keeps them from moving.

---
From contributor U:
Agree on the CTD type saw. We use a D45 that has two heads cutting at the same time. For a budget system, the Hoffman dovetail joint works well if the exposed key is OK on the back. We assemble with the keys, then clamp in a door clamp until the glue dries - very tight and strong.
---
From Contributor O
:
Try a Morso or Hoffman type guillotine, foot powered and no electricity needed. The fixed head makes two perfect miters every time and hardwoods can be rough mitered, then make a final length cut on the chopper. Itís so sharp that pores are left open for excellent glue joints as a result, and perfectly square.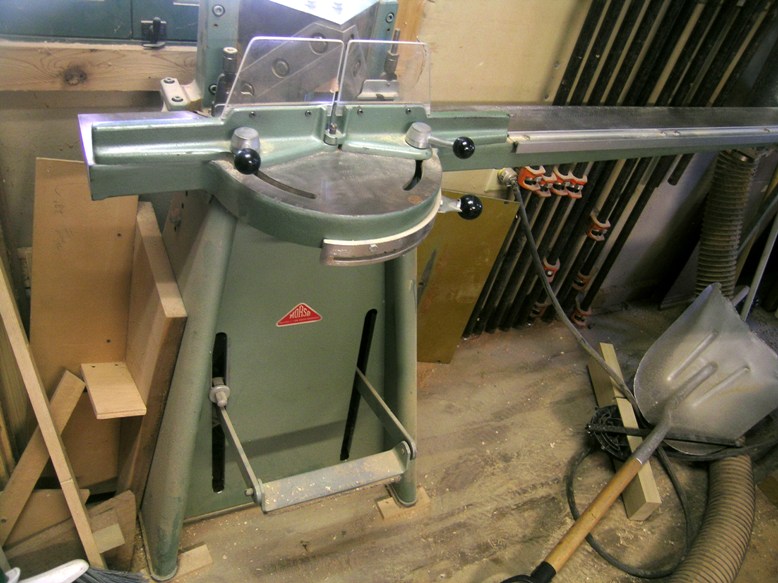 Click here for higher quality, full size image
---
From contributor D:
I know it's a large purchase but to do them right get a double-end tenoner. We sometimes had an issue with Hoffman dovetails telegraphing through our painted doors until we went to a Balestrini.
---
From contributor U:
Telegraphing through the front? I have never seen that. No glue in the dovetail? I have a Morso chopper that we use for haunching beaded doors. It seems like it would be fiddly to get the length exactly right compared to cutting to a stop on the saw. Any tips for keeping good precision?
---
From Contributor O
:
I don't do mitered cabinet doors but do cut glass stops often, as well as mitered panel raises and molded edgebands. This Morso has an angled scale and stop that traps the molding at length. Itís easy to see and easy to set - up to 1800MM.
---
From contributor G:
Just out of curiosity why do you have trouble with a sled? I think they work great. Also cut the joints just a tiny bit over 45 degrees.
---
From contributor D:
To contributor U: If my memory serves me right there are two thicknesses of the Hoffman. On some of our painted doors when held up at an angle you could see a faint imprint of the dovetail. We tried the smaller of the dovetails with painting, but then we had difficulty keeping the fronts tight without letting them dry in clamps.
---
From contributor L:
We use an Omga miter saw and two Hoffmann keys per corner and glue - no clamps, and it works well. Iíve never seen any telegraphing. We also have a Morso miter chopper with the stop system. It makes nice miters but is slow. We use it for glass stop where one stroke makes the cut.
---
From contributor K:
Are you guys using wood keys or the plastic ones? I couldn't imagine making a mitered door without a full tenon. I've only used my Hoffman for large mirror frames.
---
From contributor L:
Plastic keys. When we first set up for this we made several doors and used them as Frisbees, etc. in the shop. Convinced, the first production run was 2500 doors with no reported failures. That was at least ten years ago and I have used the keys for many things since. Like I said, we always use two keys in every joint along with glue. You need a good saw or another method of cutting the miters.
---
From contributor T:
We use a double mitersaw from Alpha Machine and get perfect miters. We also use clamp nails in the joint. There are lots of different systems to use to do mitered doors. It all depends how much money youíre willing to spend.