Bi-Fold Pocket Door Examples
A couple of looks at cabinets with bi-fold doors that can slide back into the cabinet when opened. January 19, 2011
Question
We are building a very large entertainment center that will have an opening of roughly 66" wide by 40" tall on the top and 66" wide and 18" tall on the bottom. The depth of the cabinet is 18", so the plan is to make pairs of bi-fold doors for the openings, so the sections will be 16.5". I have done pocket doors that bi-fold once before, but the hardware I used has a width limit of 24" and I will need around 33" width. What is my best choice for hardware for this? I used regular butt hinges last time for the bi-fold but was thinking about piano hinges for this. The doors will be a simple frame and 1/4 panel out of alder, so they won't be too heavy.
Forum Responses
(Cabinetmaking Forum)
From contributor P:
Here's a bar with bi-fold pocket doors we built using piano hinges and touch latches. The piano hinges worked well.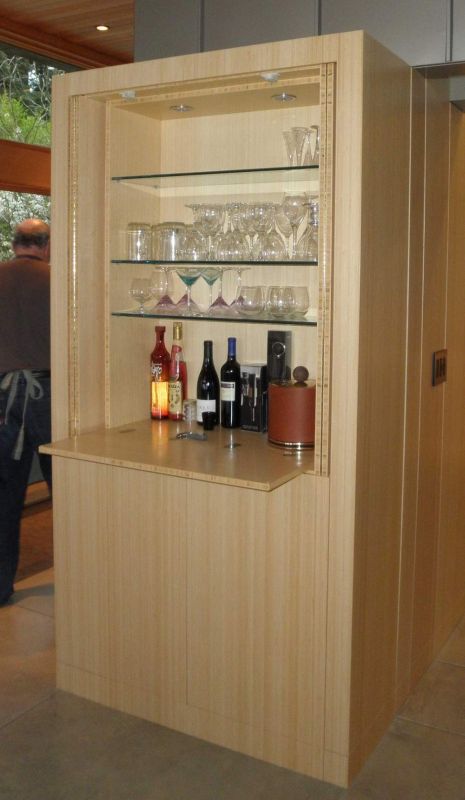 Click here for higher quality, full size image
---
From the original questioner:
What did you use for your sliding hardware? That is what I am really looking for, for a wider door.
---
From contributor A:
I recently did an entertainment center very similar in size and couldn't find pocket door hardware that would work, so here's what we did (and it worked very slick).
Attach 2 1/2 or 3" fillers to the cabinet on each side with regular hinges. Attach one door to each filler with piano hinges. Attach your other doors to these doors with bi-folding hinges. You'll just have to make your doors smaller to account for the fillers; also you need magnet catches on each door.
This design makes it so the doors fold and wrap around the outside of the entertainment center. It's probably not exactly the look you had in mind, but it still looks good and works very well.

---
From contributor D:
Entertainment center with bi-fold pocket doors.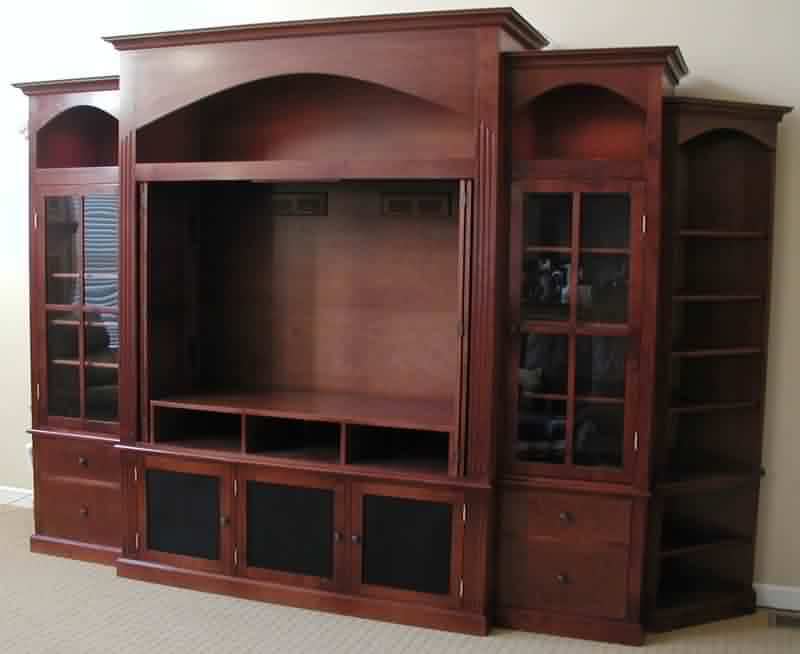 Click here for higher quality, full size image
---
From the original questioner:
Contributor D, that is basically what I am doing, only I will use piano hinges. What did you use for your sliders for those 30"(?) doors?
Contributor A, I have done what you are talking about with that extra filler to clear the face frame, but they really want the doors inside hidden.

---
From contributor D:
I used standard pocket door hardware. For the bi-fold I used three hinges. I thought about piano hinge, but with the darker finish either a brass or silver finished hinge wouldn't have looked right. The hinges I used were a dark bronze color that almost blends in with finish color.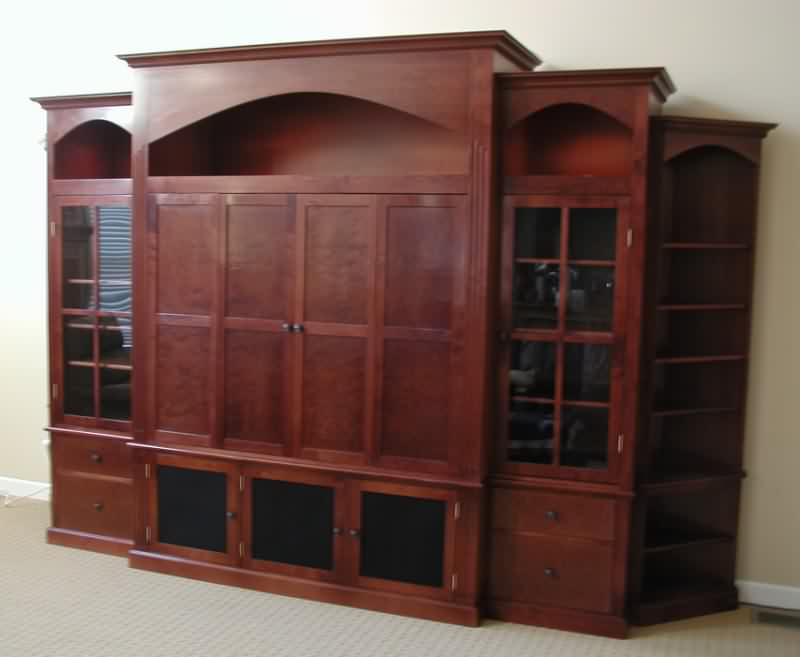 Click here for higher quality, full size image