Bleaching, Pickling and Antiquing -- Hardwood Flooring and Millwork
Customized hardwood finishes offer new decorative dimension. December 3, 2001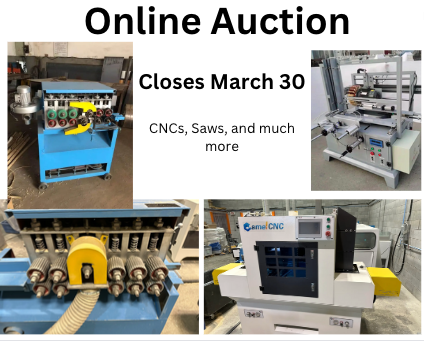 Customized Hardwood Finishes Offer New Decorative Dimension
Reprinted with permission from The Hardwood Council website.
Architects, builders and interior designers feature North American hardwoods because of their natural characteristics and beauty. The smooth look of maple. The dark hue of walnut. The textured lines of oak. The richness of cherry. Now, specialized finishing techniques like bleaching, pickling, coloring and antiquing are adding another dimension to hardwoods' decorative appeal.
Natural red oak bookcases can be bleached to enhance the effect of a sun-drenched library. Poplar mouldings, chair rails and baseboards can be dyed to emphasize the color of a room, or a hickory fireplace mantle can be distressed to complement a similar finish on a treasured piece of furniture.
The primary reason for these unique finishes is to accentuate a decorative theme, while still capitalizing on the elegance that hardwoods add to a room.
Bleaching is both a popular alternative to staining and the first step in most antiquing, pickling or coloring projects. The basic processes involved in staining and site-finishing hardwoods are universal, whether you're working with millwork, paneling or cabinetry.
These distinct applications require a little additional skill yet, by following this simple step-by-step guide, you'll find outstanding results are easily attainable.
Essential Supplies

Here are some important materials to make your hardwood bleaching and staining projects easier:
Sandpaper - multiple grits for preparing the surface.
Steel Wool - for a perfectly smooth working surface.
Tack Rags - for wiping away sanding residue and dust.
Brushes - for applying stain to mouldings, corners and carvings.
Synthetic Bristle Brushes - for applying bleach.
Lint-Free, Pure Cotton Cloths - for finishing (holds more solution than a brush).
Specialty Finishing Techniques: Bleaching, Antiquing, Pickling and Coloring
Surface Preparation
Bleaching and other finishing techniques require an absolutely smooth work surface. Before beginning any finishing procedure, check the wood for defects, such as dents, scratches and stains, then sand the surface until smooth, with increasingly finer grits of paper. Clean the wood with a soft brush or tack rag and check the surface again under good light for scratches or blemishes.
Bleaching
Most hardwood species can be bleached to complement a decorative motif, but darker hardwoods like red oak, hickory and ash are particularly suited for this application. Bleached, antiqued, pickled and colored hardwoods are preferred for decorative applications like mouldings, mantels, paneling, chair rails and decorative millwork. Experts recommend that you avoid bleaching hardwood floors, however. This process often weakens wood fibers, making floors more susceptible to the wear of regular foot traffic (For more information, see Quick Tips below).
The preferred method for bleaching hardwoods is a two-step process:
1. Brushing the wood with caustic soda or ammonia; and
2. Applying hydrogen peroxide.
In the first step, apply the caustic soda solution with a synthetic brush, evenly and liberally in the direction of the grain. Let the solution set for 10-20 minutes. The longer the set time, the whiter your wood will be. Do NOT let the caustic soda set for more than 20 minutes, however, because it will cause uneven bleaching.
Next, use a clean synthetic brush to apply the hydrogen peroxide. A foaming action will take place as the two solutions react. This is the actual bleaching process, and usually takes 30 minutes to an hour to complete. If the wood is not white enough apply the hydrogen peroxide again.
When the wood is sufficiently bleached, wash it down with clean running water, using a brush to supplement chemical removal. Dry the hardwood with paper towels and repeat the rinsing process again in 20 minutes. Rinse out all traces of the bleach or you'll experience problems when finishing. Let the wood dry in a well-ventilated area for at least 24 hours. Do not dry the material in direct sunlight, since this will intensify the bleaching process and lead to uneven coloring.
Preparing Bleached Woods for Finishing
Bleaching causes the wood grain to rise. Smooth the surface again with a 180 grit sandpaper, and wipe away the sanding residue. Now the wood is ready for sealing (if you plan to leave it bleached), or for antiquing, pickling or coloring.
Antiquing, Pickling and Coloring Hardwoods
Antiquing makes hardwood look "aged" by distressing the edges, cracks and crevices of the wood.
Before antiquing, seal the surface with a thin coat of white shellac. This will protect the bleached shade of the wood, allowing you to work with the glaze until you've achieved the proper look.
Allow the shellac to dry for two hours then lightly sand the surface. Prepare the antique glaze to the desired shade and apply it evenly one section at a time. Use a clean rag to wipe off excess glaze. Remove glaze from sections that experience greater wear to simulate a "worn-in" (or "distressed") look. Glaze more heavily at normally protected edges and crevices which don't see as much wear and tear. Use a clean, dry brush to spread the glaze, removing noticeable edges produced by your cloth. With the brush, work the color from the light center to the darker edges, producing a feathered effect. Allow the glaze to dry overnight. Lightly sand, clean and apply a coat of shellac. Conclude with the Finishing procedure described below.
Pickling highlights the pores and crevices of wood by adding a stain that contrasts with the bleached finish. Start by sponging the application surface with clean water. Allow the water to dry, then lightly sand the surface with a 150 grit paper to smooth the raised grain. Evenly apply a light oil stain, and wipe off the excess with a cloth. Let this dry for 12 hours. Pickling will take full effect as the stain adheres to the lightly raised wood grains. Seal the stained surface with a thin coat of a non-yellowing polyurethane, and complete by Finishing as described below.
Coloring involves applying varying degrees of pigmented stains to lighter-hued hardwoods to highlight the grain of the wood and add color.
Oil-based stains and aniline dyes are most popular because of their workability, but a variety of stains and coloring mixtures are available today. Select a color and follow the manufacturer's instructions. Sand, clean and apply the stain with the grain of the wood. You can achieve deeper shades by applying multiple coats. When dry, follow the Finishing process.
Finishing
Make sure the wood is clean and dry, then brush on a top coat of polyurethane, lacquers, shellac or water-based sealers. These popular finishes come in three sheens: gloss, semi-gloss and satin.
Finish the entire wood surface, not just visible areas, and allow it to dry overnight. Apply a second coat of finish in the same manner. Repeat sanding of the woodwork, applying multiple coats until the wood achieves the desired luster.
QuickTips
Bleaching Kits
Some commercial hardwood bleaching mixes differ from the two-step process described above. Always follow the manufacturer's instructions.
White Oak
White oak is not recommended for bleaching applications because it has a tendency to discolor.
Sanding
-- When doing multiple sanding and finishing cycles, do not re-sand the wood until it is completely dry.
-- Use a 220 grit sandpaper instead of steel wool when sanding water-based finishes because undetected steel fibers can cause rust marks.
Expansion/Contraction
One effect of bleaching hardwoods is that normal expansion and contraction may expose darker, untreated shades of wood in the cracks between joints. These gaps occur in all hardwoods, but are more obvious in chemically-lightened woods.
Use Pre-Finished Flooring
Most professionals avoid bleaching hardwood floors because the process may weaken the wood. However, many flooring companies offer pre-finished hardwoods in bleached, pickled and other specialty finishes.
For more information on pre-finished materials, see Hardwood Flooring and Millwork Finishing Options: Pre-Finished or Site-Finished?
Samples
Before starting any bleaching or staining project, practice on a piece of scrap wood of the same species to make sure the sample meets your expectations.
Work-Site Conditions
Protecting unfinished hardwood from moisture and fluctuations in temperature and humidity is vital, especially for the extended drying periods associated with bleached hardwoods.
For more information on proper worksite care, see Installing Hardwood Floors Over Concrete Slabs, and Hardwood Flooring and Millwork Finishing Options: Pre-Finished or Site-Finished?
Health and Safety Precautions
Most stains and finishing chemicals, especially bleach, are poisonous, flammable and corrosive. As a result, you should always:
-- Wear protective overalls and gloves.
-- Wear a mask to protect against dust when sanding, and toxic fumes when finishing.
-- Stain in a dust-free and well-ventilated work area.
-- Keep a bucket of clean water and a sponge nearby in case your skin is exposed to bleach or caustic stains.
-- Clearly mark left-over materials if they aren't in their original container. Keep all stains and finishing materials in a cool, dark environment, away from children and pets.
-- Follow the proper environmental guidelines when disposing of toxic and/or hazardous chemicals (which includes most hardwood stains).
Technical assistance and/or photos provided by: L.J. Smith Stair Systems, Bowerston, Ohio; Merillat Industries, Inc., Adrian, Mich.; National Wood Flooring Association, Manchester, Mo.; Kohler Co., Kohler, Wis.; and White River Woodworks, Fayetteville, Ark.
© 1999 The Hardwood Council
Reprinted with permission from The Hardwood Council website.