Brush Backed Flap Sanding Wheels
A simple question about where to buy a replacement sanding wheel prompts an information-filled thread about brush and flap sanding technology. August 29, 2014
Question (WOODWEB Member) :
Does anyone have a source for this type of brush backed sanding wheel? The one in the photo was from Bardo many years ago. They are currently closed now so I can't even find out if they still make it. The original diameter was probably around 8". The height is 2". This particular wheel was 120 grit. The arbor stud is 3/8" diameter. This gets drill press mounted for occasional light sanding so the mounting stud is needed, or at least the ability to add one.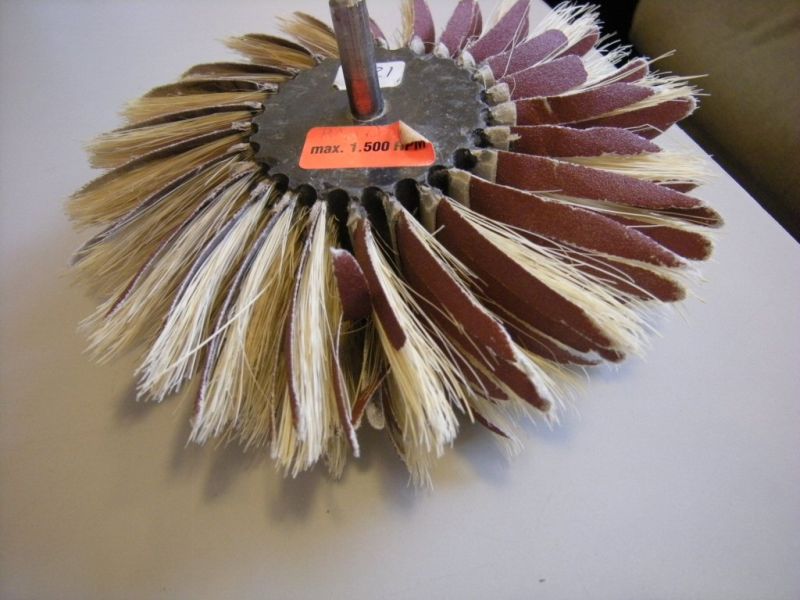 Click here for higher quality, full size image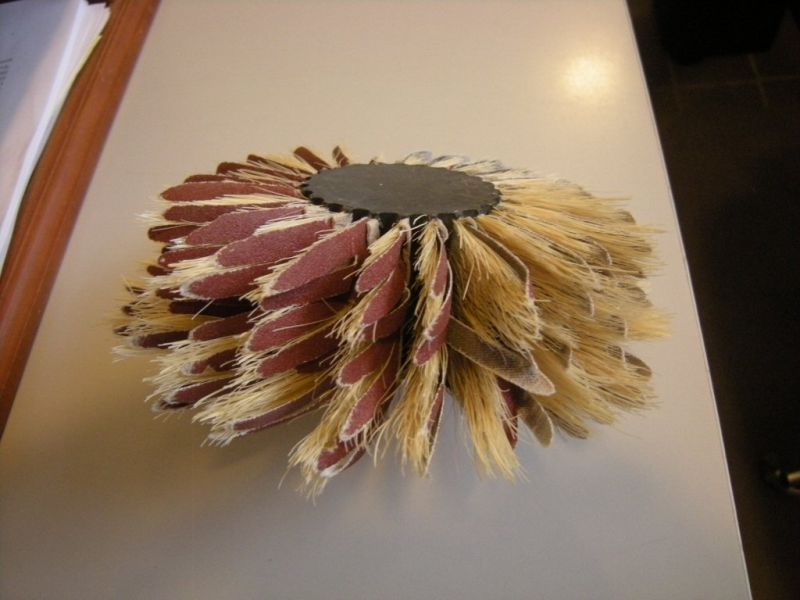 Click here for higher quality, full size image
Forum Responses
(Architectural Woodworking Forum)
From the original questioner:
Well I spoke from Bardo and they took a look at the photos here. Turns out this wasn't from them. I believe I remember it as coming from a New Jersey company.

---
From Contributor M
:
I think those are called a flatter style brush? Maybe itís Master-Sand? I guess the only bonus with the Master-Sand is you can replace the brushes. Not sure on the one in your picture.
---
From the original questioner
:
I eventually remembered this was from some relatively obscure outfit in New Jersey. Without more info there was no way to track them down. A little digging got me over to Quickwood who has a similar head which also has extendable paper. That is even better so I ordered one.
---
From Contributor B
:
For you guys that have used the Quickwood type sanders, approximately how much linear footage would you get out of a set of sandpaper before replacement on a species such as red oak? I have made my own sanders by cutting sandpaper and mounting it on an arbor sideways, but I'm not happy with the footage I get. I used Klingspor gold which I've considered to be a quality paper. I've wondered just how well these sanders work.
---
From the original questioner
:
I think the general consensus is that these types of sanders don't do a whole lot with lineal footage mouldings. They will give a light polishing sort of sanding but will not take out any defects or chatter marks. We only use them for breaking edges of small hand held items. I mount the sander in the drill press and hand brush in effect by twisting and turning the part to hit all the edges. I would love to find a power sander that did a good job on mouldings as it would save us many hours of hand sanding our curves. I've yet to find anything to compete with the quality of hand sanding for curved mouldings though. Contoured head sanding machines work well on straights from what I've heard but have no real use with radius work.
---
From Contributor W
:
The brush in the original post came from Uneeda enterprises in Spring Valley New York. I worked for them as a technician for four years so I know the product very well. The brush brand is Cosma from Holland. I would not recommend buying that brush again. You can buy brushes that will do the same job, much more effectively from Flex Trim, Slipcon, or Mastersand. You might have to have an arbor made, but you can buy shorter 55mm trim brushes that will do more sanding and less polishing. Your target rpm for your brushes doing profile work will be 500 to 600 rpm on a smaller diameter head 400 to 500 on a bigger head. Brushes can do a lot of work. They will remove knife marks no problem if they are right. Brushes can't remove chatter because the chatter has structure. They will sand right over it. I spent six years working for Flex Trim and two for Slipcon.
The Quickwood brushes with separate brushes and sand paper seem like a better deal, but they are not. The support brush wears fast in these types of situations. You end up replacing the brush anyway or you get crappy sanding. Just replace the brush with the sand paper and you get better results long term. That is why their competitors use the brush, sandpaper combination in the same strip.
A properly set up brush machine with enough brushes to do the job right without excessive head speed will do 200,000 to 500,000 lineal feet of molding. I am not kidding. The trick is to have the right grits running at as slow a head speed as you can get with a reasonable feed rate. Most folks by machines with too few heads and brush life suffers. A single head with a 180mm core and 55mm a side of sanding brushes 290mm diameter. That ends up being a lot of contact time.