Buffing Orange Peel Out Of Lacquer
To remove the orange peel and achieve a high gloss, move up to fine grits in stages. January 14, 2013
Question
I have a cherry countertop that has about six good coats of SW pre-cat lacquer on it. I have a slight orange peel to it, it is high gloss. I would like to get rid of some if not all of the orange peel. This is my first ride doing this so any advice would be great. I would love to be able to see my face clearly in it if possible, but losing the orange peel would be great too.
Forum Responses
(Finishing Forum)
From contributor F:
In my experience, even in automotive coatings, I have never been able to get the sheen back to what it was out of the gun. You can certainly remove the texture but usually not regain the sheen. Why six coats? If that pre-cat is 25% solids and you applied at 5 wet mills that will yield a dry film thickness of 7.5. That won't expand and contract with the wood movement. On a lot of their products they don't suggest going over 4 mills dft.

---
From contributor H:
Let it cure for a week or so. Wet sand it with water and a little dish soap with 600 grit (if really rough) 800, 1000, or 1200 grit. Power buff it with a light rubbing compound. Clean, and then power glaze with 3m imperial micro-finishing compound of Meguiar's 7 then 9. Lacquers are less prone to mil thickness cracking than C.V.'s. My power buff is done with either a foam or wool 8" buffer.
---
From the original questioner:
The coats were not too heavy and they were sanded between each. It was dry the other day when sprayed and I was concerned with it drying too fast. I spayed it thin but when using six coats it has worked for me previously. So is it too soon to sand and buff? It was shot a day ago. How long should I wait to deal with the orange peel?
---
From contributor H:
The longer you wait, the more solvents will flash out of the film and the better the rub out will be. For tabletops I will cover and wait one week, weather dependent. Grand pianos or car parts (polyester) I wait as long as I can get away with - sometimes months.
---
From the original questioner:
This is being installed tomorrow so Iím short on time. Will I damage it if I buff it today?
---
From contributor H:
No you will not ruin it. Just spend a lot of time on the upper grits of sandpaper. You will do all of your damage removing the orange peel with the 600 and it may be too soft to remove all of the 600 scratches. Be careful with the buffing. Also, you may leave pad marks if you park the buffer in one place too long.
---
From contributor R:
I agree with Contributor F. I'm pretty sure you will get some crazing in that much film thickness. I have dining room chairs to prove it. A young employee wanted to impress the boss with a really nice finish on his chairs. He did put down a nice finish, but they look horrible years later. You might try Abralon pads after the 600.
You can put them on the random orbit, add a little water or mineral spirits, then run up the scale in grits. You may just need a little swirl remover to get a perfect finish. Did you hand block sand before spraying? You will quickly see if you didn't. High gloss on a table takes tons of prep time to look good. I would not machine buff it on that short of drying time. No way those first coats are cured. It may be dry to the touch, but not cured.

---
From contributor F:
Another overlooked issue with this is that there is the potential of sanding through coats and exposing the sanding that was done in between coats. It looks like a cloud or similar to a blush and you can't make it go away. With most automotive applications this is not an issue because of the technology of the coatings there is not any sanding in between coats. If it is just the top of the piece I would think labor wise you would have less time in sanding down a few mills and re-spraying rather than all the sequential sanding grits and buffing compounds. Whichever way you choose I hope that it all goes well.
---
From the original questioner:
Well I sanded from 600 wet through 4000 wet, and then I used a foam buffing pad from Festool and their RO125, with moderate pressure. It came back to a nice shine and most of the orange peel is gone. Itís about what you find on a factory finished car that was never hand sanded. I then buffed with sheep skin with the Festool RO125 and it seems good. The orange peel is not noticeable, unless youíre looking for it. Since this was my first one it came out great, although I know a lot more and would spend more time sanding the bare wood to get a better finish. All in all it is pretty fine, and has a beautiful color. I have some left over cherry and will make a couple test pieces and mess around.
---
From contributor J:
To get that mirror shine you need to cut the surface back so it is perfectly smooth. Use 600 grit wet on a block and sand until itís an even dull surface and all the little shiny spots/depressions are gone. Now work your way up to about 1500 wet making sure all the scratches from the previous grit are gone. Itís helpful to sand with each grit perpendicular to the first. It makes it easy to tell when you have removed the scratch pattern from the previous grit. Now you want to use a buffer and some compounds. Most auto stores have rubbing compounds and polishes and a low speed buffer. Use a course compound, and then follow with a fine compound/swirl remover. For the last touch just add a coat of wax if you want. Here are a couple shots of a guitar I built. Itís a perfect full gloss.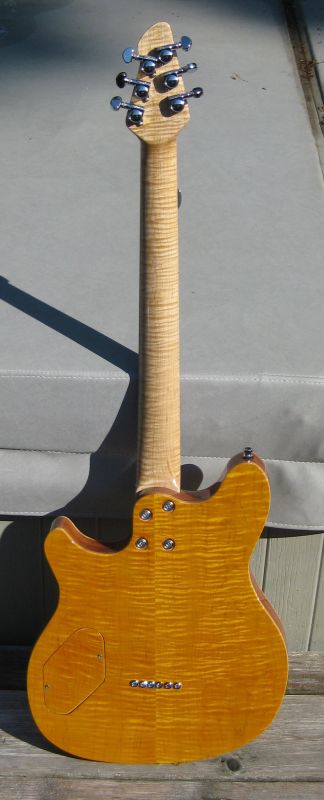 Click here for higher quality, full size image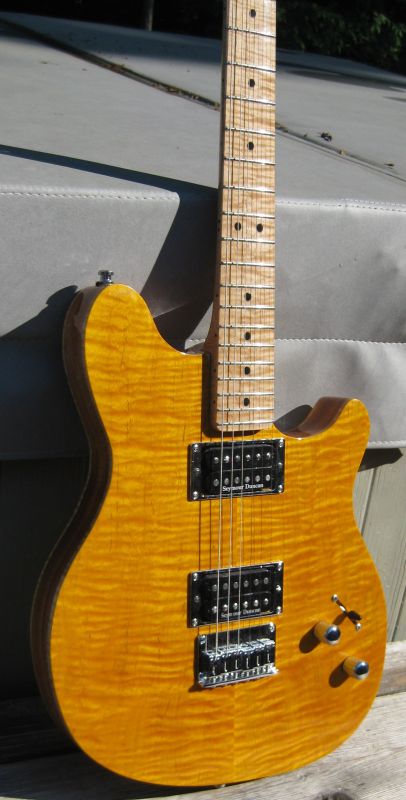 Click here for higher quality, full size image