Building Arched Toekicks
Descriptions and images of tested techniques. September 9, 2004
Question
So far we have only done regular toe kicks on the few kitchens we have built. We are looking at some cabinets with arches on kicks. Do you build cabinets higher and make bottom of arch the usual 4 inches? Or just do regular 4 inch kick and have max height of say 3 inches at top of arch? Also, if doing an arch under cabinet like a sink, is it okay to have just a regular arch with true arch with one radius for the entire arch, or do most of you cheat and skew arch to sides to gain more toe kick height under the cabinet?
Forum Responses
(Cabinetmaking Forum)
From contributor P:
I had an entertainment center job a few years back for which the customer wanted arched kicks. I don't normally put kicks on entertainment centers, but she had a picture out of a magazine that inspired the design. Anyway, we set the kick between the end panels in 3" as normal. The bottom rail of the face frame was extended down to floor and the arch was cut out of the face frame. We did make an elliptical arch (which is the second part of your question) to allow more toe room.

---
From contributor T:
This is pretty popular in L.A. There's not really any hard rule for it. We've done straight radiuses, ellipses, French arches. Just draw it out for the client or make her sketch it and go for it. You can come all the way up to the underside of the deck; you can make the toeboard higher - whatever works.
We usually put a more or less standard toekick behind it so they don't have to clean way back under the cabinet, but not everybody wants that.
Here is a sketch of the three types of arches. As I mentioned, you can leave the cabinet open underneath or put in a toekick to block off the back area.
Because the sizes rarely repeat, I don't keep any templates for any of this. I usually build the face frame, draw the arch, jigsaw and sand.
The Porter Cable sander with the drum sticking down through the bottom would be ideal for sanding these. I don't have one and I don't know what it's called, but I think I'll get one the next time I do this.
---
From contributor M:
Here's the way I usually do it.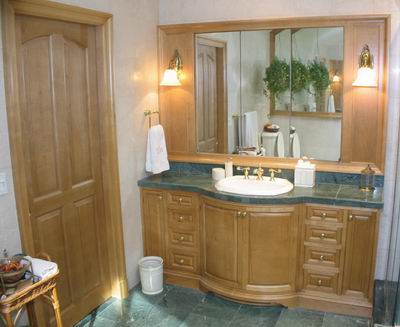 Vanity by Michael Dugan

---
From contributor J:
Here is a cabinet I did about two years ago with the toe kick arched.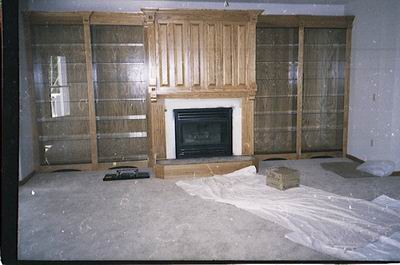 ---
From contributor A:
What happens when it's cleaning time? Is the customer calling you to dismantle or lift the cabinet? Either you build furniture (removable) or cabinets (fastened) with a normal toekick.
---
From contributor J:
My cabinet has a toe kick behind the arch. It was painted black to look as if it was open - this way it makes cleaning a snap.
---
From contributor K:
In our Arts and Crafts style kitchens we use an arched kick and frame stiles sit hard on the ground. Question - when you level the cabinets at installation time, and have to shim up the front of a cabinet, what do you do about the gap between stile and floor?
---
From contributor T:
That's an issue, for sure. If you're sitting on the finish floor there's not much you can do to the front. This might be a good time to use leveler legs so you can manipulate the rear height. And check the floor for level when you're measuring the job.
Thinking back over this, it seems that almost every one of these we've done has been in a room with tile or pavers or some such, so we've been able to sit on a freshly done float.