Building a Cabinetmaker's Workbench
Pros discuss the characteristics of a good shop workbench. July 21, 2006
Question
As some of you know, I will be starting my new job at a custom cabinet shop on Monday. One of my first projects there is going to be making my own workbench. From what I gathered, the design will be left up to me. There may be some sort of guidelines to follow, I don't know. I could come up with all sorts of ideas. But I'm curious as to some ideas you have about size, features, materials, etc. I know size is going to be based a lot on the type of cabinetry I will be making. I believe it will be everything from kitchen cabinets to entertainment centers. If anything, what type of features have you found, or wish you had, from years of experience?
Also, I believe this will be partly a test to see how well I work. Nothing wrong with that and I don't have any question that I can do it. I just want to build it the best I can so it will be useable for years to come.
Forum Responses
(Cabinetmaking Forum)
From contributor B:
I always make my assembly benches strong, durable and bulky. I guess it depends on your needs. Mine don't need to move around, but some people want that and use locking casters (I only use those on my dedicated drill press/band saw/router tables.) If it was me, I would build something very basic but big and strong, and leave much room to add drawers and doors, possibly a clamp rack off to the ends, maybe a built in bench clamp for holding cabinet doors or sides to drill holes and do hand work with. Easiest thing to do is just Google/Google image "cabinetmaker's bench" or "woodworking bench" or something of that sort and get some ideas.

---
From contributor S:
The most important thing about your workbench is the height. When you stand next to your bench, your pinky finger tip should just touch the top while your arm hangs at your side. The next thing to consider is the length and width. For me, 8' long and 30" wide works well. The next thing to consider is shelving and drawers for hand tools, accessories and supplies. Lastly you need to add power and air lines to the table so you can use drills and nail guns easily. I would add that the bench should be heavy and the top should be thick. Just think of what tools you use most while assembling cabinets and make them the most accessible.
---
From contributor J:
I like size and bulk, too. I have been in the exact same boat as you are, and this is what I did. Make it in one day. Turn this into a self indulgent trip, and your first impression might breed resentment. This is true of the cabinet places I can think of, but if you are talking some kind of art wood boutique place, style might matter more.
I used 4x4 legs at the corners with two in center. The finished height should be six inches below your bended elbow while standing straight up. I use 2x8 SPF lower and upper stretchers wrapping the legs with the lowers at floor level to keep out crud. Joist-like cross supports between 18" and 24" o.c. Assemble with 1/2" carriage bolts, two to a lap.
Size was dictated by available top material. I used 3/4" ply first topped by medium density particleboard, as it is dense, stays flat, is cheaply replaced, and will not run a splinter under your fingernails. I was able to get 5x12 sheets then for an unbroken surface. Make sure there is overhang for clamping to the top, and maybe a long overhang on one end for a vise. You can nail or screw jigs and fixtures right to it without the wistful feeling European beech would bring. The next time there is some extra Rock Hard putty mixed, fill the holes. A single unfinished deck of MDP makes a nice storage area below.
A triple coat of solvent base poly (water base melts in contact with lacquer thinner) will make it slick as a guy could want. Yeah, it ran over into the next day, and the finish wasn't put on until weeks later, but I got to work on the money jobs by day two. Good luck in the new job.

---
From contributor K:
Here is an idea that will totally impress your boss. Make the biggest workbench anyone has ever seen. When your boss asks why so big, tell him it's so you can work on the big jobs. Also on the back side of the workbench, create a hidden access door. When no one is looking you can climb inside and take a nap. Trust me, you will be glad you made it so big. Also make it on wheels, that way if you ever get fired, you can just wheel your bench out the overhead door, taking the big jobs with you.
---
From the original questioner:
That's funny. But don't you mean *when* I get fired? ;-) Thanks for the ideas. I made it to St. Louis today. I will have tomorrow to rest up and prepare for Monday. I can't wait. Getting up at 5am isn't too terrible. But I sure am beat by bedtime. And that's without a full day's work. I'm sure I will get used to it.
---
From contributor E:
If I were to have my employees build their own workbenches and it took them all day, I would be a little upset at the speed of my new hire. If I were to build a workbench (and I have built 3 of them), I would do it like this.
I would build 4 legs out of a shop grade ply by gluing, stapling and screwing 2 8" x 32" pieces in an L shape. I would attach an eight inch skirt all the way around the legs and put some cross bracing on 16" centers. I would build the base of the table so that a 4'x8' sheet of either melamine or MDF would fit on the top and still leave enough overhang to clamp things on the bench. You can add drawers to it if you want, but this is what we build on and like it just fine. It is also nice to have the space to store materials or toe kicks or whatever under there.
Space is something to consider. I have never worked in a shop that had more space than they needed. Almost all shops are crammed in with tools and finished products, so be careful building a 5x12 table unless they tell you to. I would also look at what the other guys in the shop have and try to come close to that.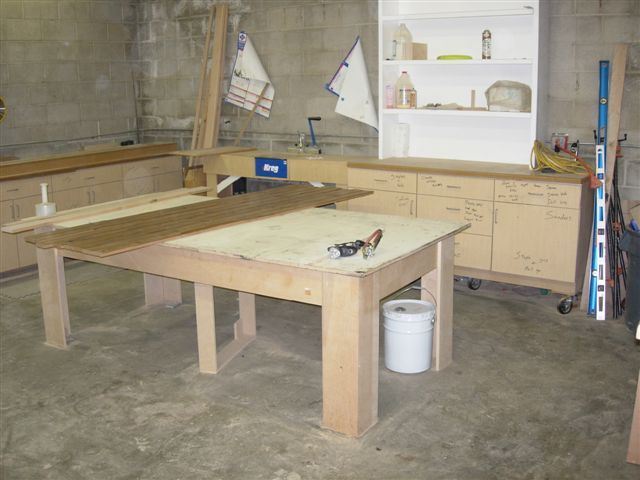 Click here for full size image
---
From the original questioner:
Thanks. I like that workbench. Simple but effective. I wouldn't mind adding some drawers to that, but I'm not sure how much time I will have. From what I remember, his guys' benches were more elaborate than that, so I might have a few days, who knows. If it has to be done pretty quickly, I will probably use your idea unless the boss has his own suggestions.
---
From contributor R:
Wow, did you clean before that picture, or have you moved?
---
From contributor E:
I think I took this picture on a Monday after we had delivered a couple of kitchens and had cleaned up. Our shop usually gets cleaned like this once a week and then gets messed up the rest of the week.
---
From contributor L:
When I worked as a two-man shop, I had a traditional German bench that I really liked, tail and side vices, dogs, tool tray, drawer, and shelf. Now that I own a production shop, our benches are melamine tops, maple edges, on 1500# hydraulic lifts. We make a lot of big fixtures, so being able to adjust the height with a touch of the toe is a great help. All tools have a location on a backbench within arm's reach. I just bought two more of them slightly used for $800 each.
---
From contributor M:
Ours is 4'x8'. It has a homemade down draft table that helps a lot. We have a tool shelf 12" deep that runs along the 8' side. This makes a good step to get up on the table for those tall pieces. The only thing that I am thinking of adding to mine is a tool tray on the end for those small things that you use a lot and don't want them on the table all the time.
---
From contributor V:
What kind of hydraulic lifts did you get? What can you tell us about using them for assembly tables?
---
From contributor L:
We have two Lauderdale-Hamilton 2000# lifts bolted to the floor with 4x10 torsion box tops, maple edges, melamine tops, and foot controls. I bought these new when we converted to a conveyor system for the panel processing area. Each bench has four 10' sections of roller conveyor leading to its short end where we bring collated stacks of case parts via a transfer car running on guides let into the floor. These lifts are used as our main assembly benches and have tool board/back benches on their long sides. Cord reels overhead and air on the backbenches. There is also a fixed bench for smaller assemblies. We have two Autoquip 1500# lifts with 4x6.5' melamine tops and maple edges that are mounted on 4x4's so we can move them with a pallet jack. Right now one is being used to assemble small sub-assemblies and the other is being used to assemble panels going into the vacuum table. We have cord reels and air drops in most areas of the shop that make it easy to change setups for the different kind of jobs. After large cases are assembled, the benches are lowered so the cases can be slid off onto low carts to move to finishing, laminating or final assembly. Call us wimps but everyone here likes working at a comfortable level. We also have one of the 1500# lifts in our final assembly area.