Built-in Appliances and Frameless Cabinets
Methods for constructing frameless cabinets to hold ovens. May 22, 2007
Question
For those of you that build frameless cabinets, how do you build a cabinet that has a built-in oven or microwave? Do you build a separate frame and attach it to the case? What overall width cabinet do you end up using for a typical 30" built-in oven? I'm learning this on my own, so any help would be greatly appreciated.
Forum Responses
(Cabinetmaking Forum)
From contributor B:
Build the frame more like a door with an opening for the appliance. Use the same reveals and profile the outside edges of the frame as you do your doors.

---
From contributor J:
I build my appliance cabinets the same as the rest of the frameless cabinets. A typical wall oven will overhang the cabinet side by about 3/8". No room for a frame unless you make that one cabinet bigger to account for the extra width of a frame, which then wastes several good inches of space. And doesn't make sense with cabinets flanking it frameless.
If you're making a cabinet for a c-top style m/w, I usually build a 15"hx30"w cabinet, then as mentioned, make a door with no panel to surround the m/w. If it's an over the range type, then again no frame, it just gets flanked by the other cabinets.
---
From the original questioner:
Thanks for the responses. I have a particular oven specification that requires 1" of clear space at the top and bottom of the oven opening, so just using the case will not work. It says I need 11/16" of clear on each side of the opening, so no frame is needed on the ends, but how do I account for the top and bottom 1" clear space they require? If I add a rail at the top and bottom for the 1" clear, then the rail will stick out farther than the sides of the case, so then won't I need to put in thin stiles to match? You will need to bear with me, as I am only experienced with face frame cabinetry.
---
From contributor J:
I'm not sure if I'm following you correctly or not. If the 1" you're talking about is the overhang of the oven, then it's very simple to deal with. I use a 1" ply bottom and a 3/4" spacer on the underside of the top. This leaves me with about a 1/2" overhang for the upper door, which is standard for my cabinets. The bottom "rail" has about 1/4" reveal left, which is fine since I generally have a drawer underneath. If you need a full 1", though, you may need to use a 1/4" spacer to keep your reveal. Just remember to account for both top and bottom spacers when calculating cabinet size. I'm posting a picture of one of my typical oven cabs so you can see how it looks when done. Sorry I don't have any pics of one under construction.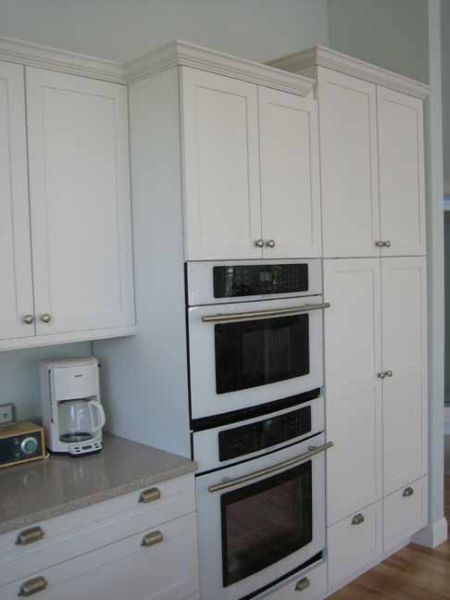 Click here for full size image
---
From the original questioner:
Thanks - I think I understand what you are saying. On another note, how did you make the finished end for that oven cabinet in the picture? I apply my finished ends to the unfinished end and the edge is out flush with the face of the doors. Your finished end looks like it is tucked behind the doors. Do you use a single finished end instead of an applied finished end over an unfinished end? If you use one finished end, is the interior melamine?
---
From contributor J:
It depends on the job. On that particular job, I sprayed the side of the cabinet since it was more of a budget kitchen. If I were to make a separate finished end, it would be 1" ply bumped out to line up with the doors. I prefer to add the panels since it gives a little more of an inset look to it.
I have not used melamine on any of my cabinetry; not my cup of tea. Everything is veneer core ply, cabinetry is all pre-finished maple, and anything painted is either paint grade birch ply or mdo.