CAD for Cabinet Layouts
Cabinetmakers discuss drafting alternatives for visualizing cabinet designs. August 24, 2008
Question
I have been using eCabs for awhile now and mostly use it for design and certain other uses. I have a pretty good sized job coming up where I used eCabinets and keep running into small issues that seem to take forever to resolve and I don't have the time. If I don't need cutlists and so forth what other programs could I use that will not break the bank.
I was just in Staples and saw a cheap CAD software program that was called TurboCAD for under $100. Is this any good? All I need is to see the kitchen layout with dimensions, same as when I draw a kitchen on graph paper to scale. I am just too tired of eCabinets. I spent years learning the software and still don't know all of the ins and outs. I know there are programs such as KCDW and others but I don't have a CNC and don't need that much of a program. Any help would be great.
Forum Responses
(Cabinetmaking Forum)
From contributor M:
In all respect, what is it exactly that you are trying to draw in e-Cabs that is frustrating you? I was up and running after one weekend well enough to produce basic layouts with dimensions.
I can't imagine any software being easier if your just looking for presentations and dimensions. I am not an expert, and I do not know what you are trying to do, but I don't think you are looking for a straight CAD program, that in itself is a large learning curve and not cabinet specific.

---
From contributor K:
There is nothing better for creating customer layouts than e-Cabinets but you might want to look into some of the Better Homes and Gardens design software. They are based on Chief Architect and even the low end programs will layout a room and let you add cabinets. Only the full blown Chief Architect will let you get anywhere near the 3D quality of e-Cabinets though.
With TurboCad you can draw anything but you have to draw every line, just as you would with a pencil. If you want easy to learn CAD I would suggest looking at DeltaCad or Punch ViaCad.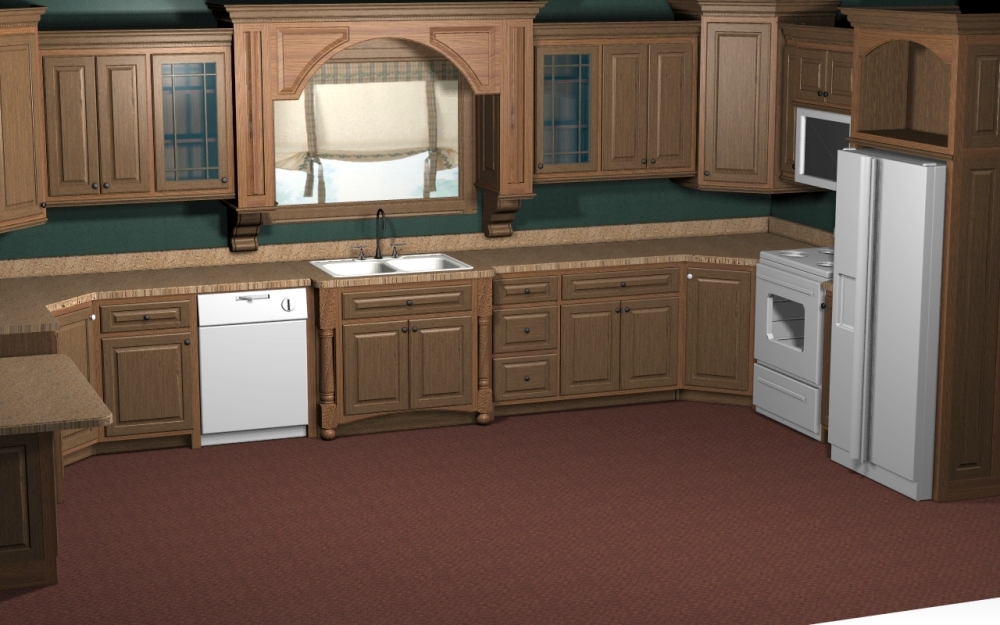 Click here for full size image
---
From contributor G:
Will the Better Homes and Gardens do a 2-D face on elevation with height and width dimensions? When I got started in 93 my father gave me Chief Architect and it was limited then.
---
From contributor M:
KCDW is available as a trial version for $50 I believe. It will do all the drawings and presentations you need, you just can't print them but you can draw frameless or faceframe and set all your own standards.
---
From contributor H:
You can buy the designer program only from KCDw. I have been using it for years since it first came out. You can also lease the program for a monthly fee. I do not know the cost today, but i designed my first kitchen within hours hours of owning the program and they are great people to deal with. Most answers are handled right away over the phone.
---
From the original questioner:
I know Contributor K does a wonderful job in e-Cabs but that would take me forever just to get close. My customer saw a drawing in 20/20 and just wanted to see the measurements of each cabinet. I too would like to see shop drawings as well.
As far as I know you can't do that with e-Cabs. I currently go from graph paper break cabinets down to each individual cabinet then make them in cabinet editor, then make the room and place the cabinets in the room. I do take the cabinets to the line drawing editor to get measurements for each cabinet. The Turbocad I saw at Staples was under $100. Is this the same program you are talking about?

---
From contributor K:
To contributor J: I am just using Home Designer Pro and I don't know of a way to get 2-D wall dimensioned elevations. You can click on cabinets in the 3-D views (either rendered or BW) and get cab dimensions. I don't know if Chief can produce elevations or not but the full blown version is now $2995.
To the original questioner: The bad part is that there is a learning curve for any software to create good elevations and drawings. The more capable a program is the steeper the learning curve.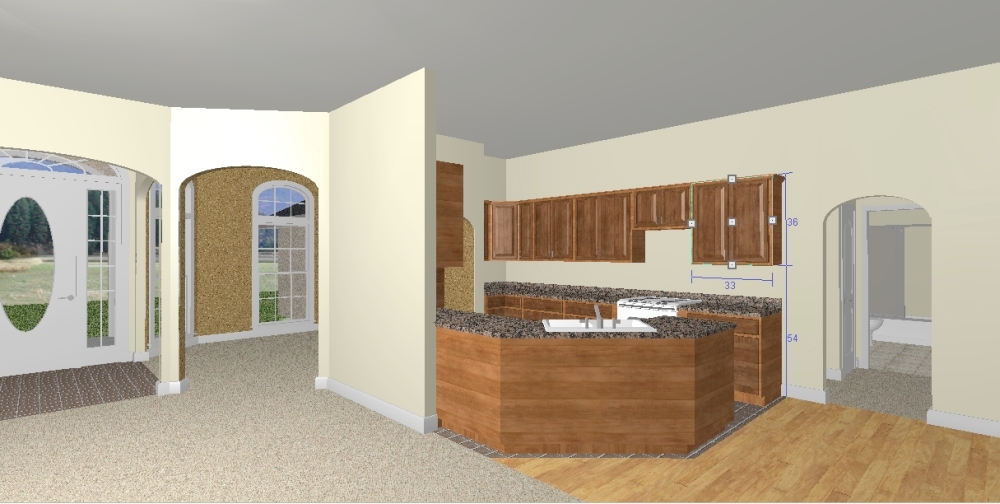 Click here for full size image
---
From the original questioner:
Has anyone used CabinetPlanner? I downloaded the demo and it seems pretty simple without getting into it too much. I also downloaded a lot of demos such as SketchUp, DeltaCad and TurboCad. I will give these a try to see what works best for me. Thanks for the responses anymore will be appreciated.
---
From contributor K:
To the original questioner: I haven't used Cabinet Planner but you might also want to look at Easy Cab. I used it before I started using e-Cabinets. I have version 7 and from the website it looks like they have made a lot of improvements. You can download and try the version you want for free.
---
The Staff at WOODWEB
CabinetCruncher as well as several other programs with free downloads or trials can be seen at WOODWEB's Software Connection, at the link below. Hope this helps.
---
From contributor M:
I use Turbocad and consider it very easy to learn, but you have to draw everything out as said earlier. I believe that they have various trial versions for downloading. They have training software and add on modules such as Furniture Maker (BOM and other features).
---
From contributor F:
I have used e-Cab for about a year. One can make amazing looking designs with it. Probable the best 3-D views available, and it is free. However even after becoming somewhat proficient with it I still find that it takes so long to use that I almost never use it except to impress a prospective client. For everyday use I go with Cabinet Planner. The support from the author is great and it is less than $100. It is extremely easy to use and now you can have plan and elevation as well as 3-D views. The 3-D is not in the league of e-Cab but it really is not bad. This is the program I default to now.