CNC-Carved Trim Details
Woodworkers discuss how to find or make detailed decorative carvings for pilaster capitals and other trim elements. June 15, 2009
Question
I need a few sources for those wood carvings that are added on to the top of a fluted pilaster. I have a client that wants these on bookcases.
Forum Responses
(Cabinetmaking Forum)
From contributor P:
Do you mean capitals? Enkeboll has a good selection. Theyíre not cheap though.

---
From the original questioner:
I punched in wooden furniture capitals, and a lot of sites came up. Itís all in the terminology.
---
From contributor J:
We have moved into carving all with the CNC using aspire software. This project has 14 elevations and this piece is for four, four sided columns that will hold up a canopy over an island in a master closet. Before I went to all CNC I used Architectural Depot, Pearlworks (very reasonable) and Enkebol, and still use them when needed.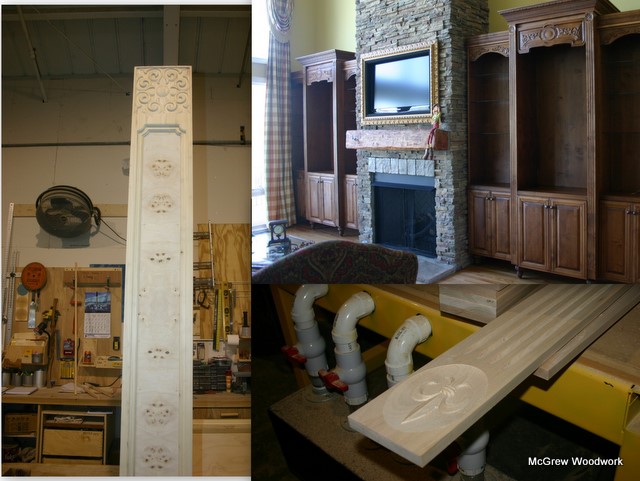 Click here for higher quality, full size image
---
From the original questioner:
What brand router do you have? I've looked at Shopbot. I like what you have done.
---
From contributor J:
I have the three head x3 5x10 and a second 4x8 single made by Camaster in Georgia.
---
From the original questioner:
To contributor J: were you real computer and CNC savvy before owning router? I ask this because I would like to know how long itís going to take me to learn. Also, do you have vacuum hold down? I don't have enough power in my shop for one of those big vacuum pumps. The Shopbot guys say they do it with a Fein shop vac.
---
From contributor J:
I would suggest to be at least computer savvy enough to post a file and use a computer on the internet. I had been drawing shop drawings with Cabnetware for some years but I still had a long way to go - the key is owner to owner support. We have this with the machines I have. Shopbot has this and one would be foolish not to recognize this.
It would take a lot of post time to sum all of what you are asking in one post. With the machines I have we can do this online live with the company or another owner. The vacuum is always tough. I actually have the Fein system on my first machine and while one can learn some work around I am much happier with the bigger vac on the second machine. Most all of the fluting and part work can be done with jig tables and clamp systems. There is a good thread on cutting circles at the CNC forum that shows the methods of workarounds, and of course there are much more expensive solutions to any vac problem. There are lots of small shops coming into the use of CNC with some innovative technology at more reasonable costs.

---
From contributor J:
I once did a kitchen for a "Mary Kay" type. She already had the pink Cadillac and a pink pool. As far as clients unless it is illegal I will do what they ask, we have been in this house many times over the years as all of this work is in the same house. Itís interesting the photo frame is a motorized screen that is a really nice piece of art when closed! The white cabinetry is what was replaced at the fireplace.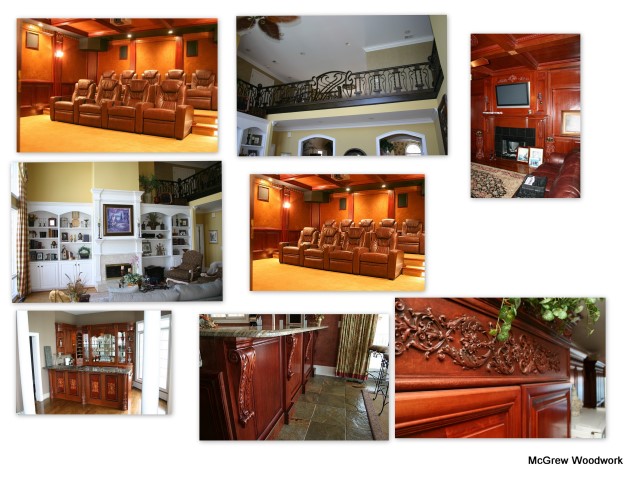 Click here for higher quality, full size image
---
From the original questioner:
On all of your carvings, do you map it all out or is there some sort of catalog you pick designs from? I like the way they look.
---
From contributor J:
The carvings on the bar in the lower left are from Pearlworks. The Corbles are art for everyday (if I remember correctly) the carvings are from various libraries like vector art 3-D. I use aspire to do the rest.