CNC for Veneer Marquetry
Is there CNC equipment that can do fine work with very thin veneer stock? Here's an in-depth discussion. January 3, 2012
Question
I'm a marquetarian and I do my marquetry with a scalpel, but I'm interested in finding a faster way of creating my designs. Working exclusively with hand tools is too time consuming and I want to expand my work to maybe make a little scratch off it.
I've seen some businesses are using lasers to cut their veneers, but the cost of these machines is out of my price range.
Is it possible to cut thin veneers with a flatbed CNC machine equipped with a router and some sort of bit? If so, can I build this machine, i.e. the DIY ones I've seen enthusiasts construct? And finally, how can one compensate for the kerf gap that would appear between joined pieces of veneer? Is bevel cutting possible?
Forum Responses
(CNC Forum)
From contributor E:
The only issue I see in cutting veneer on a CNC router is mainly keeping your parts from being ripped apart when you route them. You would need a good vacuum system to hold the sheet flat and the parts from being pulled off the table when they were done being cut. Bevel cutting is done every day with a conic tool to whatever degree you would need. Probably a 45 degree bit would work. However I think the laser would do a way better job at cutting veneers in any type of detail. If your work is large, a laser would be out of most budgets. We run a 24 x 36 co2 laser at our shop. It does pretty well at cut plastics and wood. Depending on where you are located you could look into outsourcing a test project to someone. First bit of advice is to check with your local engraving company to see if they have a laser and if they would cut out some veneer for you. Most of them do work like this to keep their lasers running. You would want to take them digital files of your project in a .dxf file format. You could also find a shop online that does this type of service work.

---
From contributor J:
We had a camp at my shop last weekend for the Aspire software users. These fellows come from all walks of the trade - cabinetmakers, machinists, artists, and garage hobbyists. The show and tell is well worth seeing. This software has an inlay tool path function that will do what you are asking of it. I also believe the laser will produce the smallest and finest cut, yet the work you see in the first photo is done on a CNC. You can see more of this on the forum and galleries at Vectric.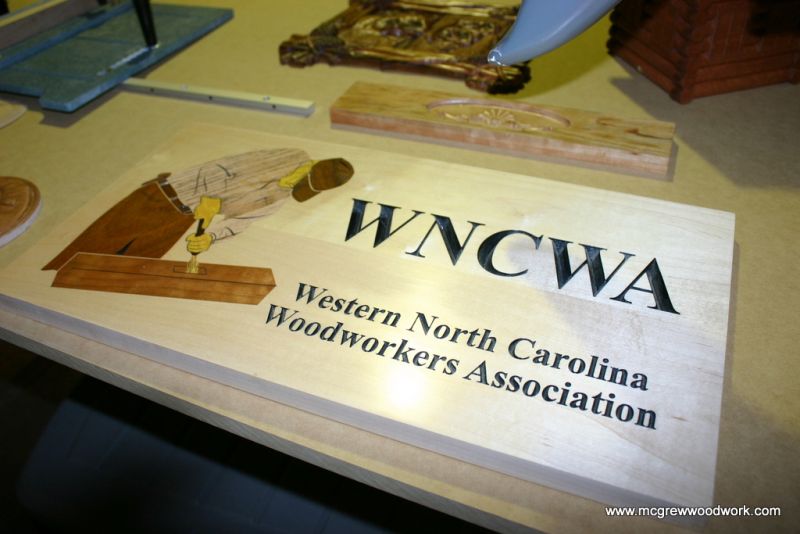 Click here for higher quality, full size image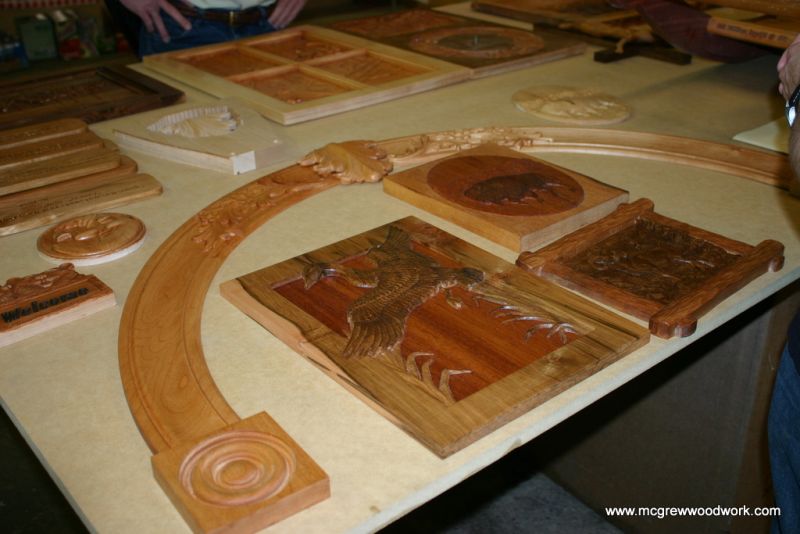 Click here for higher quality, full size image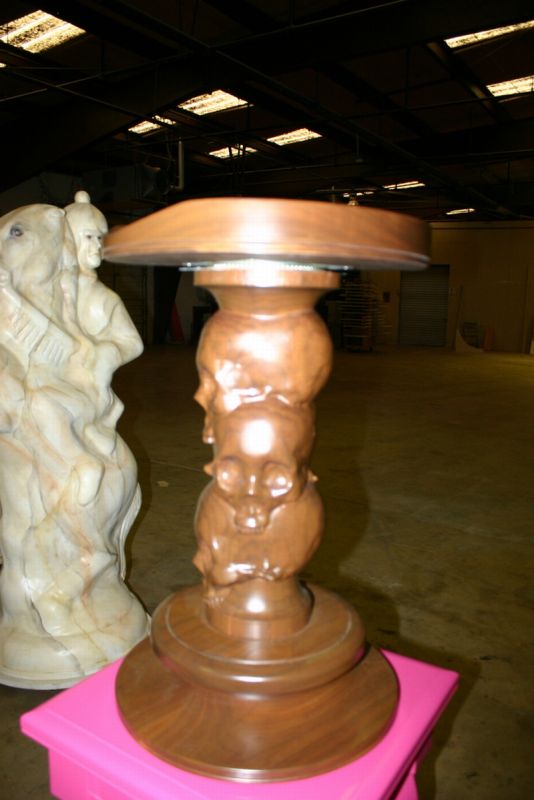 Click here for higher quality, full size image
The inlay function does the offsets for the inner and outer cuts. All of the inlay I have done has been corporate logos inlayed in laminate, so the art side of it isn't in my work. For the flat 2d work the software will run 600. You could do this with a relatively small and simple machine.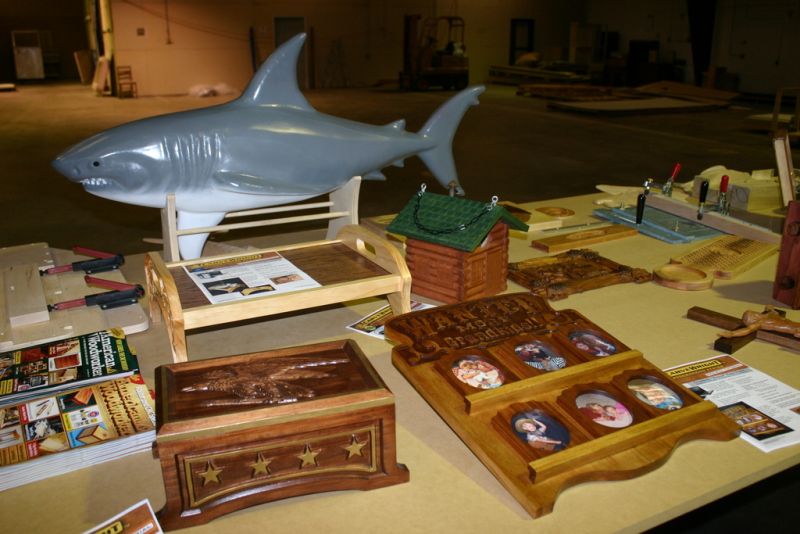 Click here for higher quality, full size image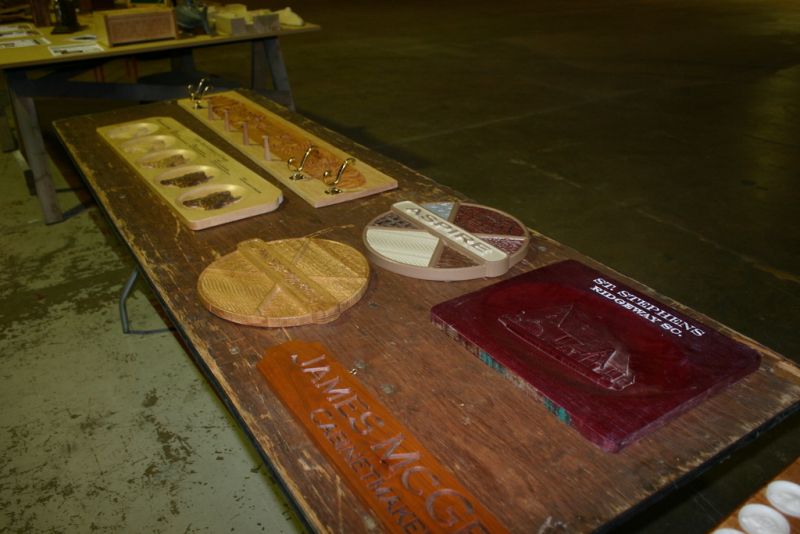 Click here for higher quality, full size image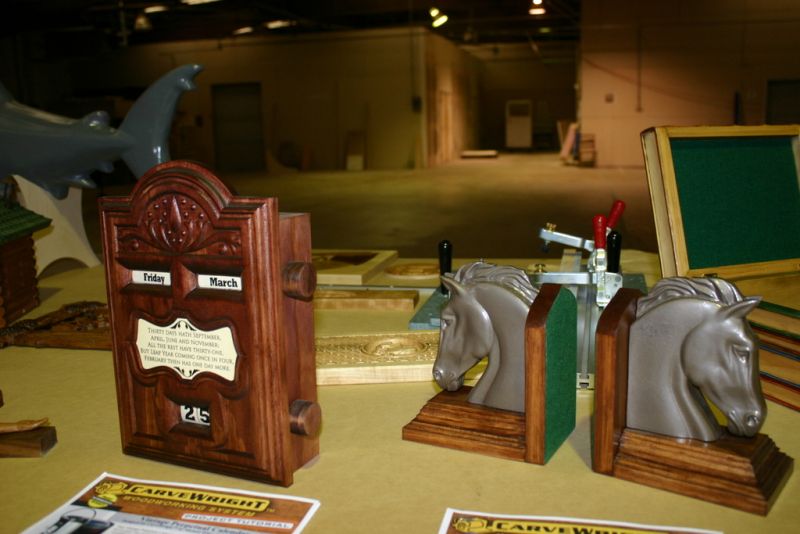 Click here for higher quality, full size image
---
From contributor T:
A CNC laser will do what you need, I believe. The leaders in the field are Epilog and Universal. I've posted an example of laser cut veneer on a guitar that also has CNC router work. It was done by a NEW CNC owner with both kinds of machines.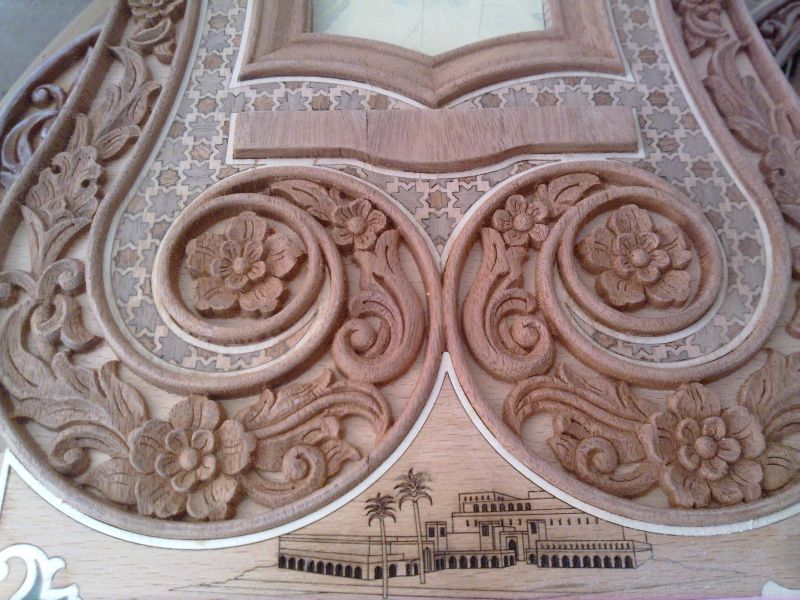 Click here for higher quality, full size image
---
From contributor B:
This makes me think of the small table top CNC machines that knife grinding shops use. They use 1/32" bits to cut the 1/8" thick plastic grinding templates. I would think these bits could be used to cut veneer as well. I would also think that simply cutting your openings about .005" oversize all the way around would probably make for a pretty good fit.
---
From the original questioner:
Thanks. This is all very informative. What would the minimal wattage be to cut wood less than 1/8" thick with a laser?
Contributor J, your woodworkers powwow looked like a real hoot! Exceptional work!
Contributor B, what do these small CNC machines look like that knife grinding shops use? I'm just learning about the world of CNCs and I'm not sure of what's what. Who produces these smaller units?
In general, I'm not sure if work table size is that much of a concern. Please correct me if I'm wrong, but can I not produce individual parts/components to create a whole?

---
From contributor M:
Do a Google search for the Widgetworks pressure foot. People have had great success using this with thin plastics and sheet metal. The stock mount is designed for a Shopbot, but you could fabricate your own. I have been tempted to try using one of these to cut veneer on my CNC.
---
From contributor J:
The key to your table size will be how big you want your largest piece or, say, the background perimeter. With a 24 x 36 machine you could have a lot of fun. Techno (and others) make a real small machine (we cut knife templates with it) but it is awful money for the size.
---
From the original questioner:
Thanks. The pressure foot looks like a possibility. My problem, if I use a router, is that standard veneer runs around 1/42" thick, depending on the species. I'm worried that routing would yield either inconsistent duplicates of like parts or absolutely obliterate the veneer because the router would move the veneer around.
I like the idea of lasers, but... Man! The price is steep! Also, certain species will show burn marks from the laser.
The size of table doesn't seem like it should really matter. I don't plan on creating the entire design with the laser... Just the tedious stuff. Intricate details or the background can be made by hand using the window method.
I hate to admit it, but what I need is a small laser with a small work surface that is capable of cutting maybe 1/4" of wood. Does anybody know what wattage I would need to do that?

---
From contributor B:
Take a look at Global Tooling's Tem Tech TM-1418 CNC template maker.
---
From contributor R:
The laser is the way to go if you add highlights and shadow to your work. The laser beam will be something like .003 to .005 depending on what lens you use. Any discoloration on the surface of the veneer will usually wash off with denatured alcohol, if it is just smoke and residue. Even if you use a really small bit, you will have to hand chase some inside corners to eliminate the radius. Doing that will introduce the possibility of broken veneer pieces. You might look into contracting out a job at a local trophy shop to see if you like what a laser will do. The big deal will be getting good vector work for them to cut. That will cost more than the actual cutting. I'm curious why you want to cut 1/4" thick? Are you doing more like intarsia instead of marquetry?
---
From the original questioner:
1/4" is a rough guesstimate for creating a packet of stacked veneers. In traditional marquetry one way of making duplicate parts or maybe making a positive and negative is to assemble X amount of veneers, tack them together, and then cut the desired shape. I'm thinking more along the lines of possible production. Any ideas on the minimum wattage I would need?
---
From contributor R:
I have an old 25 watt ULS, and I've only cut single layers. I'll tape a few sheets together in the next couple of days, and let you know what its limit is. I think you could stay around 45 watts for the thicker stack, but I'm sure not expert. The thing about any size laser would be the quick cycle time. If you only cut two layers, you can cycle fast and get accurate parts. I also believe the thicker you cut, the more cone shape you get. Full Spectrum Engineering in Las Vegas takes some Chinese components and combines them with some US engineering and software. I've not seen a machine run, and sure can't guarantee them, but they get a pretty positive response on a CNC site I visit. The price will be a pleasant surprise. Ask them to cut a sample for you.