Cabinet Design Skill and Talent
Cabinetmakers discuss the knack for good design — what it is, who has it, how to acquire it, and what it's worth. September 27, 2009
Question
I am curious to know how common it is for the small shops to do the actual design for a custom kitchen - layout, cabinetry design, details, molding choices and install - or do you require a plan from a designer? If you do design work, how do you stay on top of the latest trends in kitchen design and cabinetry?
Forum Responses
(Cabinetmaking Forum)
From contributor S:
We always did our own design work for everything we built. You need to read a lot, and just keep your eyes open to see what the current trends are. There is a cabinetmaker in the same building as us and he can build absolutely anything you could imagine. He can not design to save his life. I think you have to have a certain amount of a designer in you. A lot of people have no color sense, for example, which includes the clients.

---
From contributor A:
I believe you either have the ability or not. It is hard to be taught how tangible objects should look. At the end of the day you will be teaching yourself, so it would be even slower. We all complain about the "designers" being clueless. Those comments usually pertain more to a lack of knowledge about the construction of woodworking and cabinetry. Function versus aesthetic.
Half of my family are very good technical artists - pen and ink drawings versus contemporary painting. My bosses were always surprised how I knew what looked correct, long before I could either build it or draw it.
I design about half of what we build. I have built dozens of beaded inset face frame kitchens that were designed by architects or designers. However, when I show my portfolio, the two kitchens that I designed stand out as superior. They have that correct look.
Often, the kitchens designed by architects have no details. Just door/drawer/appliance locations. It is left to us to fill in the appropriate details. Kinda like drawing a box with wheels and calling it a car.

---
From the original questioner:
I have designed all my work to date. I built this display for home shows in my area. I call it "the classic" with my Nantucket hood. It is a painted beaded inset that I can do for reasonable money. I am still surprised at how much people like the way it looks. I have a lot of problems with potential clients because they don't think they can afford it and they look at me a little funny when I tell them I can build it onsite for less.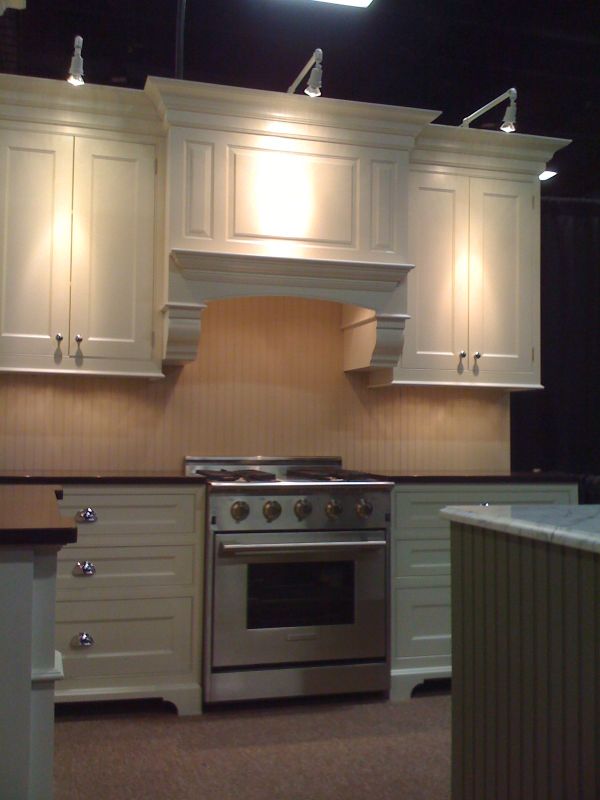 Click here for higher quality, full size image
---
From contributor D:
I look through the kitchen magazines at the bookstore to keep an eye on what others are doing. However, I mostly read books on architecture and look at antique furniture design. A lot of features in cabinetry are based on historic architectural elements. One example would be the corbels on a range hood. The corbels on a hood are decorative in a kitchen, but should be in proper scale to the width and depth of the hood. They should also be designed to add support (even though the hood is probably holding them up).
It's funny to me to see things like columns on base cabinets that stop 4" from the floor and other compromised features that are offered by factory box companies (and then emulated by custom shops).

---
From contributor R:
It is perfectly normal for a small shop to do the design. What most of them forget to do is to charge for it.
---
From contributor K:
Your expertise in design is one quick way to create rapport with a client...
---
From contributor M:
There is the process of designing cabinetry – face frame or frameless, door styles, drawer fronts, molding details, base/foot details, etc. Many cabinetmakers have the eye and sense of proportion, the technical know how, and the product awareness to pick the best and most appropriate hardware - from knobs and pulls to drawer slides, to trash pullouts, to Hafele type internal gizmos, that combine to enable them to produce outstanding product. Some can also successfully convey their vision to their clients. You already know that. Looks like you are doing pretty well in that regard.
Then there is the process of designing a kitchen or bathroom (not to mention libraries or media rooms) with all components – cabinetry, appliances, lighting and plumbing fixtures, other mechanical systems, counter tops and maybe flooring and color schemes – that all blend together in that harmonious whole that defines great design. There are likely very few career professional cabinetmakers who bring all that to their clients without a good team working behind the scene. For the rest of us, good to better cabinet makers/designers/salesmen who work alone or with a small crew and already have a full time job just building and installing cabinetry, it's common to wear all the hats, including that of researcher and student.
Aside from hitting the historical database, such as the White Pine Series, and subscribing to contemporary magazines, networking with allied professionals is a very useful component towards helping you stay ahead of your competition. Join your local chapter of the NKBA – the National Kitchen & Bath Association. Here is an opportunity to attend regular meetings that combine socializing with people who share your professional interest but from a different perspective and listening to guest lecturers offering all sorts of relevant information. If you are lucky you can develop relationships with Certified Kitchen Designers who, depending on their circumstances or inclination, could be invaluable at collaborating with you in designing projects that require more than just well built cabinets. Of course, attend kitchen and bath shows in your region or the annual National Kitchen & Bath Industry Show to really keep abreast of trends and product.
If you make pieces that are one off and can be sold with no input from a client except that they like it and are willing to pay, then you are sitting pretty. But I don't believe that you can stay in business building cabinetry to fill a kitchen unless you can convey your ideas to your clients and that involves design and some competency at drawing. Yes, it is common for small shops to do design. Not so common to charge for them - that is too often neglected. This diminishes all our capacities to get paid for our efforts. You are in a business that demands a lot from an individual. Do yourself a favor and make some friends that can help you build a virtual big company by virtue of the resource of your network.

---
From contributor I:
An excellent thread. I work alone and try to build a higher end kitchen. My problem was that I had a good idea what looked good and could picture it in my mind but had difficulty conveying that to the client. I started using a designer three years ago and it has worked fantastic. She meets with the client and does everything up until presenting the final drawings with the pricing. I have the final meeting with the client. I maintain contact with the client during this process. I have never had to pay more than $400 for this service and $400 for a $25,000 dollar kitchen is a great value in my books. Another advantage is that the designer I use gives me a price point as to what this kitchen will sell for in my market. I also believe that it projects a more professional image of my business.
To the original questioner: Very nice work.

---
From contributor K:
You meant the client pays the $400, right?
---
From contributor M:
Exactly, contributor I. Now that I don't have a full time design staff I do the same as you with a few local CKDs. It is a great system. Contributor K, the client always pays for design somehow in the process, otherwise you aren't running a business; you are operating a public service.
---
From contributor N:
I am an architect, designer and production engineer. In my last (medium size, $1,500,000.-/per year) shop I couldn't do everything by myself. I would like to, since I always want to do it right. We were in Southern California, where the money is.
I don't know how old are you, where your shop is and how much your market can afford. My advice is to assess your capability and your passion. If your passion is in the production, focus on it, ask a designer to work with you on commission. He or she designs and sells the project. In return, give him/her a percentage of sales. Find out your cost and determine your selling price. That way he knows up front how much will it cost. He has the relationship with the client and a feeling of how much they can or are willing to pay. Do not sell based on a high dream. If he did it, he (not you) will lose time or perhaps sales.
If your passion is in design, go for it. Let somebody run the production, and you study deeper into the design. To study design, you have to see a lot. Go to libraries and internet for the particular products. That is how architects learn the shapes, proportions and colors. If you don't like the idea of somebody else running the shop, then buy parts and sell them installed. There are a lot of cabinet parts manufacturers that will be happy to accommodate you. This way you can control the production of the final products.
---
From contributor K:
My point was that contributor I should be charging a separate line item for the $400, otherwise he is paying for the design service out of his profit...
---
From contributor N:
I don't get it. $400 for design is 1.6% of sales, very cheap. We budget design including sales commission 5% to 10%. No salary, just strictly sales commission. Build it up on your cost. He or she will put a lot of effort in to get new clients and sell the project at practically no cost to you.