Cabinet Software and Photo-Realistic Rendering
This thread on a timeworn topic (choosing cabinet design software) has an extra feature: some examples of super-realistic rendering. January 13, 2009
Question
I've done a bunch of research on the various computer software programs for doing cabinetry, but there seems to me a wide variety of programs for doing kitchens and such. I don't want to spend a huge amount for the software, as I only need a program that is user friendly, with real life looking pictures, and to just get the lay outs of a kitchen so the customer can see what they are getting. What do you suggest? And is it something I can buy at a store like Best Buy? Or is it best to just order it off the internet?
And what's this eCabinets deal? Been reading about it, but kind of confused as to what it all entails.
Forum Responses
(Cabinetmaking Forum)
From contributor K:
eCabinets is a free program that's distributed by Thermwood, a company that makes CNC routers. From what I understand it's the only program that will run their routers. It's arguably one of the most powerful cabinet design programs around and there's almost nothing you can't do with it. The problem is it has a huge learning curve and is not intuitive at all. If you can get past that, it can't be beat. eCabs beat me and I finally gave up but I'd suggest you get it and at least give it a try. If you can master it you will have everything you need for just your time as an investment.
I lease a program called Cabinet Solutions for $100 per month. It's about $3500 to buy. They have a free two week trial download. This is the simplest program I know of and gives great layout capability, cut lists, door lists, etc. I'd recommend it to anyone who's on a budget and needs design software. The 3D graphics leave a little to be desired but get the job done. Another program to consider is KCDw. It's a little more but has better graphics.
I don't know of anything you can buy through Best Buy.

---
From contributor T:
Try KCDw Design Pro. It is a scaled back version of their program with 3d renderings and shop drawings. I think when I bought mine about 6 years ago it was $1300.
---
From contributor C:
A lot depends on what you really need beyond the kind of views and renderings used in proposals.
For building and rendering interiors with cabinetry, the best bet might be the Better Homes and Gardens Pro Designer package, retailing for about $500. It is relatively easy to use, and can show rooms outfitted with accessory items other than cabinets. Changing surface colors and textures is easy. Pictures, yes, but it won't help you build anything.
I am sure that someone will come in here and show you a render done with eCabinets, and promote its features and benefits, and it may be what you need if you want production software beyond just rendering. eCabs can export CNC files for cutting parts, cutting lists for saw-shop operators without CNC gear, and more.
Everything has its learning curve and time expense, and with eCabs, it is high. You'll need to build a large library of cabinet types and doors and fronts styles, before you can begin populating a room with a layout. Personally, I don't like the renders you get using eCabs, and the whole lot of work it takes to insert all the bells and whistles beyond just the boxes, such as moldings, sinks, lighting, appliances, etc.
Google Sketchup is free and easy to learn, and will give good renderings, plus good dimensioned 2D plans and elevations. There are free plug-ins that yield excellent cutting lists and optimization. The thing that is super about Google SketchUp is its link to the Google 3D Warehouse, a repository of already-modeled components that can download right directly into your model. This aids greatly in the appliance end of things, because virtually all the majors have installed 3D images of their product lines in the 3D Warehouse. I find that clients like it when the pictures include good renderings of their selected gear.

---
From contributor U:
Here is the obligatory sucky eCabs rendering. I couldn't help myself. The rendering is for a job I'm currently designing. Yeah, it has a learning curve. Will it do everything? Probably not, but it does everything I need as a small custom shop including the renderings, line drawings, nesting, costing of materials and cutlists. Not bad for a free program.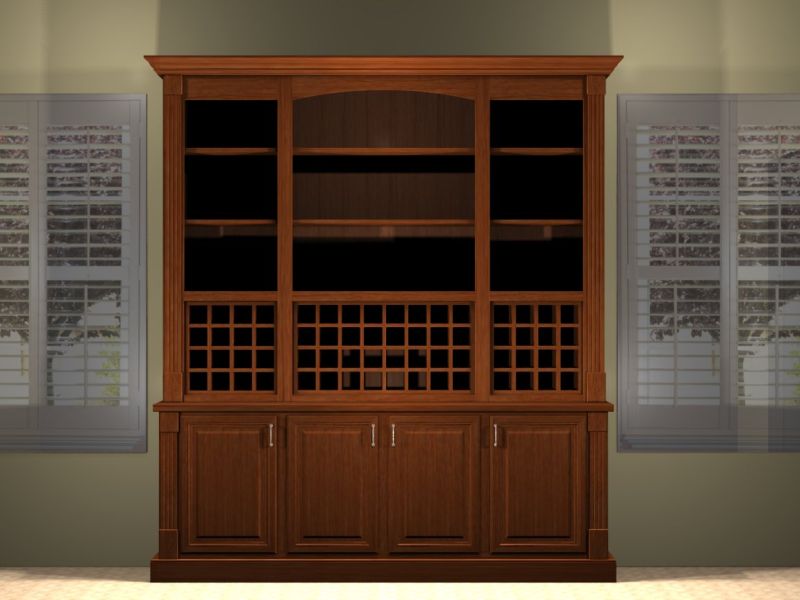 Click here for higher quality, full size image
---
From contributor S:
I bought the trial of KCDW for $50 about 2 months ago. Haven't had a chance yet to try it out on a real customer's job. Still getting my business set up. I felt a little disappointed by its graphics, not as lifelike as I want. I think they told me over the phone that the program was $5k, which is too much for what you get. If it's 1k or 2k, then sure, it will get the job done. I'd like to try out some other programs before I make a decision.
---
From contributor C:
Don't get me wrong regarding eCabs. I love free software that can do the job I need, and I use eCabs for production of all cabinets. Here is a screencap of a narrow basecab with tray storage under the drawer. Note the dados and blind dados.
With eCabs, I can email jobfiles to a production share shop that has a compatible (Thermwood) CNC router, and get all the parts made for a job. Everything comes flat-packed and all parts bear labels, and assembly is very fast. The software produces the output I need to buy out all the pre-finished doors, drawer fronts, and drawer boxes for the job.
If you already know how to use parameter-driven software like this (it is not a CAD program), learning eCabs might take a month or so, and that includes the time required to build the seed cabinet library you will use. Building a room with all the details of a kitchen, though, meaning moldings, corner legs, etc., can be tedious.
It has one fixed camera lens angle for viewing, and in my opinion, it is too narrow. Since it is free, it is relatively easy to try out and see how the rendering works for you, just by using the on-board generic boxes that are in the "base" library.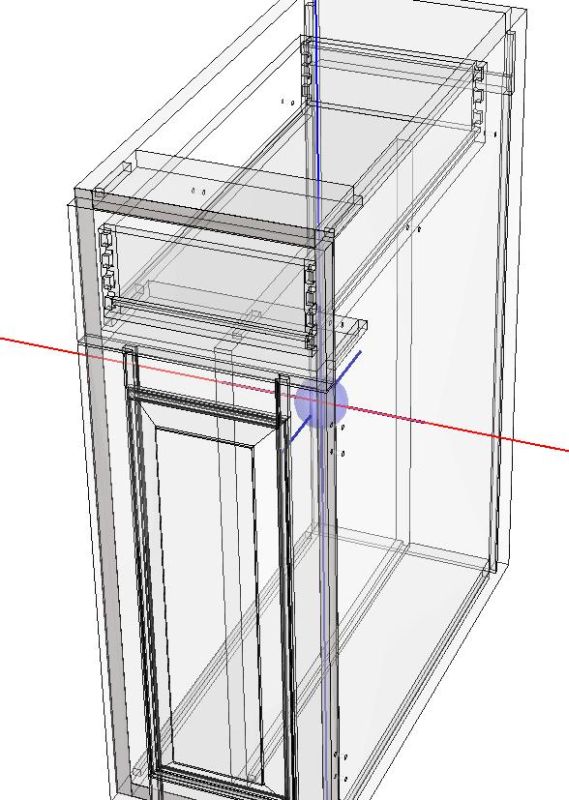 Click here for higher quality, full size image
---
From the original questioner:
Thanks for the input. Yes, I'm only looking to be able to punch off a kitchen on the computer and let the customer see the layout and so I can use the layout to build them. I don't need anything so fancy as it showing how to build cabinets, I just want a cost efficient program that will help me lay out a set of kitchen cabinets and show the customer what they are getting. I don't want to invest thousands of dollars into software that will allow me to customize the grain of the wood.
---
From contributor A:
I started out with Kitchen Builder - it did the drawings and layout and cutlists. It was cheaper than a lot out there and it did everything I needed at a time. I have since upgraded to Solid but have not regretted the initial purchase of Kitchen Builder, which they gave me credit when I upgraded.
---
From contributor Z:
I was in your shoes back in 2005. I had just relocated my shop to a new town and had a $54K job to produce and desperately needed software to get the job done. At that point I only had about 4 years of experience but knew that I could do the job. I was working alone and needed an edge to keep things organized. I did not have a lot of money to spend and ended up ordering a copy of eCabinets, which was free. I spent several days trying to understand the software, but once I was comfortable, I developed a materials list and a cutsheet and went to town.
I wasnít certain how effective eCabinets was going to be, but I went ahead and started cutting my parts and organizing them on a set of shelves in the back of my shop. Once I had everything cut out, I held my breath and began to assemble everything. This project consisted of 66 carcasses totaling approximately 1000 pieces. Believe it or not only two pieces had to be re-cut and the project went pretty smooth.
I have been using eCabinets ever since. I have been very pleased with the product and the support the company has provided. I especially enjoy the forum available on their website for answering those more difficult questions.
The one thing you want to be aware of when it comes to graphic type software is the amount of computer power needed to accomplish your drawings and renderings. These types of software require a good processor and video card. eCabinets has a computer configuration recommendation on their site and you should try to get as close as possible. Anything less will be frustratingly slow.

---
From contributor M:
Software is like automobiles. There are many out there, they perform different tasks, and they have a wide range in price.
eCabinets is a cooperative effort, and is paid by companies who sell products through eCabs software. You can buy many things related to cabinets - hinges, guides, hardware, doors, moulding - through links that are embedded in eCabs software. You are not required to purchase these things in order to use the software. It has a lot of features - it is powerful - but it takes a lot of time and practice to be able to navigate comfortably.
I started teaching myself AutoCAD when a 386/40 was a top of the line computer. This was helpful, but not practical. I tried eCabs in its infancy, but it had a lot of problems. As my need for a cutlist/design package increased, I spent more time with eCabs. It had a lot of problems, but improved with subsequent releases. It has developed into a very reliable program.
I chose to purchase a router, and you have to have software to run it. eCabs will only work with a Thermwood controller (Thermwood router). I bought an Onsrud and, naturally, needed another software program. After looking at several, let me give you a quick review.
There are some programs that are primarily visual, like Better Homes and Gardens. It will produce a pretty picture to scale, but does nothing to help you build cabinets... no cutlist and no estimating features. If you are just taking cabinets out of a box and screwing them to the wall, then this may be all that you need.
The next step up is a design package that will produce cutlists, and has some drafting capacity. Planit and Kcdw have programs like this. They have a library that you can use to put cabinets on the wall. You can modify the size of the cabinets, but it is not designed to make custom pieces like a curved vent hood or retail fixture. If you primarily work with residential cabinets, this may be all you need.
eCabs will allow you to make more modifications to cabinets. It is, however, very limited in its CAD abilities. Many find shop drawings to be very crude. It does have a good rendering package.
Microvellum uses AutoCAD and Excel to build cabinets, produce cutlists, and every imaginable kind of report. It is very powerful, very expensive, and has a lot of features that leads to a steep learning curve. It is capable of managing large commercial projects like a hospital with many floors.
If you need to get up and going quickly, try some of these packages that have a large library and will have you drawing in short order. There are several new programs in this category. Open up a copy of Cabinetmaker, or other trade magazine and start making calls.
If you are going to take eCabs for a drive, pay for the training. I did, and it was a good investment.
Microvellum may be something to consider for the future. It does have its place in the small shop, but probably not something to cut your teeth on. Having prior experience is not necessary, but it is helpful.

---
From contributor Q:
Most of my customers are pleasantly surprised when I provide them with 3D renderings from Cabinet Solutions. It is a good design/cutlist program, but is on the lower end of rendering. That is how they sell it. What if you can't reproduce the cabinet quality as shown in your renders?
---
From contributor J:
If you can't reproduce the quality of your renderings in your actual work, you might be in need of more training. If it's that you are not going to use exactly the same door, moulding or pull style, you should specify this in your contracts. And you should provide your clients with finish samples which you should have them sign off on. Most of the time my eCabs renderings look very close to the actual finished job.
---
From contributor O:
I started out using a very inexpensive but powerful program called Cabinet Planner. It was only $89 and has 3D rendering and is fairly simple to use when you get used to it. It will do pricing, cut lists, etc. Just about everything you need. When I was ready to move to the next level I evaluated 6 other programs including a couple from Planit Solutions but I ended up settling on KCDw because it was much easier to use. I paid about $4000 for KDCw and after using it for a few months I got into the advanced features and now I can do just about anything I want. Give Cabinet Planner a try. It is well worth the money for a starter program. I think they still offer a free trial download on their website.
---
From contributor W:
I've been using Cabinet Planner for a year, with good success. It creates passable 3d images, and it costs around $90.00. I've used Cabnetware and CabinetVision, and this program is very user-friendly compared to those. Also, when you ask for help, you're speaking with the designer and owner, Robert. He is very helpful, and usually responds within 15 minutes. He gives you a download for free, with 10 uses before it becomes invalid. I highly recommend that you at least check it out.
---
From contributor L:
Keep in mind that if you plan to grow, you may want to consider one of the starter versions of the top end programs. That will prevent you having to start from scratch when and if you go to CNC. We started with Cabnetware Detailer about 9 years ago. Last year we got a used router and upgraded to the full Cabnetworks/CNC deal. That was hard enough. I can only imagine the difficulty in trying to learn the design and CNC parts at the same time. Yeah, this stuff is expensive, but, one more payment.
---
The comments below were added after this Forum discussion was archived as a Knowledge Base article (add your comment).
Comment from contributor R:
I used KCDw at my previous job. It was a five man cabinet shop doing custom, frameless residential cabinet work. To do the basic stuff the learning curve was flat and fairly simple. The renderings are very good and you can tweak lighting and textures and such. Also, the cutlisting and estimating is pretty good.
The big drawback we encountered is when you want to change the standard joint construction. Our shop did blind dado and that is not a standard joint type in their library. We had to go into the source files and change some coding and that was tedious although the technical support really helped us along in developing these files to fit our type of construction. Speaking of which, their tech support is excellent.
We used this with EnRoute and it was a solid CAD/CAM matchup. EnRoute was designed to integrate with KCDw and the pairing is almost seamless.
Like others were saying, this is a parametric program so you wonít be able to design your own super custom stuff. For a strictly CAD solution I've used SolidWorks, MasterCAM, and EnRoute. EnRoute is a bit of nightmare to do fancy solids. It can be done and I've drawn some custom moldings in it, but itís not as good as others to draw with. Doing CAD in MasterCAM is average I would say. It is incredibly powerful and flexible but the learning curve is steep. That being said, you would never buy it to do just CAD (I do enjoy its toolpathing algorithms though). SolidWorks is by far the best 3D modeling CAD software that I have tried but definitely overkill for a cabinet shop's needs.