Cabinet construction joinery
Different joinery and construction methods. November 24, 2002
Question
I'm thinking about changing the construction joinery I use for kitchen cabinets. My current joinery is butt joints and biscuits. One problem is I flush my partitions to the inside edge of the face-fame. This allows a surface to easily mount my drawer glides. The problem is I'm going to switch from plywood sheet stock to melamine. I'm certain it's going to be difficult to flush up the stile to melamine joint, if the sheet has even a small cup to the partition. When I use plywood, it's easy to sand the ply flush. My thought was to use tongue and rabbet joints to reference my case to the face-frame. I will set the joints so I don't have any flush surfaces. I'm wondering what your opinion is of the tongue and rabbet joint, regarding construction time and assembly problems. I would guess the dimensioning of the case parts that will align to the grooves in the back of the face-frame to be very unforgiving regarding sizing inconsistencies.
Forum Responses
From contributor D:
There is a bunch of ways to mount frames to cases, but your new way would not be one of my choices. I'm also a little confused by your term "partitions". Do you mean gable ends or end panels? You would also want them flush at the top of the decks/bottoms, and anywhere you use horizontal partitions, otherwise referred to as fixed shelves.
PB core melamine has a soft inner core, so once you eliminate melamine and hard skin of the PB, the remaining "tongue" will be pretty weak.
I'm also not following that you sand the plywood (when you use plywood); I usually sand the wood frame when necessary, flush to the plywood surface.
Why not continue using your biscuit assembly method, particularly if you are satisfied to leave the frame proud of the inside of the end panels? A better idea would be to carefully size your frames and have them be flush with the end panels so that your drawer slides will be easy to install. If they turn out to overlap the edge a 64th, that will usually cause no problem with hardware mounting.
Also, take a hard look at using pocket screws to attach your frames, drilling the cases from the outside of the box.
Better still, if you are making a change to PB melamine, consider reengineering your entire cabinet style, construction, assembly, and installation methods by going frameless. You will pick up some additional problems that need working out but the elimination of sourcing, milling, sanding, and finishing frames will be worth the effort, in my opinion. Not to mention that attaching Euro hardware will become a snap with proper line drilling.

---
From the original questioner:
Here is a picture to clarify my situation.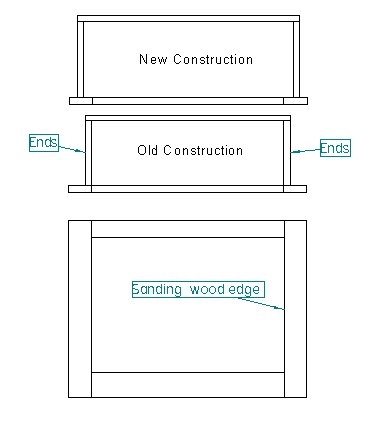 ---
From contributor D:
I gotcha. Placing biscuit slots in the proper place to meet the slots in the case would be difficult with your new construction. Glue and pocket screws would be my choice for attaching the frames. Drill holes into the outside of the case and the bottom of any H-partitions, run a quick line of yellow glue along the front edges of the case, screw the frame on and move along. I'd avoid drilling pocket holes into the H-partitions of uppers. I would instead use a cowl and clamps to fix that rail tight to the carcass front.
Using pocket screws in PB melamine requires attention to the amount of torque you apply when setting the screws so that you don't break the PB, but it can be done. I assembled and installed a whole elementary school's worth of frameless library cabinets using only pocket screws and glue with TF Mel PB 7 or 8 years ago (just up the street), and so far I have not had any complaints.

---
Another vote for the pocket screw joinery method for this situation.
One side note: when using melamine, a friend who has great success using pocket screws for the case and face frame uses a product called "Roo-Glue". It has amazing holding qualities even with those slick melamine surfaces. He bought a commercial pocket cutter so a cabinet and frame (once milled out) can be assembled very quickly and easily.

---
From contributor A:
Pocket screws are the best and fastest way to go. Roo Glue is specifically made for gluing the surface of melamine to wood or to melamine - great stuff, and strong. Why are you changing from ply to melamine? I would rather work with ply over melamine any day, since it is lighter and more forgiving. Is it just a cost savings measure, to reduce the price of cabinets, or is there another reason?
---
The consensus for pocket screws always thrills us here at Ritter. You can also consider doweling, but you will need to invest in machinery to make it happen. Frameless cabinetry (aka FAC - fully accessible cabinetry) eliminates frames altogether, and with the right machine mix, is faster and simpler to execute, but you need to invest to achieve. If you're considering a change, that's one other way.
Jon Elvrum, forum technical advisor

---
Frameless is "Fully Accessible Cabinetry"? Frameless is cheap work by people without woodworking skills. There's a huge market for the stuff and a heartbreaking shortage of skilled cabinetmakers who can make anything better.
---
I am aware that it's simple to make 32mm cabinets. But with a market so competitive, how do you get any work with 32mm construction? How are you supposed to impress a customer with the style of a frameless cabinet? They have absolutely no style. Being in the Northeast, most of what I see and make is face-frame. My cabinets have the look and feel of fine furniture.
---
From contributor D:
You guys are killing me! Frameless cabinetry absolutely rules, no question; not even a close argument.
I've seen my share of junk cabinets, both framed and frameless, and the only difference I see is that it takes a little more skill to identify junk when it's partially hidden by wood frames. You cannot possibly offer the variety of styles and design that frameless cabinet construction offers. Edge banding panels does not make a cabinet high quality, no more than does gluing a 3/4 inch thick, 2 inch wide frame to the carcass front.
I've built them both, mostly framed. I am absolutely convinced that any design that can be produced using face frames can (if not be duplicated) be improved upon by the well-engineered and skillfully crafted frameless style of cabinet construction.
To suggest that the only way to produce a quality cabinet is to hang a face frame on it is thoroughly ridiculous, in my most humble opinion.

---
From contributor A:
While most of my work is framed (which I prefer), I have done some frameless designs that looked pretty good and my basic construction techniques didn't change, so the customer got the same quality job as if they had a framed. While I'll admit there are hacks out there who do it because it's cheaper and they think easier to do, there are also hacks who do face frames. I highly doubt that the hacks frequent forums like this, because they most likely think they know it all. The rest of us realize that we learn something new every day. I think you can get good quality and designs either way - it depends on who builds it.
---
The Fully Accessible Cabinetry isn't my line, but that of a Louisville-based cabinet guy who coined it because he wanted to show his customers the benefit (as he saw it) of not having to work around stiles and rails when putting large pots and pans and platters into a box. As for the emergence of frameless over face frame and the relative quality attached to the perception of either buyer or builder, I can say from 30 years of observance that there are beautiful cases made in both methods and there is serious crap in both methods.
A lot of people have adapted their style of manufacture to at least include the parts of the frameless process that made sense to them, and that hybridization has produced some excellent and very interesting cabinetry. I believe in what I have preached for a long time, but I have learned that there are always those who have other viewpoints.
Jon Elvrum, forum technical advisor

---
From contributor D:
The joinery method you choose for constructing your cabinets has a significant impact on the time it takes to produce that product. Certainly the method has a direct affect on the structural integrity of the product, and so as you decide what method to use, you should not neglect to consider alternate materials and you should explore alternate (framed vs frameless) cabinet styles as well. One of my major regrets is that I waited so long to discover that there *is* another method of producing the quality of cabinets I require, outside the "framed" cabinet style. Even if you decide on framed cabinets exclusively, (and that's fine with me), you owe it to yourself and your customers to stay knowledgeable, as best you can, in all aspects of your trade.
---
Visit some websites of companies who, using the 32 mm system, sell and build beautiful traditional cabinetry. You'll see all of the elements of the traditional look - pilasters, turned columns, beading and roping, full furniture base, etc. You will not be able to distinguish between the two systems, unless you open the doors.
I know of a British firm whose product does not include any sheet goods. Every side, bottom and top is glued up in solids, the boxes are dovetailed, backs are paneled. Is that a superior box to yours or just general craziness? The answer lies in the business side. Your market, product line, etc. will determine your methods. If you are in the business of cabinetry, then you know that, even within the same shop, there can be big differences of construction methods. The method will be different whether you build a kitchen or a humidor.

---
I'm always amused at the trashing of the cabinets from the Big Box stores like Home Depot. I've yet to read a substantive reason for the negative critique.
---
From contributor D:
I'm not sure why some folks trash the Big Box stores. Hell, I have been known to refer some of my potential customers to those same stores, once I recognize what they want and what they are willing to spend. I don't pretend that everyone can afford my work, or for that matter, the best lines that Lowe's and Home Depot offers. But they do carry a line that most anyone can afford and I suspect these are the cabinets that get the bad publicity. I think it's fair to say that if you go to one of these aftermarket cabinet distributors that you will be able to identify one or more displays on the walls that fits the term "junk" fairly adequately, as defined in my dictionary as:
1. Cheap, shoddy, or worthless.
2. Having a superficial appeal or utility, but lacking substance.
Some of the more expensive cabinets sold by these stores are built with quality materials and (looking at the displays) are often attractive, well designed well and executed. I try not so much to compete with the cabinet as I do with the concept. The personal service, willingness to be accountable, and ability to see the job through (from start to finish) is something that the Big Store department heads just cannot effectively accomplish.

---
What exactly makes the cabinets from the big box stores "crap"?
Things like:
- hot melt glue and staples
- cases made of low density particleboard with a wallpaper veneer skin
- opening a packing box and finding the face frame is no longer attached to the cabinet.
- face frame joinery consisting of pocket screws and hot glue where the glue is missed and the top rail tears right out of the face frame as you pick it up to move it
- doors and drawer fronts that are installed so far out of alignment that there isn't enough factory adjustment so you have to drill all new holes to line them up

---
The comments below were added after this Forum discussion was archived as a Knowledge Base article (add your comment).
Comment from contributor E:
The frameless cabinet has been used in Finland for ages and if made with quality materials, these cabinets are sturdy and durable. Prior to the invention of quality engineered MDF, birch was the preferred material, and it's here in abundance. Many of the older American kitchen baker's racks and combination base units with an attached upper china cabinet were made with clear plywood for the carcass and birch for the drawer plates and trim.
I spent an entire summer refinishing such a cabinet and its matching corner unit inherited from my grandmother. If you have access to cabinet-grade MDF, properly priming and applying several coats of sprayed lacquer will provide a beautiful finish lasting for years. Many of the cabinet carcasses I've seen at the better kitchen stores here in Finland are MDF covered with melamine, but the best cabinets either sport wood veneer or a Formica type of laminate. Wood is beautiful and laminate is far more durable than melamine, so either way you have cabinetry for life.
When I was in Michigan last summer I visited Lowes to look at the Kitchenmaid cabinetry. While the variety of woods and finishes was certainly impressive, I didn't think the overall quality was exceptional. A good kitchen cabinet requires proper joint work and is glued using a press. Screw-together cabinetry makes me nervous as I have lots of antique porcelain, so IKEA is not a product I would even consider.
One final tip for you cabinet makers - when you drill the holes for your shelves, make sure to put the holes towards the back no more than 2 centimeters (slightly less than an inch) from the back cabinet plate. Otherwise, if there's weight on the back of the shelf and nothing towards the front, the shelf could tip and all the breakables will fall down with a crash. This is one thing I always check when examining factory-made kitchen cabinets. If the shelves are seated properly and can't tip backwards, it's probably also true that the overall quality and tolerances have been well thought out. Quality is easy to recognize, so if all you've done is shop at the lower priced stores, go to the best kitchen shop as it is certainly educational.