Can Tree Limbs Provide Useful Lumber?
Growth stresses create movement issues with wood sawn from limbs, but it does have some uses. July 3, 2008
Question
I've heard that limb wood should not be sawn for lumber. I was told that there is too much stress in limbs due to gravity, and that would lead to too much stress in any sawn boards to be usable as lumber. Limbs are 13" diameter 12' long pecan. Anyone have any thoughts on this ?
Forum Responses
(Sawing and Drying Forum)
From contributor S:
I don't know if the gravity/sets thing is true, but a woodworker that makes large carvings told me he prefers to buy lumber from logs that have sat around for at least a year. He says they unwind and the stress comes out of them.

---
From Gene Wengert, forum technical advisor:
Limbs have a great deal of tensionwood and compressionwood (hardwood and softwood, respectively). Flat lumber is hard to achieve.
---
From contributor L:
Dr. Wengert, I really enjoy your answers because you frequently bring up something that I'd never have thought of. By any chance, do you know the mechanism for why hard and soft woods differ?
---
From Gene Wengert, forum technical advisor:
I do not know how this wood develops or why hardwoods have tension wood and softwoods have compression wood (they are opposites). In addition to these woods, there are also growth stresses in the tree which can create problems for some species.
---
From contributor Z:
How about chunking the limbwood up for turning stock? I'd split/saw the pith out prior to drying.
---
From contributor D:
I have dried lumber from large limbs and it has turned out well. It is not common looking but has growth rings increasingly exposed as you go across the bow. Very pretty grain but I doubt that you would want to dry it conventionally. The variable shrinkage would cause warp.
---
From contributor Y:
I turn a lot of bowls out of limb wood - walnut and eastern red cedar have been showing up a lot this year. Because the pieces are small, and I turn green wood, the tension/compression issues don't really matter.
But I will say that I have seen some extremely off-center pith in limbs - sometimes the pith is no more than an inch or two from one side of a limb that is 20" in diameter. I will be sawing some boards from some limbs later this week, but I don't expect much in terms of useful lumber.

---
From contributor C:
I've sawn lots of limb stock pecan and have very few issues other than pecan's normal quirks. Here's a picture below of a pecan coffee table that I built last fall. The book-matched top is from a branch, is curly and full of character. I had very little problems with it warping etc., as long as I kept the wood upright and not sitting flat on the workbench top, besides when I'm working on it. If it sits flat for too long, it will cup (within an hour). Hope this helps.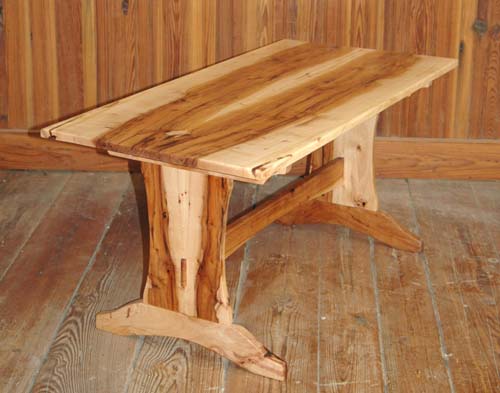 Click here for full size image