Cantilevered Shelf Supports
Practical idea for wall attachment and support for shelves that project straight out from the wall with no visible means of support. July 29, 2007
Question
We have a kitchen pending that will probably have some kind of beadboard paneling on the walls. The shelves will not be enclosed on the sides - just the shelf itself will project from the wall. I recall seeing somewhere a bracket that you mounted to the framing before sheetrock. This bracket was threaded to receive a horizontal steel member that supported the shelf. At least this is how the movie in my head made it work. Can anybody direct me to such a shelf support system?
Forum Responses
(Cabinetmaking Forum)
From contributor L:
We use KV double slotted standards, and paint them to mach the surrounding and fill in the voids, a lot like you would see in museum casework. We do this a lot in offices, display cases and even residential. 1 1/4 screw in front and I think a 2" in rear is what we use to hold the shelving. Looks great and all the customers have complemented us on the ease of use.

---
From contributor S:
I have installed a few plates with rods attached for shelves, all of them custom made jobs. Be forewarned that level left to right and front to back can be a royal pain. I don't take much to look bad and after the wall is finished, there is no adjustment. I like recessed standards, given a choice of fixed or recessed, and would almost always suggest adjustable shelving even if it will never be adjusted after the install. Just my humble overly opinionated opinion. Your results may vary.
---
From contributor B:
I recall recently seeing such a support in the Hafele catalog.
---
From the original questioner:
Thanks. I found what I was looking for at Lee Valley Tools. They've often got some pretty nifty stuff there. This is the right concept, but I don't think it will hold as much weight as this customer is likely to load onto the shelves. Contributor S is right about how unforgiving the installation could be. Perhaps this is a niche in the marketplace for someone to come up with a more robust version that is easier to tune up?
---
From contributor U:
I have done what you are talking about. I made a torsion box out of the shelves and fastened a cleat to the finished wall then glued the box over that. Worked very well.
---
From contributor P:
You used a cleat for floating shelves supported only from the rear wall? Doesn't sound too strong if that's the case.
I have read, possibly here, of an approach that uses pipes set into holes drilled in the studs. Seems like they might loosen up over time as the wood dries out, though. I have a need to do this, too, so I'm interested in any solutions.

---
From contributor K:
These shelves are torsion boxes. I had a welder buddy make me some supports similar to what you found at Lee Valley. I've used cleats in the past, and will do so again in the future, because leveling the tines is a pain. A cleat, if you build the torsion box properly, is plenty strong, and cake to level. Years ago, Ian Kirby wrote a FWW article on torsion boxes. Included was a picture of Mr. Kirby himself sitting on the edge of his torsion box - no sag, no deflection.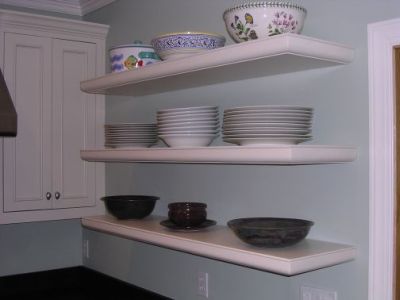 ---
From contributor T:
Torsion box! I have done similar as well. Perhaps mount a 4x4 angle let into the studs and the buried leg up and the other leg sticking out from behind the wall finish horizontally, then use set screws in your shelf to secure to the predrilled/tapped horizontal angle leg.
I install a lot of store fixture back wall units that have panels hanging on cleats. Often these panels have square tubes welded to flat plates. The flat plates are screwed to the back of the panels while the tube sticks out through the panel to receive shelves or decorative hang rods. The welds must be perfectly aligned and square to avoid out-of-level conditions. If you opt to use a plate with a rod type fixture, I would recommend that the larger the plate, the easier it will be to shim to level (something to do with physics or geometry that I slept through). Often the shelves that we slip over these tubes are in fact hollow.
I have also built and buried in the walls 3x3 structural steel tube columns with rods sticking out to carry shelves around the perimeter of a store. Way over-engineered to hold some dainty little women's sweaters, but it is what was spec'ed, go figure.
Actually, we give most of our installed stuff the "will it hold" test by either standing on it or swinging on it. Basically, if the fixture itself would hold our weight, then the mounting should be just as strong.

---
From contributor K:
We sold these shelves to the customer with a "will it hold" test in our shop! I do lots of back flips for customers, but it's the only time I've done chin-ups :)
Funny thing - I just saw that Mr. Kirby has a feature article on torsion boxes in this month's American Woodworker.

---
From contributor W:
It is correct that Häfele has these. Check your 2007 Complete Häfele catalog on page 377. It is also correct that leveling the shelf can be a pain, which is why this support from Häfele has eccentric sleeves for this adjustment. I'm also a torsion box fan, but honeycomb is also a great option for this application.