Carriage Door Hinge Suggestions
You get what you pay for when you need a heavy-duty hinge for an exterior barn door. October 26, 2013
Question (WOODWEB Member) :
I'm building a pair of approx. 4'x8' carriage doors and would appreciate any insight into what hinge to use. The doors are essentially a (engineered) 2x4 frame skinned with 1/4" birch and 1/2" CDX, filled with rigid poly-iso foam, and have an applied pine frame and panel design. I don't imagine they will be particularly heavy, but they're not built yet so I don't have any specifics.
I'm thinking of a T-style strap hinge; it can stretch across the door, but has to mount on the face of the jamb, which is 3 1/2" wide. It also needs to have the jamb leaf flush with the door leaf - or have the door leaf inset from the jamb leaf. These doors are for my new shop, which of course is creeping quickly over budget, so price is a big consideration. Should I be looking for something big or heavy? I've never built anything like this before.
Forum Responses
(Architectural Woodworking Forum)
From Contributor D:
Hinges such as you suggest are going to have a lot of slop and fast wear on them - the slop will get worse, and the doors will sag. Being in the weather (outswing), they will also rust and stain the doors. If customers will see or use these doors, they need to be flawless or better.

---
From the original questioner
:
Aesthetically I'm not so interested in bronze, and stainless is generally far more expensive which is why I was looking at the zinc plated. While I would love to spend $125 a piece for some nice stainless hinges, I simply can't. I also really like industrial and utilitarian hardware, so I would not consider something less expensive and common a drawback as long as it performs well.
---
From Contributor B
:
No ten dollar hinge is going to do justice to the amount of work, time, and money you will have into making these doors. It would be like building a custom car and putting a weed-whacker motor in it. The hinges you list (a home center item) may be fine for a garden shed door made of a sheet of ply with 2x4 cross bucks and plenty of gap for the sag that will absolutely occur.
If your building a door insulated with ISO youíre obviously going to weather strip and seal it. That sealing work will be for not when over time the hinges no longer close the door as they did. It's worth an investment into some hinges specific for the application.

---
From the original questioner
:
Do you have any recommendations for suitable hinges that won't break the bank? Unfortunately there's only so much cash available to finish the work I'm doing. Are there any particular brands that make quality pieces? Any advice on the size/length of the leaves, or does it matter?
---
From Contributor D
:
Almost all hinges are Chinese now, except for Rocky Mountain and a few others. Some are a lot better than others. You don't need ball bearings, but you do want plate thickness and non-corrosive materials. Don't confuse finish (aesthetics) with materials.
---
From the original questioner
:
Is there a benefit to using butt hinges vs. T/strap hinges? I had assumed that a long-ish Ė 8 plus " door leaf would be beneficial on a door of this size, but maybe not. So it looks like something at least .125" thick and with 4 1/2" leaves would do the job? I'll look to see what other finishes will run me. Polished brass is not a finish Iím looking for since I have Galvalume siding.
---
From Contributor S
:
As replies have pointed out, your horizons on hardware can benefit from a little expansion. No polished brass, or stainless - consider what the commercial architectural gate people offer in flat or wrought iron. Google gate hardware etc., and also check with a local iron/welding shop.
---
From Contributor H
:
It sounds like the doors will be constructed so as to resist sag. If that is the case then there is no reason you can't get by with 4" to 4 1/2" zinc plated butt hinges. I would suggest four hinges per door.
Yes the zinc will likely fail in some places and rust. However with the much lower cost you can replace them down the road when your finances have recovered somewhat. This also gives you time to keep your eyes open for a good deal. A few years ago I lucked into some 4" solid brass butt hinges.

---
From the original questioner
:
Thanks you Contributor H - that might be the route I take. I've found some chrome finished stainless 4" ball bearing butt hinges for a reasonable price. I appreciate the advice. As much as I'd like to find the best and spend more money, sometimes it's simply not an option. I do still need to run electricity to the shop.
---
From Contributor D
:
Butt hinges get lots of support, or lend support, due to their mortises in the door and frame. Strap hinges do not do this. As for the 8" length, are you counting on this 8" to keep the door from sagging, or the joints together? Ball bearings (the balls inside) are almost always steel, and will corrode quickly if in the weather. This is why I suggest simple brass or bronze. No corrosion to stain the woodwork.
---
From the original questioner
:
Good to know about the bearings. If I can find a chromed/silver finished brass or bronze within budget, Iíll do that. I had just thought using an 8" leaf as it would help the hinge carry the weight of the door better, but itís good to know that the butt hinge can manage with its mortise.
---
From the original questioner
:
Thanks for the help everyone - here are a couple pictures of the hung (but unpainted/untrimmed) doors. I initially began using some Stanley 4 1/2" hinges, but then realized the door was too thick - the screws would not have hit the core of the door. I ended up getting some 5" chromed steel hinges and used three instead of four per door due to the size. Aside from some framing and some mortise measurement issues (this is my first time doing either one), everything worked out pretty well.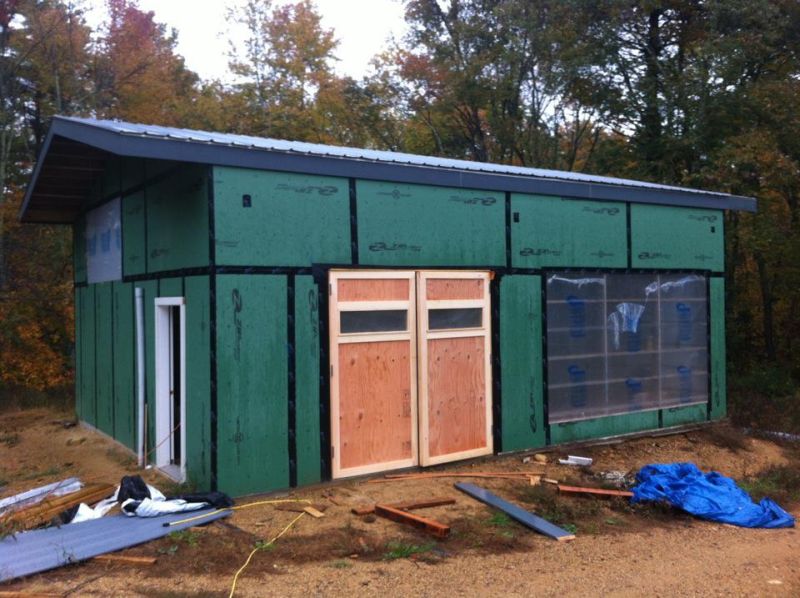 Click here for higher quality, full size image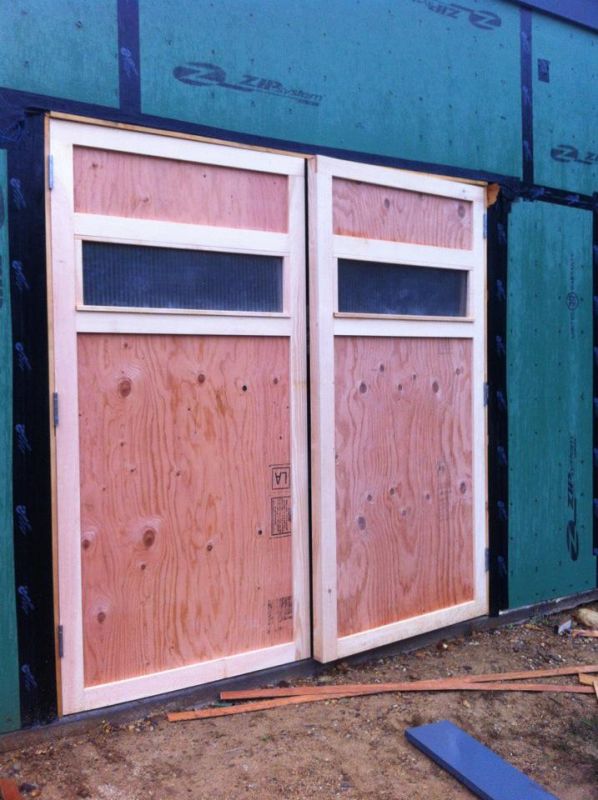 Click here for higher quality, full size image
---
From Contributor B
:
Nice work. It looks good from the pictures. Is that a solar collector on the front wall or just a polycarbonate window? I have been thinking of building a couple solar air heaters for the front of my shop to offset some heat on sunny winter days.
---
From the original questioner
:
They're polycarbonate panels - way less expensive than insulated glass, and pretty cool looking too. There are translucent white panels on either end of the building, too. The building is kind of a mash up of materials; there are two double-hung windows on the back side, and also a small Kalwall sample-turned-window on the far end. It has a metal roof and will have Galvalume siding.