Chain Saw Bars: How Big is Too Big?
Considerations that affect the preferred size of a chain saw bar. October 1, 2009
Question
I need a good rule of thumb when it comes to chainsaws. I am thinking of
upgrading the bar on my chainsaw to do some milling and want to know how big I can go. If I go too big is it going to be more than it can handle therefore affecting performance? I am working with a 40cc 2 cycle. Any thoughts would be appreciated.
Forum Responses
(Sawing and Drying Forum)
From contributor M:
Yes, bar length does impact performance. It takes more power to push a chain around a longer bar. Each manufacturer will have a maximum bar length that can be used for each model. Most companies have two lines of saws, the home or hobbyist grade and the professional grade. A saw with 40 cc saw is a small lightweight machine that would safely take a 16 or maybe 20Ē bar. If you want to cut bigger logs, get a bigger professional grade saw that can accommodate a large bar and heavier chain, otherwise you can destroy the saw or hurt yourself.

---
From contributor C:
I have a 5' bar on my 090. I use a 3' bar on my 088. A 40cc saw is not big enough for milling.
---
From contributor N:
090 and 088. Iím drooling. I used to work on those years ago. I love that they make chainsaws with motors bigger than dirt bikes, (the 088 is about 129 cc I believe, and the 090 is about 140 cc I believe).
---
From contributor J:
I feel you can never have too big of a saw. My Husky, according to the book can handle up to a 72" bar. Most of the time it has a 42" bar on it. I do have a 60" bar that I use from time to time to split the big logs. I have made a few upgrades to the saw and use 100LL avgas. Plugs last a long time and if the saw sits for a while it does not gum up the carb. Avgas is designed to sit for very long times, (years), and still perform like designed. I have many chainsaws used for different purposes. The bigger the better, you can never have enough power.
---
From contributor T:
The only rule of thumb for this is the bigger the more versatile the saw is. I have a little Husquavarna 353 that is great for my little chainsaw de-barker setup, or for cutting small pole woods like eastern red cedar all day long. I believe it is 51.7cc and I would never dream of milling with it. Not only would it be taxing on the saw and slow, but it will kill your back.
My other two saws are a Husqvarna 395xp, and a Stihl MS880. The Husky has just as much power as the Stihl, but the Stihl has a lot more torque for milling huge trees. My business partner also has a 395, and we take the two of them together and run a 66" double Powerhead chainsaw mill when we get large logs in. People joke about this and think we jog with the speed of the cut, but it realy is not a fast process even with this much power. I have read articles saying that the Lucas slaber takes about 7 minutes to get through a 4' wide x 8' long cut depending on the hardness, and it takes me about 2-3 minutes.
I have bars up to 6' for my 395, and 880, but both of them typically always have a 20" bar on for really fast firewood cutting. I have about 5,000 or so square feet of indoor storage at a friendís firewood yard and I pay my rent by cross-cutting all his firewood. Every month I spend a day or two cutting about 8-10 cords a day with these two saws.
When I first started chainsaw milling I had two Husqvarna 394's. Vibration is the enemy on these saws, and milling gives long periods of high revving cuts. The first 394 eventually had every thread on it strip out, and the pull start, the top cover, and part of the bottom was held together with a bungee cord. It eventually caught on fire and that was the end of that!
Both of the 394's had gone through countless motors, mufflers, carburetors, and every nut and bolt you can think of. I still have the second 394 but it is due in for its third or fourth motor, Iíve lost track. They were both used when I got them, but it puts you to the test to learn every little thing about them.
Here are some 4'+ wide black walnut slabs we cut a while back with the rig. The crotch grains appear heavily bark included, but really not at all, they are just soaked in those areas.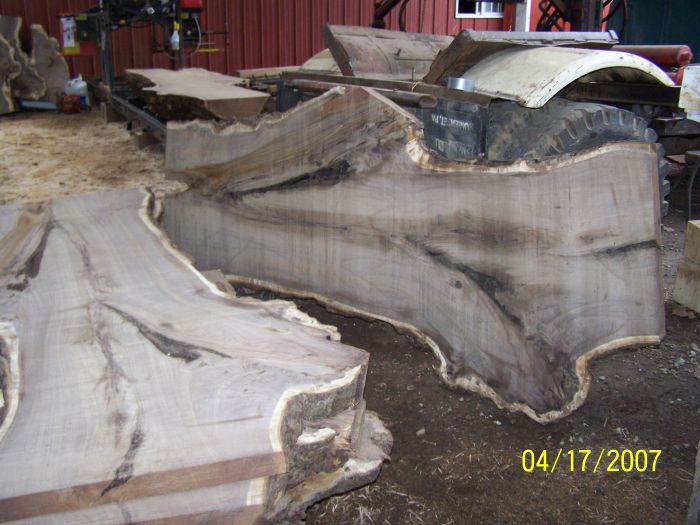 Click here for higher quality, full size image
---
From contributor D:
Filing the chain is just about as important as cc's. When I was production falling I could usually outcut saws that were 15 to 20 cc's bigger.
---
From the original questioner:
Well I certainly appreciate all of the feedback. Like so many things these days, there does not seem to be a cheap solution to all this. I am simply trying to get a few logs milled for the shop. They are much too large for me to drag to a local mill, hiring someone with a portable sawmill is going to run $45 an hour and the chainsaw route is now looking rather pricy as well, seeing as the saws mentioned above run over $1000 dollars. Looks like I need to go back to the drawing board.
---
From contributor C:
What kind of wood? Oak will split with nothing more than wedges, sledges and a lot of work. Remember, boards have been around a lot longer than chainsaws or bandmills.
---
From contributor T:
$45.00 an hour for portable milling is cheap, and as long as you can afford it and the sawyer knows what he is doing, you will get much more lumber value per hour in return.