Charging For Shop Drawings
02/11/2014
From original questioner:
---
When asked to quote a kitchen do you add $ for shop drawings as a line item or in the total as a general rule? Second question...when quoting a vanity or 2 what is your standard practice? The quotes are geared to design firms. My quandary is that if it is a "design" firm, shouldn't they give me the specifics? After all it is the details which make a design a design. Otherwise it is just a concept.

From contributor Jo
---
I have a line item 'layout' in my bidding. This includes shop drawings, and all the layout work, cut listing, door order, order materials and hardware, get the job ready to hit the shop floor, etc. On a full featured kitchen it can be 20 hours.

From contributor Ch
---
Oooh, that's good. Think I'll introduce this line item myself. Could serve as a good education method to the homeowner/contractor/designer
Thanks

From contributor Ke
---
I took a half dozen old jobs and used them to create a pricing template in excel. I started with a square footage, added so much per drawer, finished ends, trim, install, finish, and so on. I applied this to my past kitchens to get an idea of how close the spreadsheet was, making a few adjustments. Now I can bid very fast. I even have it give me an estimate of material needed, in case I need to apply upcharges for costly sheet goods. Designers send drawings, and homeowners just get a close price as per our discussion. I don't spend a lot of time on them until I have a deposit and they understand that up front. I am very fast at drag and drop shop drawings so I don't have line items per say included.

From contributor Ch
---
What is a "drag and drop shop drawing"?
I usually sub my shops out to someone that does only that...shops. If its small, like an entertainment center or vanity, I do it in sketchup.

From contributor Ke
---
I have a library of cabinets that I build in a cad file. I draw a box in a cad file the size of the room. Then I grab cabinets from my library and drop them in place. I can resize or scale them as needed also. Side view shows cabinet details. Very fast and simple.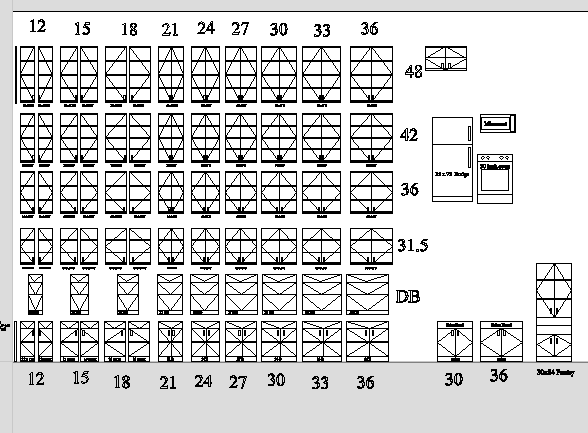 From contributor Ch
---
I guess that's great if you only build within these parameters but I only do custom. The sizes/details/drawer count and size change on every job. Maybe I should streamline.

From contributor Ke
---
You can say "custom" all you want but it's just a bunch of boxes that make up a kitchen. You can dress them up and accessorise all you want.
Every one of my jobs is a Custom pile of boxes also. Of course I don't say that to customers. A custom range hood or pantry sometimes change but the rest of the kitchen is usually BOXES. I use prefinished interiors and high end hardware. The only things that change are the finished end panels and doors. That makes it easy to bid. I have line items for trash pullouts, mixer lifts, lazy susans, ect.... Just plug in how many of each in to the spreadsheet.

From contributor Ke
---
If they need the drawer bank 16 5/8 inch wide, I don't care. You can call that custom, but it's just a few clicks of a mouse either way. Computer designs and the machine cuts.

From contributor Ch
---
I see. Thank you for clarifying.