Choosing Wood for Exterior Turned Details
Woodworkers debate the pros and cons of various wood species as compared to plastic or modified wood. December 28, 2014
Question (WOODWEB Member) :
Does anyone have experience using cedar for decorative exterior finials? These would be 3"x6" acorn finials, painted, and installed under an eve. My biggest concern is expansion/warping and resulting paint failure.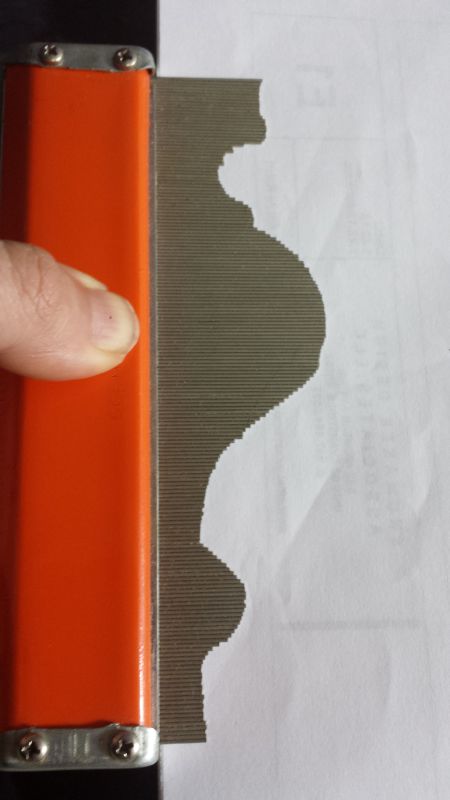 Click here for higher quality, full size image
Forum Responses
(Architectural Woodworking Forum)
From contributor D:
You can try a place like Outwater Plastics. Maybe the local big box will have them either in resin or some plastic? Since they will be painted and you are concerned about the paint failing why use wood?

---
From contributor C:
Absolutely not poplar! White oak, cypress, or western red cedar will work on that profile. Cedar won't hold a sharp detail, but you don't have a lot of details in that pattern.
---
From Contributor O
:
I like to see woodworkers fully employed, so I would suggest western red cedar, white oak or cypress. The use of plastic is inappropriate to the perpetuation of our craft and knowledge of proper species selection. Knowing what to do and how to do it should be a source of pride for each of us. Not knowing, and asking here or elsewhere, is a sign of dedication to the craft and an effort to learn in order to do the best, and profit accordingly. Recommending plastic is the same as saying "I give up" - in my opinion.
---
From contributor M:
I'd add sapele to their list of materials, as well as a note that poplar would be my absolute last choice for any outdoor application.
---
From Contributor E
:
I donít see using Azek as giving up. If the material is used in the proper applications it is far superior to a wooden product. I'm a wood worker, but I got tired of folks coming back blaming me for failures. Painters are notorious for slapping some color on things, home owners don't want to pay to get things repainted. If the OP wants real wood then I would say I can turn them in Accoya, which will last longer than all the previously mentioned woods.
---
From contributor D:
In this case the OP was concerned about expansion and warping resulting in paint failure. We know very well that the 3"x6" blocks of wood especially the species offered up for choice will have seasonal movement, period. Not sure how paint will fail. Maybe a flexible not a brittle paint should be used. I guess I was being rather blunt in saying you need something other than wood to do what you want when I said plastic. I have vowed until the last tree is felled to use wood whenever possible, and on the other end of the spectrum I am not against trying new materials and such, you never know.
---
From Contributor O
:
Well, I try to hold the high ground on wood usage, for what it is worth. I try to resist the easy path towards the substitutes. Perhaps I am a Luddite. I know I am opinionated. I do know that gainfully employed local woodworkers is an asset that every community can and should benefit from. I could mention the toxicity of plastics production and oil and carbon usage and release, and the unsustainability of such enterprises, but are we building for forever? Do things have to last forever? Yes, they need to be durable and well-built for all sorts of reasons, the least of which is to offset the huge disposability of wood products in general. But replacing a few finials every 20 years or so is, if nothing else, an opportunity for the next generation to do a little turning of historical details.
I have cedars, cypress white oak and about 20 other species growing outside my shop - all planted in the last 30 years. I'll never get to use them for anything other than enriching my view and some shade (reason enough to plant), but I hope some of them find their way into future wood products that will enhance someone's life. I think the proper wood, handled properly, is the best thing for the job. There is no substitute for good materials - they will age well. They may not look like new after ten years, but a little age is all part of the character.

---
From contributor Y:
I second Accoya. We have a supplier that offers a five year warranty on it against rot. We also use yellow pine for painted exterior parts that will be semi-exposed.
---
From contributor R:
I second the motion to make them from wood. Western red cedar or white oak is good but be careful with cypress, the sapwood is no good. I have a friend that has a picket fence around his property, unfinished and it is at least several years old and still looks good and sound. I asked him a few years ago what it was made of - all heart poplar.