Choosing an Installation Vehicle
Cabinet and millwork installers talk about their trucks, vans, hopes, and wishes. January 9, 2006
Question
Does anyone use a minivan as their installation vehicle? I drive a standard Ford ranger with a topper, but it is getting way too full. I do, however, really like the 24 mpg I'm getting, and it fits in my garage well. I don't know that I want to go back to driving a 15 mpg f150 that will barely fit in the garage. I'm considering a Grand Caravan, which can haul 4x8 sheets with the seats out.
Forum Responses
(Cabinet and Millwork Installation Forum)
Right now I am using a GM Sierra 2500 with 2 - 21 Cu Ft Weather Guard boxes. I can carry all of my tools in the boxes, which are compartmentalized so each tool has its own little space. I can see at an instant if something is missing. Nothing is piled on top of anything so it is neat and organized. I do, however, get the dreaded 15 mpg. The only tool that won't fit in the box is my tablesaw. I can carry 25 sheets of 3/4" plywood if need be, and I have made a rack system to carry things as long as 20' safely. I don't think I could live with a minivan. Although 20+ mpg sounds tempting.

---
Have you considered hauling an enclosed trailer?
---
I have been using a Grand Caravan since 1987 (5 of them). I used it as a work vehicle and put the seats in when we needed the family car. I build and install custom cabinetry and have rarely had a problem fitting everything in. I used a transport company for all my deliveries and occasionally gave them some of the larger tools (Bosch table saw or mitre saw). I would take them back to the shop at the end of the job and then give the van a good cleaning. The side panels took a good beating, though.
---
Have a 96 3500 Dodge PU with dual rear wheels with a Cummins Diesel towing a 14 ft Interstate enclosed trailer. I consistently get 23 mpg with the truck, no matter how much weight is in the back. It does drop a bit towing the trailer. Best vehicle I have ever owned and I have owned a lot. Anything with the Cummins diesel almost doubles the cost to purchase used.
---
The best work vehicle going is the Mercedes built, sold by Chrysler, Sprint vans.
---
I couldn't agree more on the Sprint. Only drawback is that it can be used only for work and not much more. I was in Europe for 2 weeks last year and they have as many types of work vans as we have passenger cars. Lots of choices, which I am sure keeps the price down. All along the lines of the Sprint.
---
Years ago, I had a Chevy Astro Cargo. Worked great with lots of room and good mileage and good power. Can be had for pretty good prices on the used market.
---
The Freightliner/Dodge/Merc van can be bought in 30 different styles. In Europe, they use them as taxis with 20 seats. Glass, seats, racks, blah, blah, blah... Whatever you can afford, base price stripped contractor style is about $30k in CT.
---
I bought a Sprinter a few weeks ago. Wow. Walk right in. It's a little blowsy in the wind, but is a joy to work out of.
---
From personal experience, by far the best budget install ride is a 2000 or less FritoLay/MrsBairds/TwinkieMobile 1 ton step van. Easy in/out, aluminum body (indestructible), easy to service, holds and hauls a lot of material, tools, cabinets, whatever. Cleanup is a breeze, literally - just leave the back door up, and drive.
---
From the original questioner:
Thanks for all the responses. I am chronically thrifty. I'm going to keep driving my Ranger and find a contractor, or get a Grand Caravan and take the seats out. I live in Minneapolis (not the suburbs), so unless I want to unload all my tools from a big van or full size truck every night into my garage, I need to drive something that will fit in my garage. Besides, if I drive an inexpensive vehicle that gets good mileage, I come ahead well with my company mileage reimbursement. Maybe I'll get a Sprinter when I move somewhere in the country and have more space, but I'll probably stay in the city and drive inexpensive vehicles and buy more expensive tools.
---
Don't laugh. It saves on toilet rentals, provides a break room, and complies with OSHA's First Aid bed requirements. And if customer doesn't pay or the check bounces? It Stays.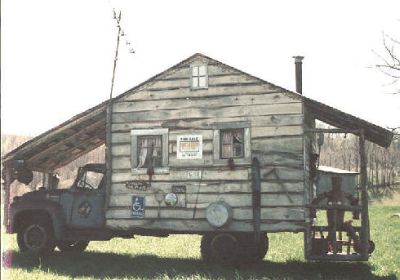 ---
I use a Dodge Grand Caravan, which is about a foot longer that a Caravan. (I have sliding doors on both sides - big plus!) Gets in garage and about 19 - 20 mpg with the V6. I ran out of floor space, so I made a shelf out of an old reinforced door. (The shelf just sits on the armrests.) If needed, I can still get sheet goods in there by pulling out the tools on the floor.
Although I keep stuff in the garage, pretty comfortable with a miter saw, table saw, compressor, nail guns, and standard list of carpentry tools. But still have to do some rearranging for horses, miter and tablesaw stand if doing a job needing those. Biggest suggestion: get the alarm that pages you when it goes off. Have a friend that had his van cleared out in a Home Depot lot - guess everyone just ignored the beeping horn...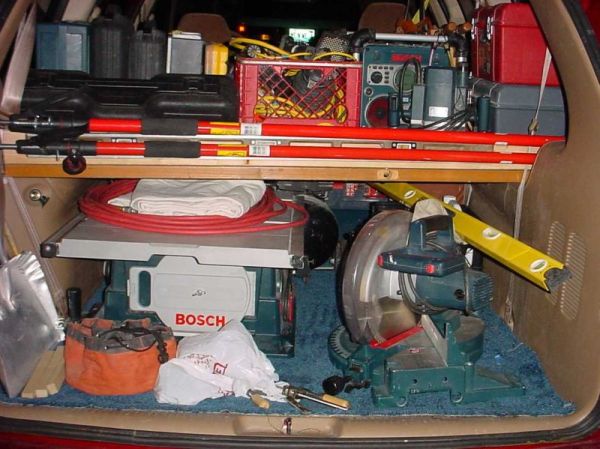 Click here for full size image
Driver's side view: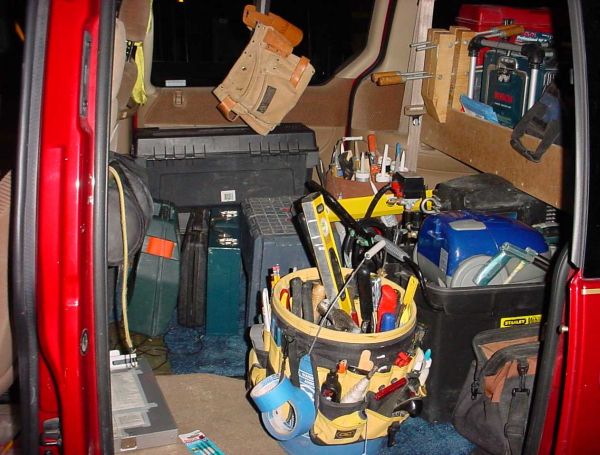 Click here for full size image