Coating for Walnut Restaurant Chairs
Hard like two-component polyurethane, or repairable like tung oil? An extended discussion of the options for a finish that has to look top-notch, and face rough wear. May 27, 2008
Question
I'm making about 100 chairs and stools for a restaurant over the next few months. They're solid walnut and I want to keep them dark and natural looking. I usually sell these chairs for non-commercial settings, so the finish hasn't been as much of a concern. The sample stool I gave the client had a polymerized linseed oil and wax finish and it looks great, though it has limited use.
What finish is ideal for restaurant chairs? This is a rather high profile restaurant and I want the chairs to always look good. I can outsource them to another finisher for a solvent based film finish or use a hand applied finish in my shop. I've ruled out waterbased finishes because they just don't look good on walnut and would be too troublesome to spray on a chair. I like the idea of a polymerized tung or linseed oil because repairs can always be made easily with or without my help. Would an oil finish be asking for trouble? Would I need to do some sort of maintenance annually?
Forum Responses
(Finishing Forum)
From contributor C:
Tung would be the way to go. What sizes? There are many ways to go about this.

---
From the original questioner:
I was considering tung. Will it be or become as dark as linseed oil? Will it need later reapplications regardless of wear?
It's a ceviche bar/restaurant on a pier in San Francisco. This means there will be booze and lime juice present, as well as brackish/saltwater very close. There is outdoor seating, but it hasn't been made clear if my chairs would be used outside.

---
From contributor R:
Don't use a wipe-on oil finish even if it's easy to apply.
---
From contributor M:
Anything restaurant requires a finish that will withstand heavy service. It must also withstand the damage caused by low wage cleaning crews. So stay away from rub-on oils (the customer is not going to re-oil). Also stay away from CV, as it will melt from repeated cleaning with ammonia cleaners. SW industrial has a great cat vinyl sealer and a cat vinyl topcoat. If you get a DLR (dull rub finish), it has enough gloss to be wear-resistant and is low enough to look close to the wood.
---
From contributor C:
No, it will not darken like linseed oil. There will be some darkening in the first year or so, then it is stable with no further darkening. If it's being used it will for sure need maintenance, probably about twice per year on average. Maintenance is quick and easy - usually some fine sanding of damages or stains, then a fresh coat of oil. If you're looking for a maintenance-free coating for use in a restaurant setting, there is none, not even epoxy or polyester. You should talk to the client and see if they are willing to sign a maintenance agreement if you do them in oil and let them know it will be an ongoing cost to them.
Otherwise you can follow other recommendations posted here. Just keep in mind - all finishes in this type of environment will also eventually need maintenance work and oil is easier to maintain than surface coatings are. Tung is very water resistant and stands up well to most cleaning agents, but ammonia and other alkaline cleaners will damage the oil. Make your client aware of these things in writing and protect yourself, okay?

---
From contributor D:
Most commercial chairs are produced in Italy and finished with a 2k polyurethane. Excellent chemical resistance and durability properties.
---
From contributor R:
All it's going to take is for some woman to complain about oil smudges on her dress to the owner of the eatery and, well... poop rolls downhill. Don't risk your reputation and apply an oil finish to these chairs, put something on that will last awhile.
---
From the original questioner:
About the oil smudge comment, are you saying tung will weep after it has dried or that someone will touch it up and put it into service before drying? I'll present both sides of the argument and get a signed contract for sure!
---
From contributor C:
Tung does not weep after it has cured. If it did, no one would use it for furniture, especially not as a food safe finish. It is a polymerized coating. The only way it could be wiped off is if it was a freshly applied coat that was not cured. Those chairs could be kept out of service for a day or two when recoating was necessary, or you could build a few extras to use as stand-ins if heavy oiling was necessary.
---
From contributor R:
As mentioned, once the coating has fully dried, it's pretty well ready to use. However, once you apply the oil in enough quantity to do some good, it takes time to absorb into the wood, it takes time to wipe it off, and then it takes time to cure. That said... you probably wouldn't want someone to use the chair for at least two days.
If you're building 100 various styles of seating, you would certainly need quite a reserve of each style, unless you went by the eatery every couple of weeks and re-applied the oil. I'm sure the owner is hoping the establishment will be a great success, lots of people, etc.
The oils that are naturally on our hands combined with the oil finish on the wood probably won't lead to a happy relationship. When was the last time you saw a chair in any kind of bar or restaurant that had an oil finish on it? My vote would go for at least a pre-cat spray-on finish, perhaps a bar top satin lacquer.

---
From the original questioner:
My take on the situation is that a damaged, heavy film finish looks a lot worse than a damaged oil finish. Doesn't mean I won't go the 2k poly way. I would have to outsource it to another finisher, though. A few more benefits I could see on the tung argument is that if it didn't work out, couldn't they be more easily refinished with the 2k than the other way around? The "green" argument works well in these parts too. Finally, high end restaurants like this tend to be open only 6 days a week. Could 36 hours be enough to put them back into service? Won't driers accelerate the process? Once again, I'm letting them decide. They're spending at least $40000 on these chairs and I want them to be happy!
---
From contributor C:
A polymerized tung oil with siccatives/driers at 30 - 35 % solids will cure hard enough to walk on in 36 hours. Non-polymerized oils can take a week to dry or more - depending on the weather/temp. A normal coat of polytung/driers takes 6 to 8 hours at 70 degrees with average air movement. If it's applied and buffed into the surface with scotch brite or steel wool, very little wiping of excess is necessary. That type of coat will also dry in 6 hours average. The only way tung would ever have to be refinished is if the client at some future point wants a different finish! Then it's just a matter of sanding the bulk of it off the surface. What's left in the pores will not harm the next coating if sealed in first with a barrier coat such as dewaxed shellac.
By all means, tell your client the cons and pros of any finishes you offer to them in writing so they can make an educated decision. Talk to others like the fellow who does almost nothing but high end floors with inlays and medallions costing tens of thousands of dollars with tung and wax, areas people walk on every day both residential and commercial. Talk to tung oil chemists here and abroad, the boating industry, and do the same with the other coatings you may offer your client.

---
From contributor G:
I'll add my vote for using an easily repairable finish. I've touched up thousands of dining room chairs, and the easier you make it on yourself to make these repairs, the better you'll be. A dining room chair takes more abuse than any floor. It's not just the finish gets damaged. Sometimes the wood does, too.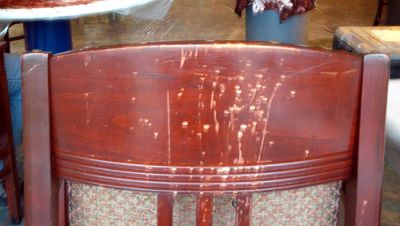 ---
From contributor A:
Watco Danish Oil looks terrific on walnut, but will require periodic maintenance, as will the various tung or linseed oil preparations. 2K poly also works well, is really durable, but is the dickens to repair (generally, a complete refinish of the article is required). This seems like a pretty sizable job. Is it possible for you to prepare several samples for the client in 2-K poly and oil finish, and discuss the pros and cons of each with him or her? All finishes are compromises.
---
From the original questioner:
I'm still working on a perfect sample. Oils dry slow. The job isn't due for at least 5 months, so I have time. The architects like the oil finish and the restaurant owner will be flying in next week to approve everything. Thanks for your help!