Collet Torquing, Collet Maintenance, and Bit Breakage
Fine points relating to collets and bits. June 17, 2009
Question
For those using a torque wrench on ER-32 collects would you mind posting what you are using for a setting? We've broken a lot of bits on a current job and I'm trying to determine the cause. My suspicion is worn collets but I'm also wondering if our 115 to 120 ft/pd setting on the ER-32 collet nut torque wrench is high enough. I'm seeing collet scoring on the bit shanks so it seems either worn collets or not enough holding pressure.
Forum Responses
(CNC Forum)
From contributor D:
Thermwood recommends 80 - 100 ft. lbs. for an ER-32.

---
From contributor J:
Techniks recommends a torque of 112 ft/lbs for ER-32.
---
From the original questioner:
I misread the dial on our wrench. I'm actually running at 108 ft/lbs so that is pretty close to the Technik's chart.
---
From contributor M:
Check the diameter of your tooling. Also check if the finish of the tooling is a shiny polished look or a matt finish. I had a vendor that changed to the shiny ones and they kept breaking. The vendor said it had to be on my end so I changed the collet, holder, nut and used the same nc file that I have used for years and they still broke. I bought someone else bits and have not had that problem again. After a year or so I talked with that same vendor again and they admitted that I was not the only one that this had happened to and said that they went back to the old finish.
If you have a lot of time on your collets, I have heard you should change them every six months. Ask your vendor if they have recently changed who they get their blanks from or if the content has changed. I have also heard that there can be a big difference between content of the bit blanks.

---
From the original questioner:
I had not heard of the polish of the blank being an issue before. I have tried to use Onsrud tooling every since they came to my shop to help with breakage problems when I got my first router. They have been good to me along the way, including replacing a whole tray's worth of bits that they conceded were a "bad batch". My bits are indeed "shiny" but I'm pretty sure the most recent problem is due to worn collets. I have been negligent in replacing them as soon as I have. I ordered several new collets this afternoon.
---
From contributor C:
If you're looking to improve your tool life, increase your feeds and get a better finish. We've had great success eliminating the collet type holders completely! A hydraulic, heat shrink or Tribos style tool holder will definitely improve all the above and take bearing nuts and collets out of the equation. In "high-end" architectural millwork shops and MDF door applications it is something that's becoming very popular on all brands of CNC's.
---
From contributor K:
On the subject of collet wear, we try and set up tools with dedicated tool holders and collets so even if a tool has not been used in a while it has not been removed from the tool holder. Is collet wear a concern when doing this or is it just an issue when changing bits in the same tool holder often?
---
From contributor C:
As a "general" rule of thumb, collets should be replaced after 600 hours of run time. Side load and vibration during cutting operations, along with thoroughly cleaning the collet when changing the tools all impact collet life. Not to mention the proper torque which was addressed above. Adding a bearing nut vs. a standard nut will give you a more consistent and accurate way to ensure collets are tighter and truer. Collet maintenance is one of the areas we find people less educated on and it impacts tool life, cut quality and most importantly safety!
---
From contributor C:
This is the system we use in our Technology Center. It's by Technics.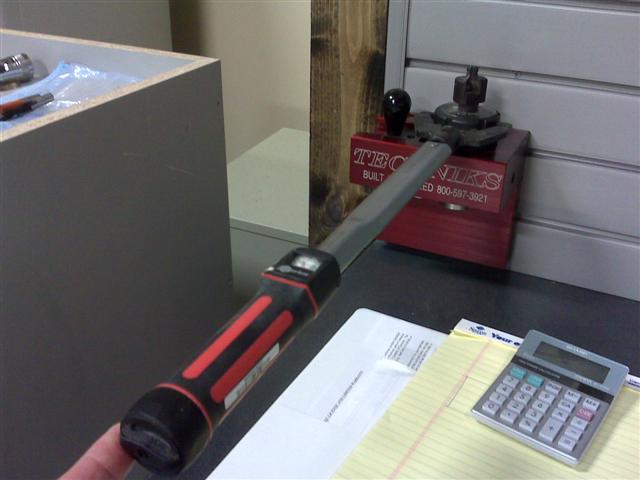 Click here for higher quality, full size image
---
From the original questioner:
I have a different tool holder but that is the torque wrench I use. I got it from CT Saw and Tool.
---
From contributor Y:
Fischer Precision Spindles has a very simple torque wrench that takes the guesswork out of settings. Highly recommend it and it is priced right.