Composting Chips and Shavings
Compost shavings and chips before adding them to garden soil. Here's how. December 31, 2012
Question
I plan on putting the sawdust from my sawmill and the shavings from my planer into a garden. There would be oak, hickory, ash, elm, and locust. Can they all go into the garden?
Forum Responses
(Sawing and Drying Forum)
From contributor S:
Wood chips/shavings don't break down very fast. They will definitely have a negative effect on your garden, especially oak - I know from experience. You could mix them with manure and pile them, turning the pile every couple of months. Then it would only take about 2 years before it's ready to use. The breaking down process will remove nitrogen from the soil if you put them right in your garden.

---
From Profesor Gene Wengert, forum technical advisor:
Wood has no nitrogen, but the breakdown process requires nitrogen. So, you should add 33-0-0. If you do not, your plants will get the "yellows" for the next few years. As mentioned, manure is a source of nitrogen, but some weed seeds too at times.
---
From contributor B:
I also have a 6" chipper and chip the smaller slab wood that is too small for firewood and a lot of bark. This is added to my sawdust pile and I added about 20% by volume cow manure, mixed it twice with my tractor/front-end loader and watered it well - 30 hours with a lawn sprinkler - until it was wet all the way through. In 3 days it was 140° two feet into the pile. I turned the pile every 10 days with the front-end loader and in two-three months it was ready to use. The secret is to add the manure, wet it well, and mix it often. The mixing speeds up the process a lot.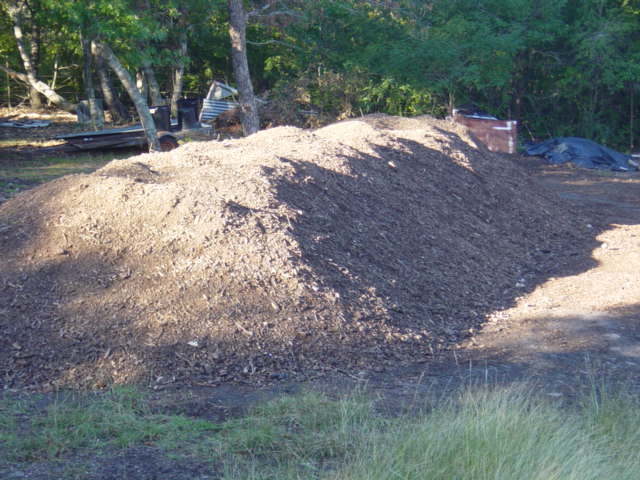 Click here for higher quality, full size image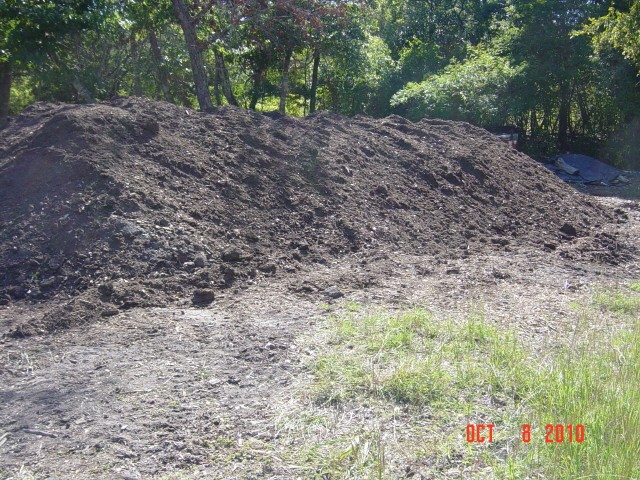 Click here for higher quality, full size image
---
From contributor J:
You also may want to check the Ph of your soil before adding it to your garden because wood chips tend to make soil acidic. I deliver a couple tons of chips yearly to a local blueberry grower who uses them to raise acidity in his soil.
---
From contributor W:
Don't do it! It has to compost first.