Constructing Wood Grilles for Floor Vents
Advice on custom-crafting wood grilles for heating supply and return vent openings. November 23, 2012
Question
Looking for any tips or ideas on building some wood floor grates. We need to build some wood floor vents for cold air returns. They are large custom sizes Iím looking for ideas. We plan on using 1/2" wide x 3/4" thick slates and to half lap them to create a square grill. I don't think creating the grill will be an issue, how about connecting it to a frame? I was thinking about small dowel possibly? Any ideas would help.
Forum Responses
(Architectural Woodworking Forum)
From contributor O:
I have made similar things and to be honest notching them is the best method, just like you said. As for the connection to the frame, you can either leave a tenon on the end of every other slat, or you could use a 23g pin nailer and glue and nail from the underside and fill. Or from the outer edge since it is always below the floor and not visible. That is what I would do since the glue does most of the work. I think I would rabbet the frame before assembly, leave little grooves, and then assemble all at once. You don't even need a fastener at all (rabbet corners too, maybe a 23g pin while they dry).

---
From contributor B:
You need to get a book on shipwright joinery. It would most likely have drawings and diagrams for building all kinds of deck grates. You can also buy pre-milled teak grate stringers from a marine hardware store and assemble them to any size.
---
From contributor M:
We start by placing flat stock on the CNC and cutting dados across the board half the thickness and width of slats required. The next process is to rip a little wider than will fit the dado and plane or sand to finish dimension for tight half lap. Glue and pin nail from the back is easiest and wrap in a frame of your choice. We usually do something small with a shadow line then overhead sand flat. We also have builders who will use the top of the base profile for low wall mounted cold air returns. Itís not terribly difficult but can be time consuming especially if you are trying to hit a set overall dimension.
---
From the original questioner:
We have done some out of laminated boards cut on a CNC, but we're limited to straight cut vents with this kind of design and they need to be sealed on all sides to prevent any sort of warping after installation.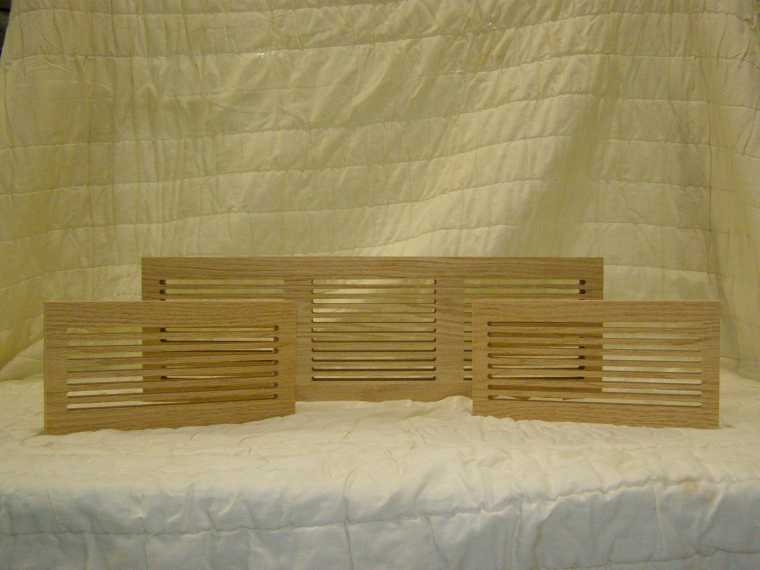 Click here for higher quality, full size image