Corner Bookcase Cabinet
How can you create useable space where a built-in bookcase turns an inside corner? October 9, 2006
Question
I need a solution for a corner bookcase unit that is approximately 23" deep.
First idea: Build as it was going to accept a lazy Susan. Problem: The books will get hidden in the back.
Second idea: Angled corner unit. Problem: The opening will be way too small because of the depth of the cabinet.
A third idea would be appreciated. I would like to have full access to all books.
Forum Responses
(Cabinetmaking Forum)
From contributor L:
A little more detail would be helpful. Is this a stand-alone unit in the corner or two walls-worth coming together? What is happening on either side of this bookcase? Doorway? Fireplace furniture? I'm actually intrigued by the lazy Susan idea. It would have to be super beefy, though, if it were to actually be used that way. Also, you'd have to make a curved back so the books don't fall out back there. My guess is that the LS is not the most efficient use of the space, but maybe...?

---
From contributor P:
Here's one I just finished. It's different from most corner cabinets in that the front is not angled. The right side is square to the wall, the left side has a 45 degree beveled scribe, and the cabinet side is 45 where it meets the face frame. It's about 20" deep. I can give you more construction details if you want.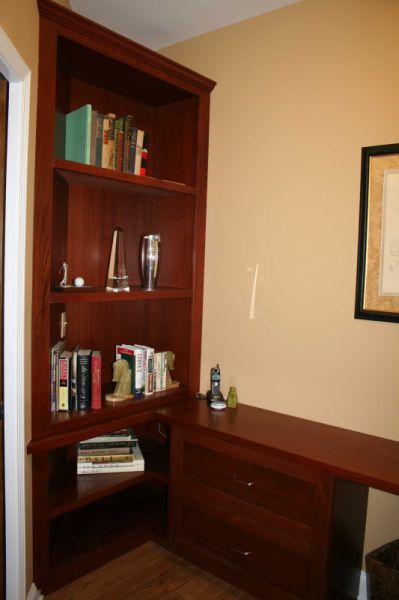 Click here for full size image
---
From contributor K:
How about something like this? This is just an angle front base cabinet for a lazy Susan with the back clipped a bit more.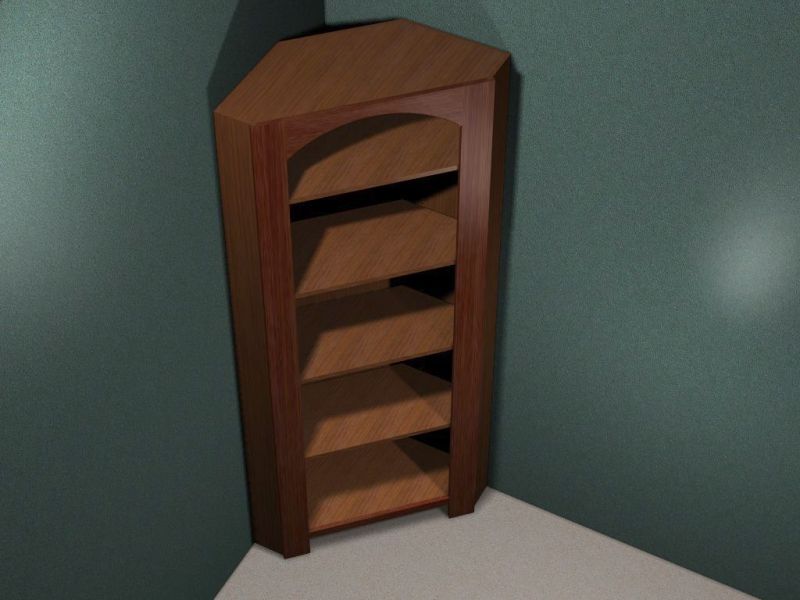 Click here for full size image
---
From the original questioner:
Let me explain a little better: I'm not in such a hurry right now. The bookcase is the same height and depth as a kitchen cabinet approximately. The case is starting on one wall and runs into the corner and returns on the other wall. One wall is approximately 7'; the other wall is 16'. I'm looking for a creative solution for the meeting in the corner. Any feedback would be great.
---
From contributor L:
That's where I thought you were going with this. Basically, the corner is lost. You can make it interesting by making an angled corner (just a basic bookcase at an angle to the corner and trimmed accordingly), but you'll lose a ton of shelf space. Anyone that has a lot of books is jealous of every available inch. I think you might be stuck for butting the two wings together with an empty corner where they meet. Trying to lap the two into what is ostensibly a blind corner cabinet makes the books back there inaccessible.
---
From contributor K:
Maybe?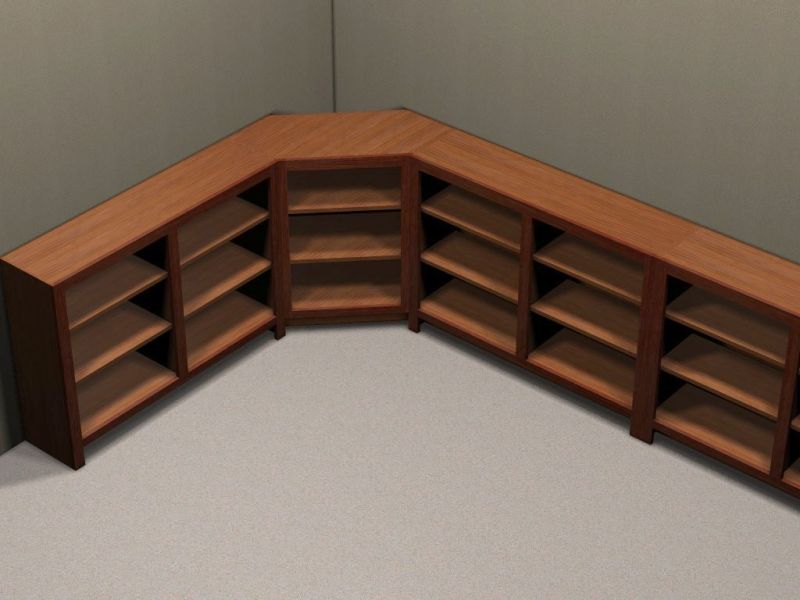 Click here for full size image
---
From contributor L:
I'm curious as to the depth. Most books will fit on an 11" shelf easily. Even among art monographs, the deepest normally published book is 14", so anything deeper than that is wasted space. (I have a zillion books. Only one exceeds 14" and I'm not going to build my library to accommodate a single oddball that is 18" deep.) If you're doing it for the counter space above, limit the shelves to 14" or so (if this is indeed for books), regardless of how deep you want the top.
---
From the original questioner:
Thanks for the picture - that was one of my last ideas. I think this will be the best solution, even if space is lost. The cabinet is accommodating 1800's county log books. The books need to lay flat and they are 22 inches deep. I am doing what is in that picture, plus upper cases, for a museum.
---
From the original questioner:
I think I have revised my thoughts on this corner bookcase. In order to get a decent opening size, the cabinet would have to be extremely large with a ton of wasted space, because the cabinet is so deep. I think I may change to a blind corner. Any last thoughts before I do the deed?
---
From contributor A:
You can also turn the corner cab into the showcase part of the unit. A 30" x 30" unit will yield you just about a 24" opening, assuming 1 1/2" stiles. There is a plethora of things you can do with the cavity that you don't see, and a lot you can do with the depth. Use of and/or a combination of things like bookends, knick-knacks, lighting, plants, step-ups, stereo equipment, with speakers built-in to the step-ups, CD case racks, or just box it off to the face-frame and treat it like a regular cabinet. Hopefully, this should get the juices flowing...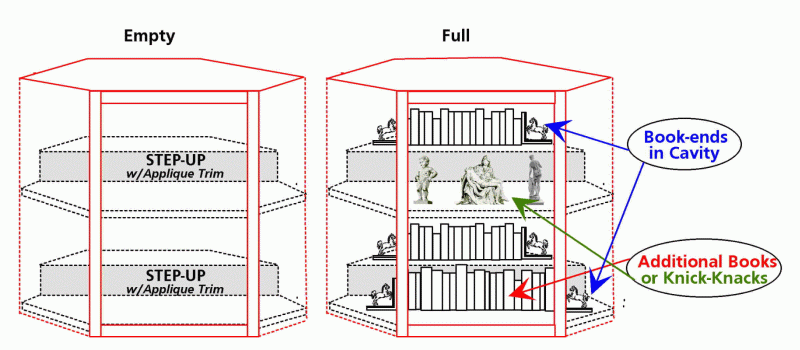 Click here for full size image
---
From contributor U:
What software did you use to draw that?
---
From the original questioner:
I appreciate the response and picture, but the corner cabinet needs to have a return on both sides.
---
From contributor A:
It's an older program called Micrografx Windows Draw. Along the lines of Corel Draw. They no longer make it, but you can probably pick it up on E-Bay. The last version was Windows Draw 6, which I believe came out in 2001. I have been using the program, in its various forms, for about 12-15 years, so it's fairly easy for me to do a drawing quickly, when I want to do something other than drag and drop, but like all software, it has its learning curve.
---
From contributor D:
If you're looking for cool software to make quick sketches, try SketchUp. There's a free version from Google.