Corner Drawer Clearances
Cabinetmakers work on a layout problem — keeping drawers from crashing at an inside corner. February 13, 2009
Question
I am looking at doing a corner installation with two drawer pedestals (the 'blind' corner will be accessible from the other side) in a frameless installation. I have several questions.
1. How much space should I allow for a 'spacer' to ensure normal pull clearance?
2. How do I compensate for the fact the gables will be set that distance off of the drawer boxes?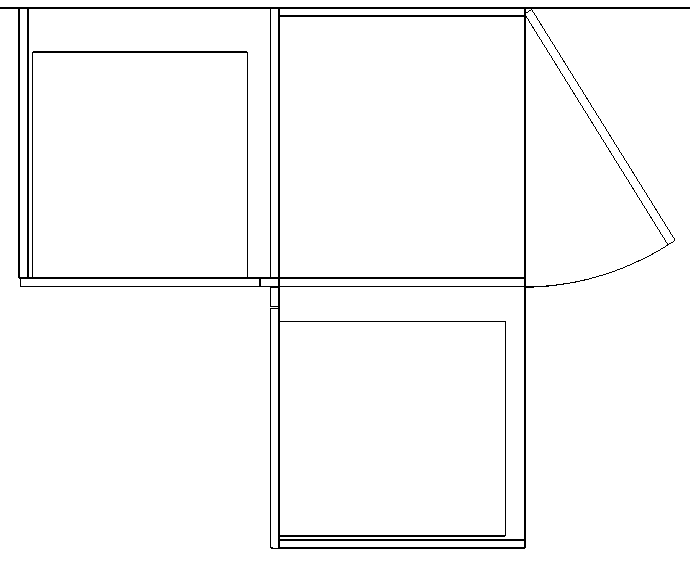 Click here for full size image
Forum Responses
(Cabinetmaking Forum)
From contributor R:
Usually 3" each way on the corners will allow ample clearance for the drawers and any knobs or pulls you use. As far as "gables" I am not quite sure what you mean by that. If you mean the ends of the cabinets then just make the cabinets 2-1/4" smaller and use a filler that way you can mount your drawer slides to the side of the box and use a continuous panel on the back side.

---
From the original questioner:
Thanks for the response, but I am still a little confused. Contributor R - you said to make the boxes 2.25" smaller, but that only gets me a 1.5" clearance (Option A). Don't I really want the clearances shown in Option B?


Click here for full size image
---
From contributor D:
Sorry, when I said to make the cabinets 2-1/4" smaller I was taking into consideration the 3/4" thickness of the box thus giving you 3", but you are correct I neglected to add back in the full overlay of the doors. So to correct myself - 3" fillers then the cabinet allowing you to still mount your drawer slides to the sides of the box and not have to pad the filler side over and just carry the backside over the 3" to compensate for the filler on the front to mate up with the blind corner. Sorry for the confusion my bad math moment caused.