Corner Sink Cabinet Sizing
Corner sinks introduce some awkward space trade-offs. February 17, 2012
Question
I am designing a base corner sink cabinet and need advice. So far I decided to use a 42" base to fit a 33" sink. I am not sure what size the upper corner cabinet should be and how far to place the DW from the corner sink. I have provided an Autocad drawing to help understand the floor plan.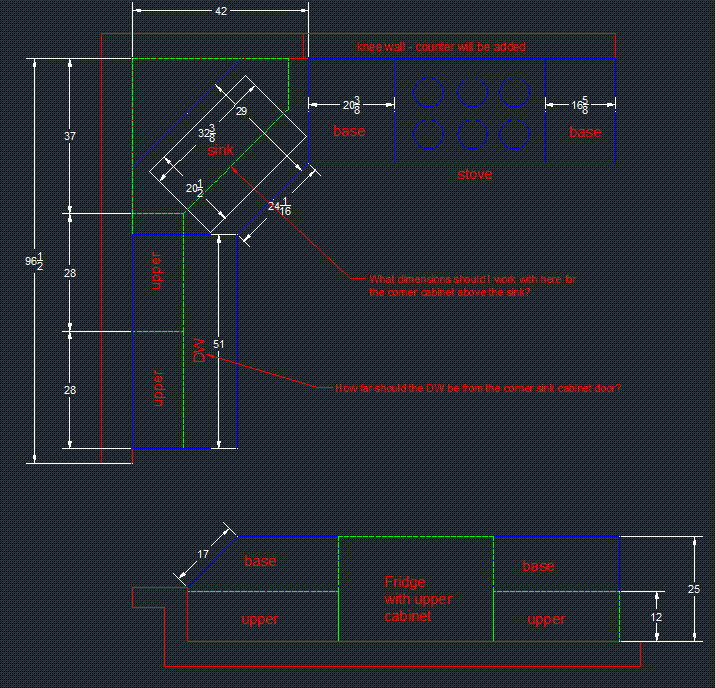 Click here for higher quality, full size image
Forum Responses
(Cabinetmaking Forum)
From contributor F:
I just completed one very similar to this. I tried to make the sink cabinet 42x42 span on each side and it doesn't give enough room for a 33'' sink (can't remember what measurement that made the front come out to be). I ended up making mine 48x48 and if I remember right it made my face frame come out to 36'' which is what I try to stick with. As far as a wall cabinet above it - it would have to be huge to be able to reach it. I don't know what to tell you about that. I wouldn't put the dish washer beside the sink because it doesn't give much room to stand at the sink when the dishwasher lid is down. A trash can pull-out between the two would be perfect, in my opinion.

---
From contributor W:
The dishwasher door will be behind the personís legs at the sink if you do this too close.
---
From contributor J:
Thanks for the input. It all seemed simple when an architect drew the floor plan but it is getting more complicated. I have to re-think this. Maybe put a single 21" in a normal 36 cabinet and place a small sink to the side for vegetables. We looked at corner sinks and they don't seem to have the space to place a large pot in them.