Crafting a Curved Range Hood
Buying is easier than building if you want a curved range hood. But here are some tips on building it anyway.August 16, 2012
Question
I have a couple of houses coming up that require a decorative curved wood vent hood. The kind where the chimney section is angled back on all three showing sides plus being curved (concave). I have never attempted this before and am looking for tips, techniques, and materials suggestions to help cut down on some of the trial and error time. Both jobs will be painted/glazed.
Forum Responses
(Cabinetmaking Forum)
From contributor F:
Save yourself tons of time and buy them like everyone else does these days. I try to be a purist also, but no one really cares anymore about how much you make yourself as long as the end result is what they want. Really though, by the time you buy materials, figure in all your time, templating, waste, reworking you'll probably be way ahead to outsource them.

---
From contributor C:
I agree with Contributor F, why try to reinvent the wheel? We make a lot of our own straight style on our own, but even with a CNC it's not worth it to make those one-off curved ones.
---
From contributor K:
Every time a question like this comes up I can hear my own voice from the past (probably about my Junior year in High School) saying "I am going to be a rock star, I will never need geometry".
I have only done a couple of these hoods and I just built a form and then used a thin flexible material and trial and error to create a template. Today I dug out my copy of George Collings "Circular Work in Carpentry and Joinery" and I am going to see if there is any help there. There is also software that can model the part in solids and then take the faces and flatten them but I don't know how to do that either.
---
From contributor F:
Sure, if this is about challenging yourself and your woodworking abilities and you have plenty of time to dedicate to all the trial and error and you have no other clients waiting on you to do their projects, then go ahead and build the thing to say that you can. Most of us don't have the time to commit to figuring something like this out when you could make just as much money picking up the phone.
Don't get me wrong - I just built my own kitchen and built absolutely everything right down to the cove crown moulding cut on the table saw. It took me a year to do though and I lost some clients because of it. I'm just trying to say that most of the time it's not financially the right move to build everything yourself.

---
From contributor K:
I laid off the curve I wanted on a piece of plywood then duplicated that curve and built my form. I then used something I had in the shop like real heavy poster board and tacked it to one end. I made a scribe out of a 3/4" X 3/4" board with a sharp nail in the end as close to the back edge as I could get it and ran it down the form pushing it into the template material to scribe it. This gave me the template for the ends. I cut those then tacked them back in place and tacked a piece of the poster board to the front forms and used the end pieces to scribe the front. These templates got me pretty close for cutting out the bending ply. Your template material needs to be stiff enough that it doesn't bend against the scribe. There is probably a better way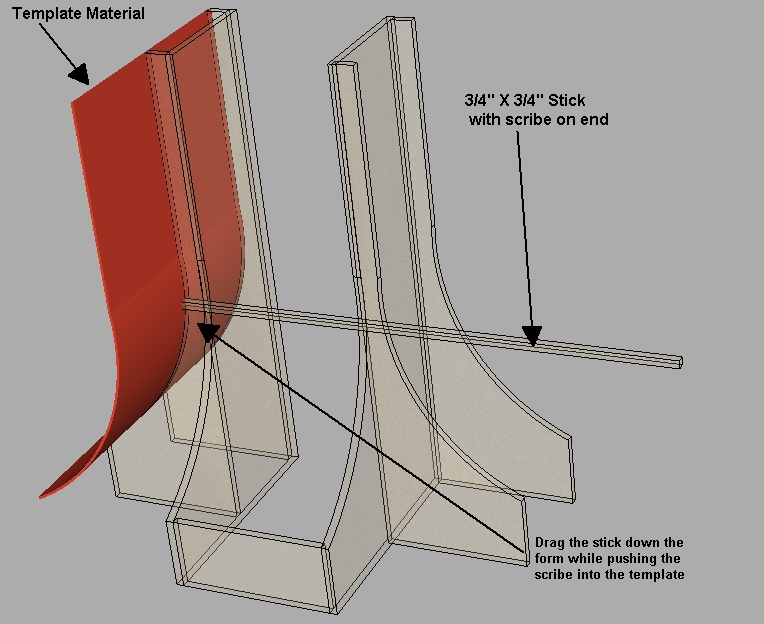 Click here for higher quality, full size image
---
From contributor K:
I forgot to mention you can use this same technique to lay off the "jack rafter" you will need to form your corner.
---
From the original questioner:
Thanks to everyone for your responses. I appreciate the outsourcing info and admit that it probably makes the most economic sense to go that route. In spite of this, I am going to give it a shot and attempt to construct one of these in-house. If I fail, I won't be out much in material and can chalk my lost time up to education.
---
From contributor K:
To the original questioner: You will need to modify your forms to fit whatever hood liner, blower, and skirt you are going to use so it is good to have those specifications before you begin.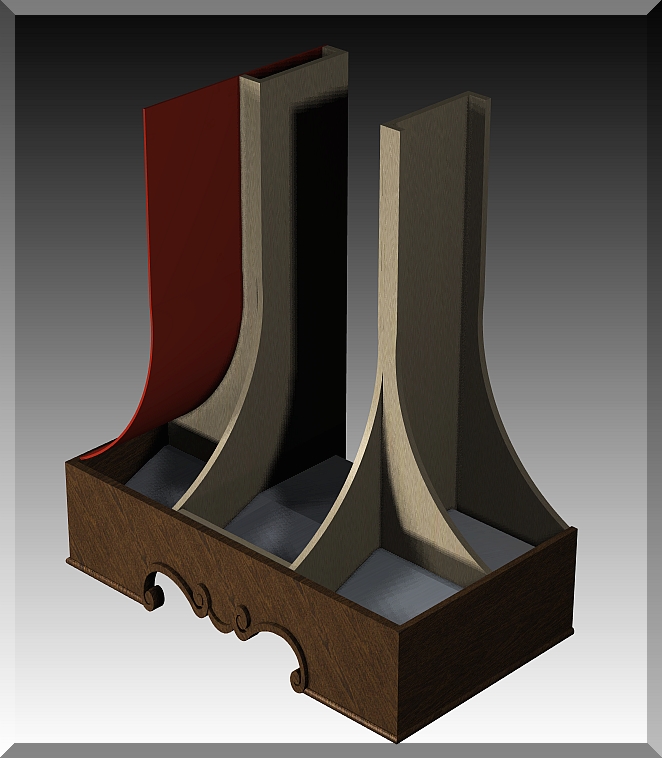 Click here for higher quality, full size image