Creating Custom Curved Moulding Profiles with a CNC Router
Any good CNC router can create mouldings, using either a ball-end cutter or a custom-ground bit. In this thread, pros provide a few pointers on the process. November 25, 2005
Question
We make large window units with all different shapes of applied grills on them. The way that we are doing it now is we make the templates on our router and then attach the piece of wood to the template and profile it on a shaper with a bearing. We have been talking about spending some money on router bits that will profile the piece on the router. Which is the best way to do this? I have a SCMI Routech 220, and I am a beginner. I also do all the programming at the machine controller. Any input is much appreciated.
Forum Responses
(CNC Forum)
From contributor M:
If you have a moulder in the shop, then you are probably grinding your knife stock right there in the shop. See the image below. I sometimes use our standard knife stock in a stock tool body from Schmidt.
The other way to cut profiles on a radius would be to invest in a CAD/CAM software like Alpha Cam or Mastercam and shape the profile with a ball end cutter. Anyway, either type works fine for custom or one off type of work. For higher production with stock profiles, you may want to call a tooling manufacturer and look into insert tool bodies with carbide knives made to your specifics.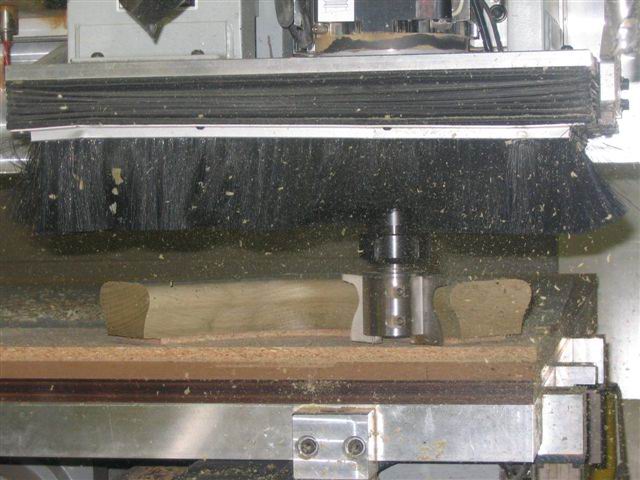 Click here for full size image
---
From contributor M:
Here is an example of shaping with a ball end. This one was a large profile that I was duplicating, but the same process works for small profiles. You just use small diameter ball end cutters.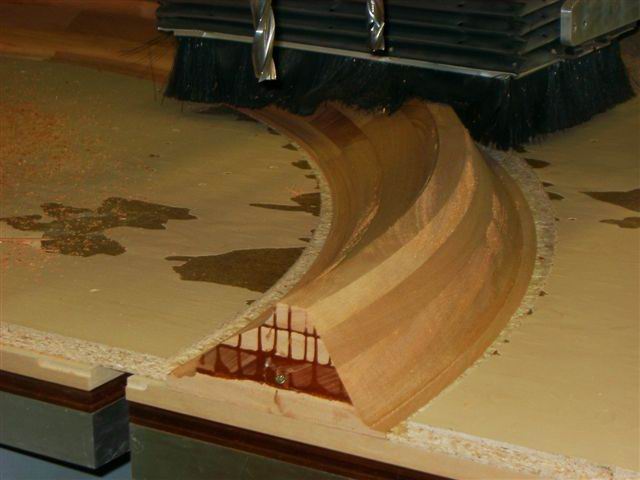 Click here for full size image
---
From contributor W:
Wow great pictures Contributor M. What type of CNC are you using? Was that ball mill profile programmed with AlphaCAM or masterCAM?
---
From contributor G:
Depending on the profile, you be able to get standard types or custom if required. If you are going to use the same profile over and over an insert tool may work well or if you run thousands of pieces then PCD may be the way to go.
---
From contributor C:
To contributor M: How are you holding that down – by screws and vacuum, or another way?
---
From contributor M:
The top image is 3/4" thick particle board fixture using 1/8" x 1/4" gasket material. The bottom image is a vacuum through bleeder board with positioning assist from scrap particle board in front and behind the piece. These panels get cut away with the final sizing of moulding. I've cut this type of stuff with many makes and models of machines with the major brands of cad cam and even manual programming.
Also, on the big ones I usually toe screw the ends, just so I know the wood won't try and move as I remove material. The ends are usually cut in the field so I leave them long. I really don't think they are necessary in most cases, but sometimes the glue-ups will have a slight twist or bow. If you look close to the image you will see where I ran one into the end into my MDF bleeder.

---
From the original questioner:
To contributor M: We do have a moulder and do make our own knives. I won't be profiling anything that big so if it's possible to profile a piece of hand rail I surely can profile sticking on radius bars. How many lines of code does it take to cut out that piece of radius with a ball tip bit? Also, can you program that at the machine?
---
From contributor M:
It would only be practical to program profiles at the machine if you had the CAD/CAM software onboard the machine pc. The programs for the mouldings can be several hundred to several thousands of lines in length depending on how much we want to sand afterwards. I can't recall if the machine you have came with an onboard pc running Routolink or Xilog. Anyway, SCM-USA is an Alpha Cam dealer and has posts for your machine if you wanted to go that route. For those that don't know, the post is a program that inputs the tool path data from a CAD/CAM drawing and outputs code for the intended machine. Thousands of lines of code can be generated in a few seconds for complex machining.
---
From contributor C:
Contributor M brings up some good points. One thing to consider when using a corrugated back head on your router is the overall tool weight and cutting circle. Depending upon the horsepower and spindle size on your SCM, you need to be mindful of not over capacitating the capabilities of your machine. Trying to do too much can damage your spindle, and increases the percentage of operator injury. Remember - safety first.
Going to an insert cutter, in a dedicated style or even a multi-profile style, is a solution that growing number of companies find attractive.

---
From contributor M:
Contributor C is correct. You may have to alter your strategies based on machine capacity. I enjoy much more flexibility and shorter run times now that I am running an 18 HP spindle. But the main point being these mouldings can be made on many types of machines, not just high production monsters with lots of horsepower.