Cutting Stacked Sheets of Quarter-Inch Material
A roller hold-down system is a big help for machining stacks of material. But can that capability be added to an existing machine? January 19, 2011
Question
I was wondering if anyone has experience cutting multiple sheets at the same time? We are gearing up for a large order of parts that will be cut out of 1/4" Marine Ply. I have cut a few demonstration sheets for the customer using vacuum hold down. The parts are spindly but cut very well. The customer is insisting we could stack the sheets (using some well placed screws) and cut 2-5 sheets at the same time. I never have done stacked cutting and wanted to know if anyone had experience with this.
Forum Responses
(CNC Forum)
From contributor U:
It's not too difficult to cut stacked plywood. Furniture makers do this all the time. That is the main use for a CNC router with roller hold down. It can be difficult to cut on a CNC router without roller hold downs. If your customer doesn't mind screws in the material, then you can use this to hold the parts together and cut them out as one piece. It is similar to cutting a thick piece of wood.

---
From contributor F:
A common method used to machine stacked plywood is to utilize 4 pneumatic rubber coated rollers that press down on the top of the stack while the bottom is held with vacuum. This method allows up to about 2" total thickness to be cut at a time. If you have no other choice than screws I would suggest aluminum screws in case you hit one. Use of diamond tooling will allow you to increase feed rates by 30-50% over standard carbide cutters. Be sure you use a good upspiral cutter and have good dust collection to evacuate the dust from the kerf and not regrind as you cut through the stack. Cutting with dual heads and stacked sheets is the ultimate in efficiency and throughput.
---
From the original questioner:
I was thinking the roller hold down was the right way to do this. My current machine isn't equipped with this. Do you know if there are aftermarket rollers or is this something that I would need to purchase from my machine dealer? Also, is there limitations/optimal part sizes for roller hold down. I can see this working for large parts, but a sheet with some smaller parts in it seems like it could cause problems.
---
From contributor F:
If your machine has a heavy frame like a DMS CNC router the roller hold down system can be installed. The rollers attach to fabricated steel brackets that are bolted to the bridge uprights. Additional M codes are used for activation of the rollers up/down. A 4 flute cutter is used for finish cuts not hogging 2" thick stacks of plywood. Scarecrow would have to work seven days a week three shifts a day screwing wood down and cutting with a 4 flute solid carbide cutter.
---
From contributor O:
Adding roller-hold-down to your machine may or may not be an easy and cost effective solution. It depends on the configuration of your machine. It's probably best to talk with the OEM to see if it makes sense.
An easy solution to try is to use a DeStaco type clamp to lock down the stack on the four corners and maybe two more in the middle. The only issue may be the buildup of chips between the boards as you cut, but you'll just have to see how that goes. A few well placed screws in the middle of the board may be enough to achieve a good result.
We build machines with clamping tables in aluminum and phenolic. I have attached a picture. The clamping arrangement would be pretty easy to add to any machine. Feel free to call or email me if you need some more details.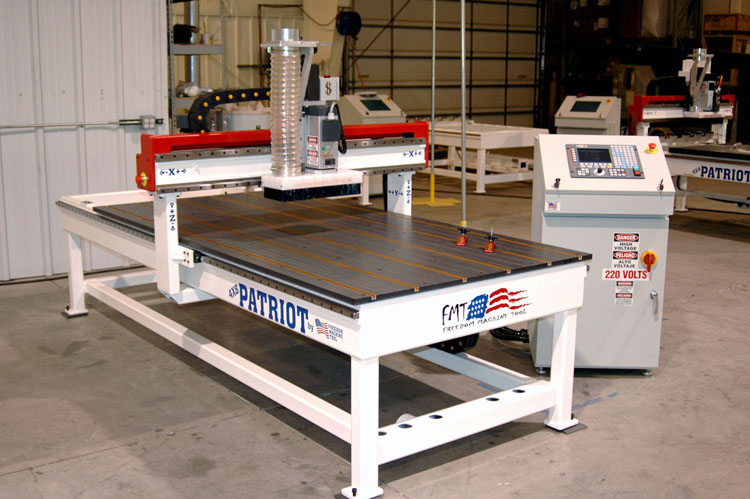 Click here for higher quality, full size image
---
From contributor S:
If you are cutting four sheets at a time, and the parts are spindly as you say, how would rollers hold the parts themselves? I can see rollers holding the sheets in place but wouldn't the parts slide on each other? How close are the rollers to the cutter?
---
From contributor F:
There are four rollers the spindle comes down between the two sets of rubber coated rollers. The rollers are heavy and have pneumatic valves that drive them down. With the weight and air pressure holding from the top and vacuum on the bottom the stack will not move. This is an optional item on DMS CNC routers with either a 4x8 through 6x12 table. Adding a second servo controlled spacing slaved head will really improve production cutting stacked sheets two parts at a time.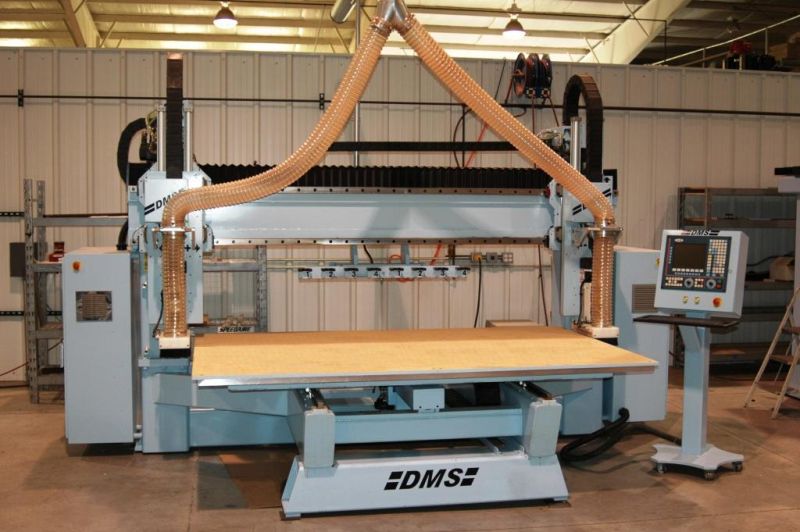 Click here for higher quality, full size image
---
From contributor O:
I have attached a better picture showing a close-up of a clamping system at work. You can buy the track, T-bolts and clamp arms from Rockler or Incra. We installed them in phenolic but you could use a good grade of plywood as well, and create the strait edge to line up the material with clamping. You can hold down the clamp board fixture using vacuum on your current table or hardware. You can create small clamping blocks in material as small as 4" x 6" and use them all over your current CNC table.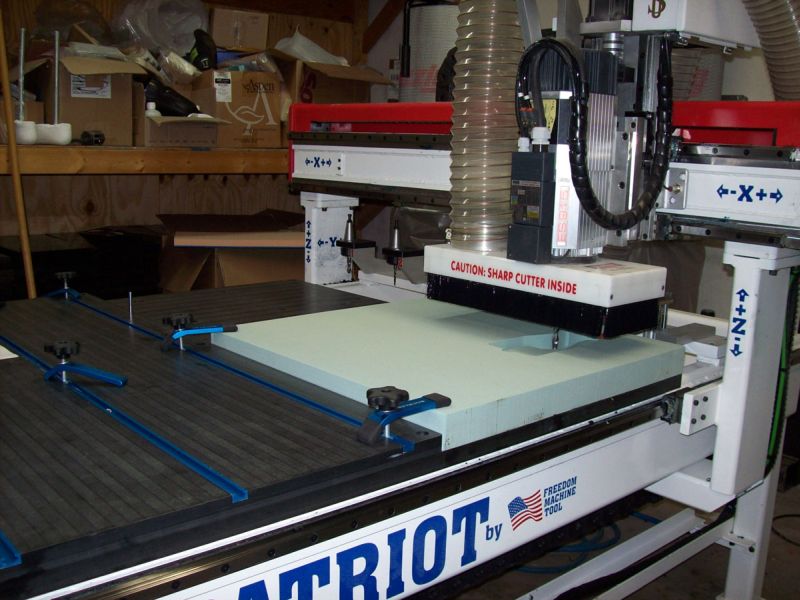 Click here for higher quality, full size image