Designing a Two-Sink Vanity
Cabinetmakers discuss drawer layout and other characteristics for a wide, double-bowl bath vanity. November 12, 2005
Question
I am wondering how many drawers can be put in a bathroom vanity with the dimension 58 x 32.
Would you put a single door under each bowl with 3 draws down the middle, or can you fit 2 under each sink with 2 doors in the middle (or 1)?
Forum Responses
(Cabinetmaking Forum)
From contributor S:
Without seeing any other info, my knee-jerk reaction is to put a false front and paired doors under each bowl and a line of drawers down the middle. If one or both of the sinks will be adjacent to a wall, make sure you leave a comfortable amount of elbow room. I try to leave at least 16" between the wall and the center of the sink, more if possible.

---
From contributor B:
I would suggest finding out how it's plumbed before you worry about the number of drawers and doors. Pipes will help determine all that.
---
From contributor J:
Unless this is a remodel I think most of us would agree that the plumber will rough-in his plumbing to our specifications and nearly always will move it if they jumped the gun and roughed it in without specs from the cabinet guy. All good plumbers (and electricians) wait for cabinet elevations before proceeding with certain stages of work.
To answer the original question - I would build 2 ea. 21" vanity sink base cabinets with 1.25 scribes on each and 1 ea. 13 1/2" vanity drawer base. Single or double doors are always the customer's choice. The smallest drawer base that I will build is 9" which would increase the VDB cabinets to 23 1/4" each.

---
From contributor D:
Below is one I built for one of our new homes. It's 66" wide by 32" tall and 21" deep. I made the openings under the sinks 21" wide and the drawers in between are 21" wide.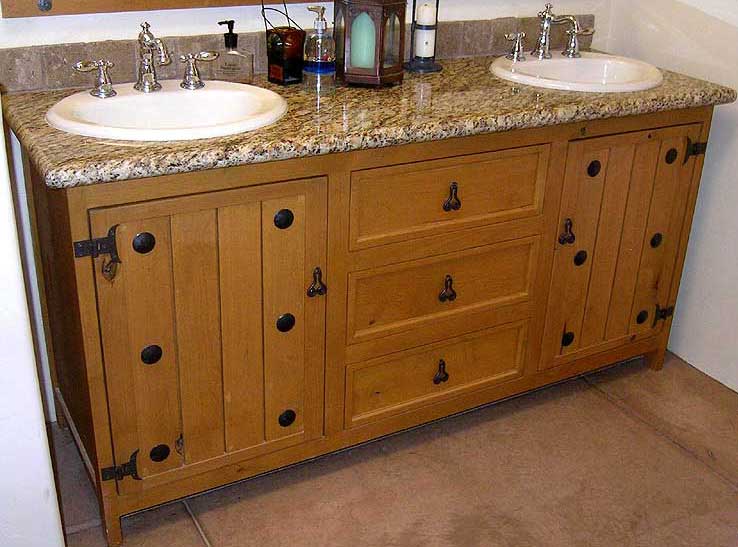 Click here for full size image
---
From contributor B:
Contributor J - I agree. Most good plumbers, etc. do it right. But if you haven't ever, just wait - one day you'll pull in with cabinets and tools ready to go and the drain pipe lines up perfect center to come through the bottom of your drawers. "But it was supposed to be over there and look the water lines are coming out of the wall why aren't they coming from the floor too?" Guess what the plumber says, "that's where we were told to put them. Well, we can fix it but we'll have to cut open the wall and cut a hole in the ceiling downstairs.
Of course there's always a solution, and each situation is different, but it's much easier to make sure than to count on someone being good. There are times (not just re-models) that plumbing and electrical get done before cabinet plans have been given to them. People change their minds, budgets, contractors, decorators, and designers as well.