Door-Sample Carrying Case Ideas
Woodworkers discuss ways to haul a few sample doors around for showing clients. April 20, 2008
Question
I need a carry-case for taking sample doors to meetings. The image attached shows an idea I had, and I might cut parts for it when the CNC does our next batch in pre-finished maple ply. Satchel handles will be fixed to each end, and with seven sets of doors and drawer fronts inside, it should be okay for transport. Maybe a tiny bit heavy, but okay. Got a better idea? I'm all ears.

Click here for higher quality, full size image
Forum Responses
(Cabinetmaking Forum)
From contributor K:
Yes. Get a durable fabric case made with a shoulder strap, that has either leather or fabric sleeves to hold the doors individually... Should cost $100-$200 to have one made, or buy a pre-made one at a luggage store or Staples, and be a lot lighter. Spend an extra $50-$75 and have your logo embroidered on the case, and a little more for each sleeve to make a bigger impression. Keep the door sizes to 12"w x 15"h or 12"h x 17"h. Have a trophy company make brass plates ($10-$15 each) for each door with description, and attach it on the back bottom. Makes a great impression.

---
From contributor N:
Better pad it to keep the doors looking good, and put wheels on it. It's gonna get heavy. I only carry 3 with me. Raised panel, flat panel, and shaker. That gives them a starting point and my web site fills in the gaps.
---
From the original questioner:
Thanks for the responses. I might cut down the size (4 or 5 sets instead of 7) to lighten the whole thing. My doors are 12x16, and my sample drawer fronts are 5-3/4x12. With the box made of CNC cut pre-finished ply, done up with blind dado construction, I might do two ply parts, one sized like a door, the other per a drawer front size, the small one tenoned, the big part with a dado, to show off details of carcass construction. I know I could buy or have made a fabric portfolio case, but hey, since this one comes from the unused part of the last sheet in the next run, it is essentially free. And, if the case is a hulk, all loaded, I can cancel my membership at the gym!
---
From contributor J:
How about a couple casters and an extended handle so you could pull it behind you like airline baggage? Might make life a little easier moving it around.
---
From contributor R:
Why not make the whole case out of doors/drawer fronts? Front, top, back, could be door samples, and the two ends drawer fronts. Then you have a lot less to carry inside. Make the front/top your predominant style - you may not have to even open the case!
---
From contributor C:
I bought one of those black wheel-on luggage pieces and built a miniature cabinet complete with top and toe kick to fit just inside. I had my logo embroidered on the front. Looked nice, but did not show the door styles like you need. I even built a little drawer that I velcroed to the inside. It didn't have slides, but showed the dovetail. I just put a small r/p door on it. I think you could put your doors in there. Build one face frame and attach the door and drawer front to the same piece. The customer gets the relationship of the two pieces.
---
From the original questioner:
Thanks for the roll-around dolly wheel thoughts. I will likely do that. Hey, I know it will be heavy, but so are my skis, boots, and poles, and so are my tools. The things you gotta do when you don't have a showroom! Concentrating on frameless cab work, it is important to me to be able to showcase my carcass joinery methods and materials, so the CNC-cut box helps tell that story. Included as one of the seven or so sets of samples inside will be the two parts shown in the picture here, which will nicely show blind dado joinery. The parts are sized to match the door and drawer front samples, and thus will fit in slots. Clients can see what it looks like before assembly (the samples) and after as a carcass (the display box).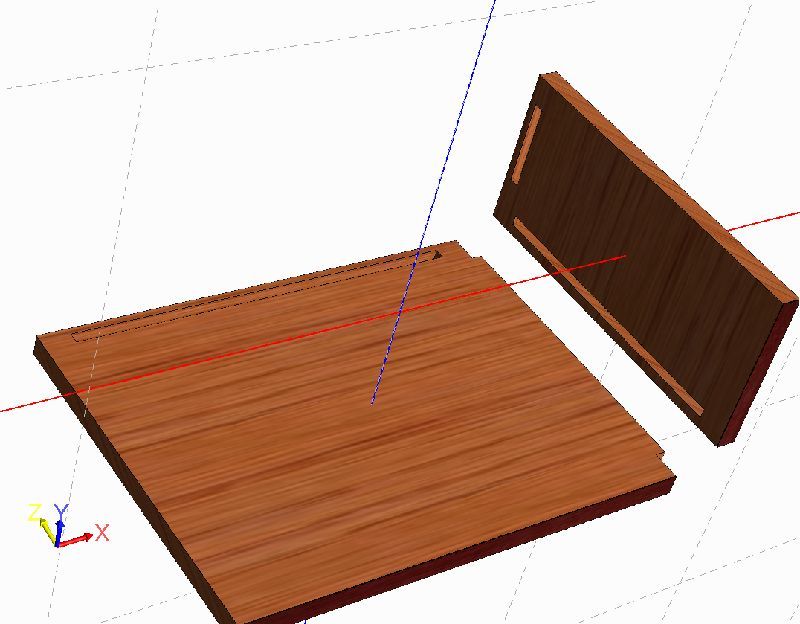 Click here for higher quality, full size image