Door Choices for an Appliance Garage
A cabinetmaker explores the options for doors that will get out of the way to allow access to appliances in the cupboard. May 15, 2014
Question
I have made and installed cabinetry with an opening for an appliance garage 34w x 28h. I mistakenly thought the Blum Aventos bi-fold lift would get the doors out of the way in a slick way, but they open too little and are right in the customer's face. Does anyone have a good suggestion for a slick appliance garage door this large?
Forum Responses
(Cabinetmaking Forum)
From contributor M:
Pocket door. Lift and tuck. Otherwise, Genie makes a pretty good product.

---
From contributor D:
That lift and pocket idea is a good one and Hafele supplies some slick custom aluminum roller shutters.
---
From contributor C:
Just ordered some aluminum tambour doors for some appliance garages from a company called doors 2 me. They informed me Hafele gets their products from the same factory in Poland. This company was half the money of Hafele's quote. They also claim their aluminum doors are of much higher quality than, say, Elements Design. They also get the product here by air freight instead of by boat (which is why Hafele takes so long for custom orders... something like 8-10 weeks they say). And no, I don't work for them.
---
From contributor H
:
One solution could be to use either a parallel lift system or a laterally folding door. The parallel lift is very common for the appliance garage but there are height limitations to get a full door clearance. I have also seen the horizontal bi-folding system used very effectively.
Are your cabinets face frame or frameless? This will determine, in part, the suitability of a system you ultimately select. Here are a couple of examples.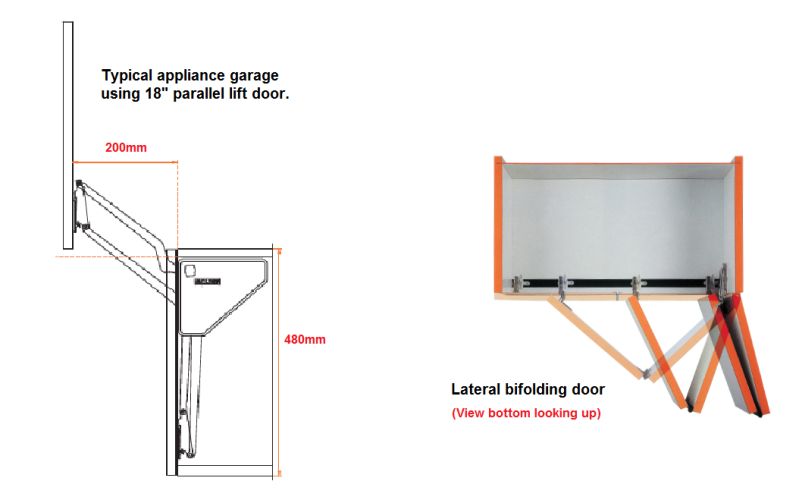 Click here for higher quality, full size image
---
From contributor S:
You have been misinformed by your supplier. At Häfele America Co. we quote lead times as 4 to 6 weeks for custom aluminum tambour, but 95% of the time they arrive in 4 weeks. These shipments are always air freighted and they are produced in Germany.
We stock 30 different sizes of aluminum tambours (we call them "roller shutters" - it's a German thing) that are on the shelf and ready to install. These are made in Italy and because they are produced and stocked in bulk, they are more economically priced when compared to the custom-made system. Find them on page 7.148 of our 2013 Complete Häfele Catalog.

---
From the original questioner:
I sure appreciate the input. We have decided to use the lateral bi-fold doors. The price is good and the cabinet is at the end of a run with nothing on the left, so folding to the left is going to work out great.