Door Core Alternatives
Several woodworkers explain why they use engineered lumber products for stave-core door construction. February 5, 2007
Question
I was wondering if anyone has ever used a 1 3/4" microlam beam for a stave core on a tall door or a piece of timberstrand rim joist? My thought is that either one of these products could make a very strong door.
P.S. I just clearcoated 27 knotty alder raised panel doors that were built with 1/40" veneer and a PB core. Inexpensive doors for the contractor, but still way more money than a piece of junk was worth. (Pre-hung, $210 each.)
Forum Responses
(Architectural Woodworking Forum)
From Professor Gene Wengert, Sawing and Drying forum technical advisor:
Although the door would be stronger in bending, do we really need this increase in strength over a solid wood stave door? I suspect that the hinges would fail before the wood in either case.
As the strength is related to weight, a stronger door is also heavier. I do believe that the cost would be much greater than a solid wood stave door. For solid staves, we typically would use a lower grade of a low cost hardwood and then glue shorter and narrower clear pieces into the core.

---
From contributor M:
I like the idea. Assuming you don't have a cost effective way of making the stave cores yourself (I didn't). Weyerhauser makes doors, at least some I've seen, with what looks to be a glue lam type of core. You can also see if a flake product called "door core" is still produced. It was a low density flake in something like a 1.625" thickness.
---
From contributor A:
We make all of our doors with a product we call "Timberstrand," although, when we order it, we specify "door core," so it may be the same thing that contributor M is referring to. It is basically a 1.375 inch thick piece of OSB. We pay $85/sheet and get enough rips to make 9 stiles. Way cheaper than stave core, and I have never had a problem with door warp. The other problem with stave core is it is hard to get in the Midwest.
---
From contributor J:
We have used Timberstrand and LVL cores on tall interior doors. This is more cost-effective, but not as good as a well-done solid wood core. Pictured below is a new type LVL core one of our suppliers is having made offshore. It is poplar LVL with the laminations going vertical instead of the typical horizontal. Made for 1 ¾" interior doors, it comes 4" wide by about 1 5/8" thick by 86" or 98" long. Cost around $8 each. We just started using them this last week on an alder job. It is very flat and seems to be staying that way.
P.S. I think this is how the Chinese took over the furniture industry. Started out by supplying components.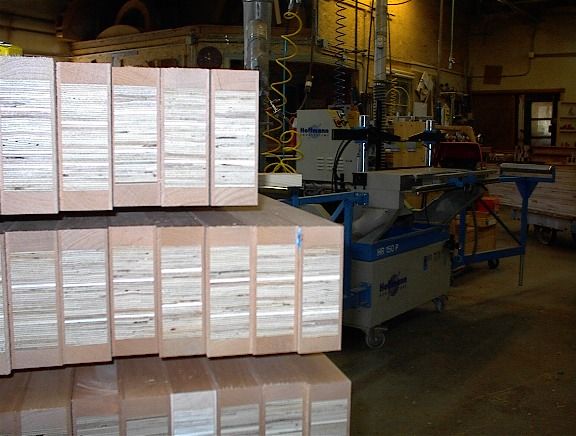 Click here for higher quality, full size image
---
From contributor F:
Contributor A, what is your source for these sheets? Contributor J, what is your source? I am located in southern Mexico and am looking for a supplier of either of these parts that can ship to our broker in San Diego, CA. Thanks.
---
From contributor A:
Renneberg Hardwoods is one of my suppliers.
---
From contributor J:
I buy them from the Denver branch of Timber Mountain Hardwoods.
---
From contributor O:
My experience using Timberstrand is that it starts straight and stays straight. This is way more important to me than splitting hairs about strength. Milled solid wood stiles are quick and pretty, but over time, sometimes not much time, they can bow beyond tolerance and a nightmare is born.
Another point about long term performance. Make sure that whoever is responsible for finishing seals the top and bottom edges completely. As most of you with experience know, the unfinished bottom edge of doors serves quite well as a moisture wick. On important jobs, I have gone back after completion and assurance by the painter to see for myself that the doors were *not* removed and sealed. I rat out the painters every time, and tell the owner that the doors are no longer warranted until this is corrected.

---
From contributor Y:
Has anyone ever tried using 1/2" Baltic birch plywood? We have some off fall material from 4x8 sheets and have thought about ripping strips up and gluing them face to face with our solid wood edges stacked on the outside all in one glue up, then s4s them into blanks ready for faces. What do you think? Since all the planing is done on edges, the plywood will stay balanced and should stay straight. Anyone tried this or something similar?
---
From contributor T:
My suggestion would be to follow contributor O's advice. Unless you just want to make a couple of doors for yourself - then go ahead and reinvent the wheel. If you are going to put your name on a job, buy doors from someone who has been in the door business for at least five years. Stave core doors are okay, but timberstrand core are best.
---
From contributor S:
Are you buying Timberstrand in rim joist form? I cannot seem to source it any other way. Also, how are you flushing off your solid edges prior to veneering? I don't think I'd want to put it through my planer.
---
From contributor T:
I'm sure it is made in different dimensions, but we buy it 1 3/4 x 12 or 1 1/2 x 12. First step cut to approximate length. Second step, run it through gang rip. Third step, glue on edges. Fourth step, plane or mill to thickness. Fifth step, glue on skins. Sixth step, profile. Now make doors.